Who says good guys finish last? Dreamy Boy Next Door Leo Icaro is first in our hearts. This banking professional and LoveYourself volunteer is ready to work his charm at Cherry Poppin' – The 3rd Party on February 25 at One Canvas Events Place in Makati (get tickets here: go.loveyourself.ph/cherrytickets).
Leo's interests are simple but never boring. He loves watching movies, surfing the net, traveling, eating (he has a weakness for sweets), and staying home to bond with his family and dogs. You can't go wrong with that, right?
For this cutie, quality is key. Dates need not be lavish, but it's a must to show sincerity. Leo's dating and relationship no-no is cheating. Prove yourself worthy of his heart and he'll willingly introduce you to and make you part of his family.
"The sweetest thing I did for someone I liked was to introduce him to my mom and siblings as my partner, and I confidently brought him to family gatherings," he shares.
Now, isn't that sweet? Read more about our fresh-faced auctionee below!
Describe the perfect partner for you.
He's someone who accepts me for who I am (from my silence to my craziest side), and someone who understands and is open to learning about my life and being with me through my ups and downs.
What's your biggest dream in life?
I want to be able to study and work abroad to give the best to my family, like a wonderful house where my mom will feel secure and comfortable.
In what ways can people help raise awareness and understanding of HIV?
There are lots of ways to raise awareness on the issue of HIV, but considering the growth of technology, I'll say it is simply by sharing helpful articles and infographics about it and, of course, getting tested.
What are you looking forward to in Cherry Poppin' 3, and what should the attendees expect during the event?
I'm looking forward to new experiences, being able to conquer my anxiousness, and getting out of my comfort zone. Expect a wild and crazy night. Let's have fun and help at the same time!
Try not to swoon when you meet the Boy Next Door himself at Cherry Poppin' 3 – The 3rd Party on February 25, Saturday, at the One Canvas Events Place, 2235 Don Chino Roces Ave., Brgy. San Lorenzo, Makati City. Party starts at 8 p.m.
For tickets, log on to go.loveyourself.ph/cherrytickets. For reservations and queries, you may contact 0917-860-8244. Proceeds from the event will fund the opening of a new community center by LoveYourself this year.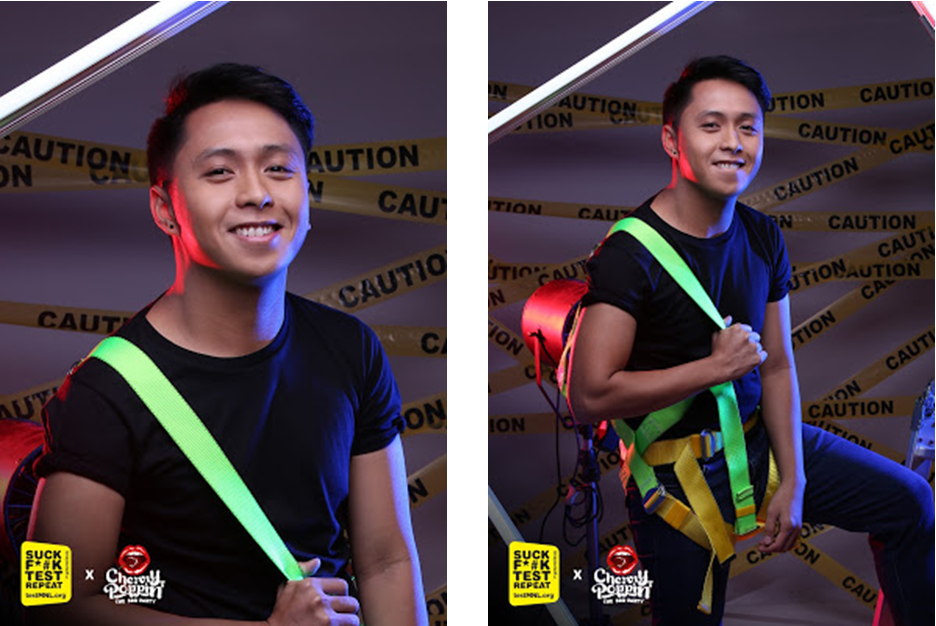 Text by Jean Natividad
Photos by Mark Alvarez
Make-up by MAC Cosmetics