When most LGBTQIA+–friendly places went closing down due to the COVID-19 pandemic, Spaces MNL went online, riding on passion and advocacies to rebuild the affected communities. LoveYourself quickly gravitated towards this new universe for its community engagement activities.
This big bang on the internet initially sparked, thanks to Francis Raymund 'Kiko' Dacanay, Director for Community Engagement and Partnerships of LoveYourself. In establishing the Spaces MNL, Dacanay aims to provide a platform for the LGBTQIA+ community's talents, such as the drag queens, to showcase their skills while educating everyone about topics affecting the community.
Dacanay, together with his partner Robin Marero and several LoveYourself volunteers, collectively run Spaces MNL's shows. It started with the hosting of LoveYourself's first online concert entitled 'Rise As One.' Since then, Spaces MNL became unstoppable, successfully staging different advocacy-laden events for LoveYourself and its partners last year.
Shortly after gaining online traction, Spaces MNL created its roster of online shows, featuring drag queens, people of queer experiences, and many more. Its original shows include Flourish 101 for mental health awareness, #JustWandaring for sex-positive entertainment, Kweeens Noight for drag performances, Fact U for an informative talk show, Herstory for drag memoirs, and Spotlight for drag contest.
This 2021, LoveYourself and Spaces MNL continue their partnership to further engage the LGBTQIA+ community. Adding AHF Philippines to the collaboration made an existential explosion on a peaceful night of February 1 with its Blast Off, rendering brand new seasons for its much-awaited LGBTQIA+ online shows.
Drag queen Viñas Deluxe, Miss Trans Global 2020 Mela Habijan, and kinky Chal Maling hosted the event energetically throughout the night. Apart from their stellar hosting, Viñas, Mela, and Chal expressed their feelings upon joining the roster of Spaces MNL's talents and becoming LoveYourself's ambassadors. Viñas relayed with gratitude overflowing how Spaces MNL believed in her hosting skills and as a drag talent. Aside from her impeccable beauty, Mela took every moment to instill her advocacies for the LGBTQIA+ community, among others. Chal is thankful to be part of the growing family. They also assured everyone's safety of COVID-19 following a swab test of all participants and observance of COVID-19 precautions.
LoveYourself Director for Operations and Research Danvic Rosadiño graced the Blast Off, explaining the organization's programs for 2021. He specifically outlined plans and projects under the three core services of LoveYourself – sexual health, mental health, and trans health.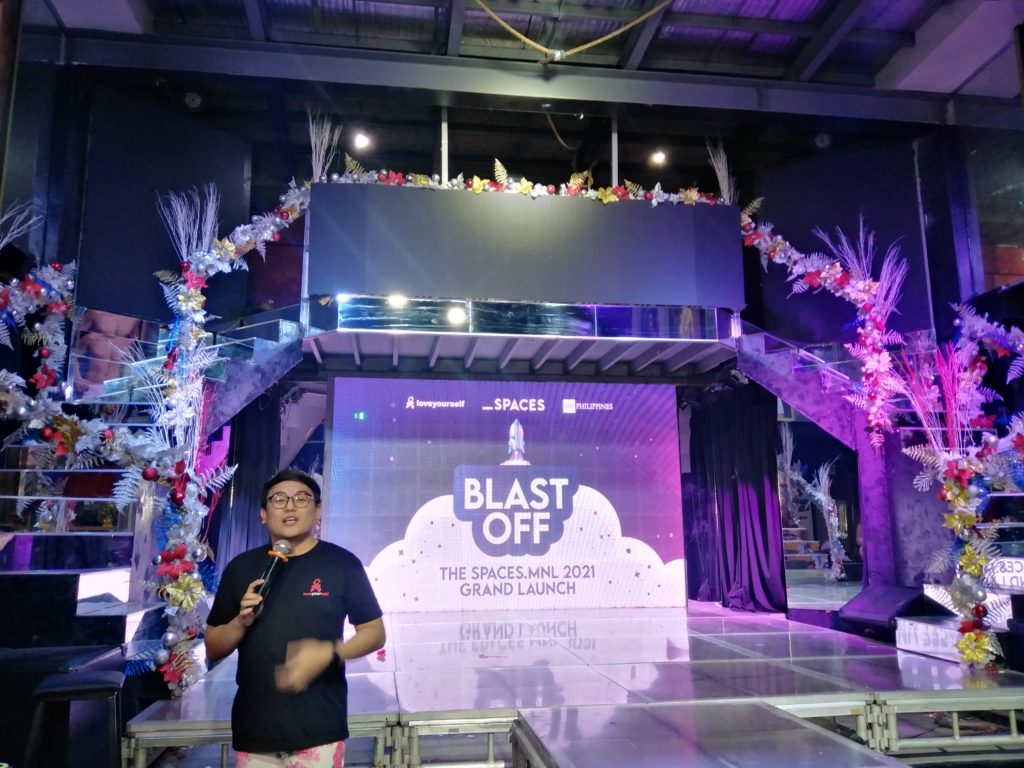 AHF Philippines later unveiled its celebration activities for the International Condom Day, highlighting Always In Fashion – Condom Fashion Contest. Participants can win as much as ₱10,000 for designing and creating a dress made up and inspired by condoms! Winners will be announced during the Fit 2gether Online Dating Show on February 13, which will also be powered by LoveYourself and Spaces MNL.
The stars of Spaces MNL not only hosted the event, but also showcased its pool of talents, bringing to life the stage of The One 690 Entertainment Bar in Quezon City. Pink Mannequin opened the event with their powerful drag performance, wearing their colorful corset and postiche.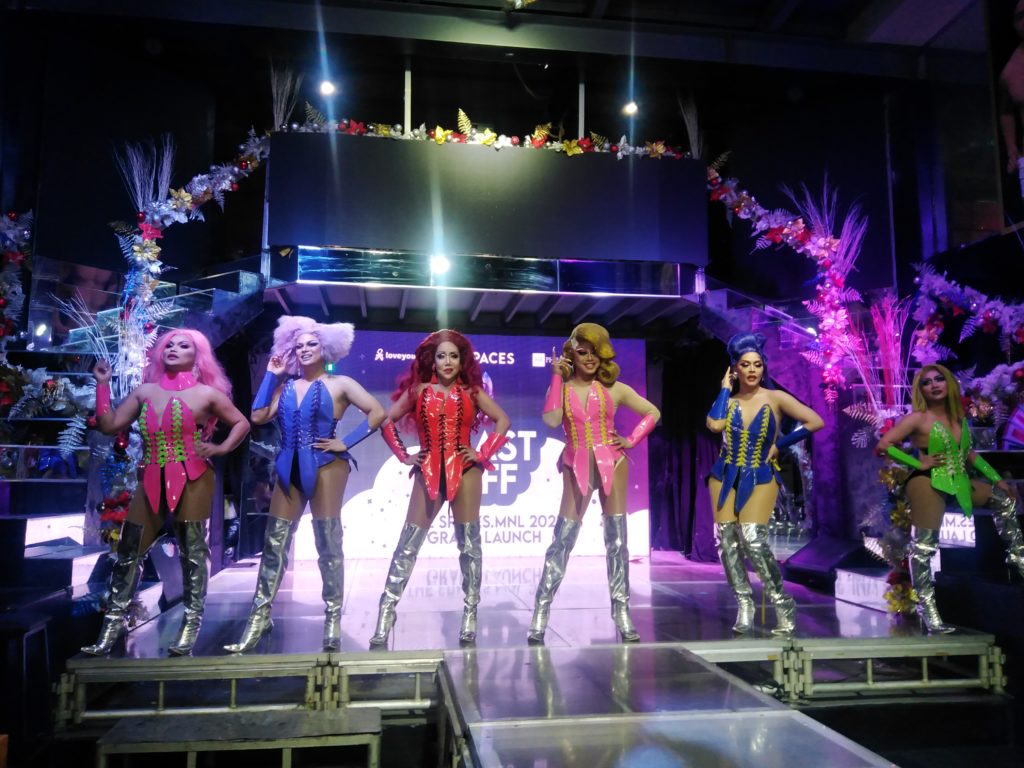 Fact U stars showed off first with a song performance to the tune of 'Standing Up for Love.' Fact U Season 2 is still hosted by Mela Habijan, Janlee Dungca, and Peachy Roberts. Streaming every other Monday night of the month, Fact U talks about truth and nothing but the truth when it comes to issues concerning the LGBTQIA+, because facts matter to all of us.
Shortly after, the stars from Love, Sex, and Drags (LSD) blazed the stage up with their sizzling yet emotive performances of hot and trending political issues caught on tape. Formerly part of the Drag Play House, LSD remains to be starred by MC Black, Eva Le Queen, and Mrs. Tan. What the show does is self-explanatory – it simply discusses anything love, sex, and drags every Tuesday night.
LoveYourself volunteer turned Spaces MNL's pioneering drag star Clea Torres, joined drag sisters MC Black and Brigiding Gigi as they performed to launch their Season 2 of Herstory and Clea's Flourish by LoveYourself's Flourish Hour. These shows will stream alternatingly every Wednesday.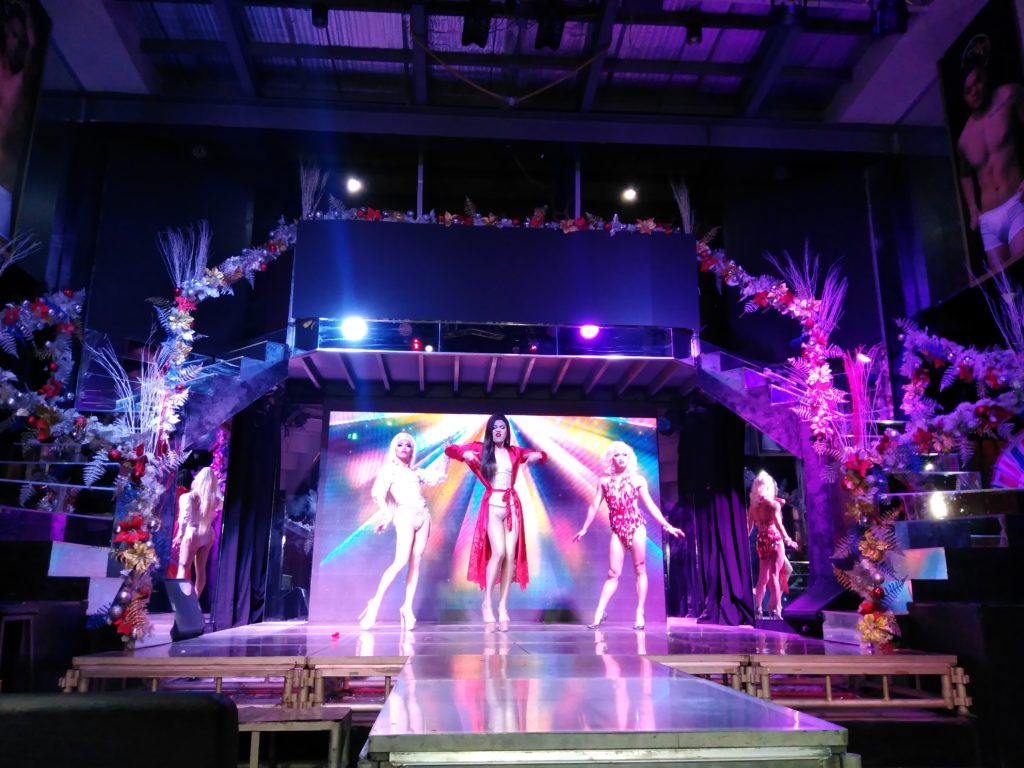 Lights were brightly turned on when the all-star cast of Spotlight show off their prowess on stage, an almost show-stopping performance of the night. Hosted by drag queen Captivating Katkat, Spotlight is a drag contest created, mentored, and judged by drag queens. Ending its Season 1 last December, Spotlight's new season is brewing and ready to shine by mid-2021.
From queens to kinks, this latest addition to the growing shows of Spaces MNL combines both the Kinks and the Kweens. Formerly independent and streaming on Twitter, heaven knows it might be the big bang of all banging, with all six hosts collaborating for the show: Paris, Roberto, Ichal, Bill, Miguel, and LoveYourself's very own, Janlee Dungca.
Last but not the least in the roster of Spaces MNL's online shows is the most successful online drag show to date – the Kweeens Noight. Launching its Season 2, all drag queens of the show unite and perform together for the first time onstage despite one queen resides in Bacolod City. A brainchild of LoveYourself volunteer and drag queen, JC Abad a.k.a. JCourse, Kweeens Noight airs every Saturday night.
The Blast Off didn't just have a fire out; it went fierier when all Spaces MNL's stars come together to provide a culminating spectacle. Watch all Spaces MNL's shows on its Facebook account at spaces.mnl.
If not for the show's generous sponsors, Spaces MNL's Blast Off wouldn't be a success. The event is presented by LoveYourself, and AHF Philippines; co-presented by The One 690 Entertainment Bar, Apollo World Class Male Entertainment Bar, Sir Wil Channel, and Fahrenheit Philippines; in partnership with World Health Organization, UNAIDS, Sustainability of HIV Services for Key Populations in Asia, Pilipinas Shell Foundation Inc., USAID Philippines, Faberco Life Sciences, Macare Medicals, PhilHealth, The Boulder Creatives, and Bliss; sponsored by Bliss Four, Bliss Pleasure Enhancing Lubricants, Premiere Condoms, and EZ Lubricating Jelly; also brought to us by Carebare Naturals; with special thanks to Rotary International District 3780.
Text by LoveYourself iCOMM