The country's top stage performers are taking on the role of HIV awareness ambassadors as the Philippine Educational Theater Association (PETA) team up with LoveYourself for this year's #KYSandPlay National HIV Testing Day happening at up to 19 different locations nationwide on November 23, 2019.
Our theater stars-turned-advocates take time off rehearsals and performances to promote and campaign the importance of testing and knowing one's status as a solid step in fighting HIV and the stigma surrounding it. Before the you know your status, let's get to know them and learn about what they have to say regarding this important cause.
Not a One-Night Show
For theater actors Eko Baquial, Topper Fabregas, Cheeno Uy Macaraig, and Jimi Marquez, HIV testing must be regular and consistent, never a one-time thing.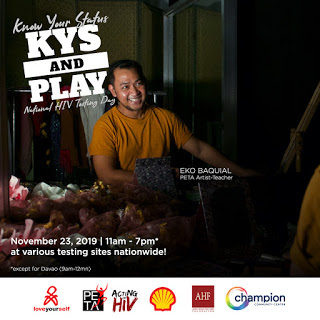 "I started when I was young… At an early age, we were told to have ourselves tested," said Eko, who recalls how his involvement with PETA's Metropolitan Teen Theater League gave him the chance to partake in HIV-related training sessions and productions that got him educated early on. Yet, he admits that the first time will always be different and memorable. "Pero iba pa rin 'yung experience ng first time. Nag-flashback lahat ng ginawa ko, but I'm glad I did it." (The first time doing it is still different. I had flashbacks of everything I did before, but I'm glad I did it.)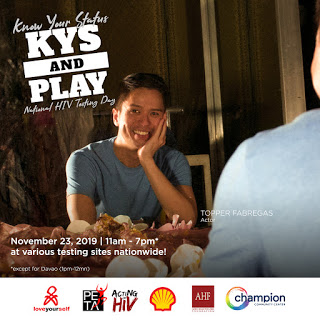 "[I've gotten] tested in-between shows," recalled Topper, who starred on Angels in America early this year, as well as on PETA's local staging of "The Normal Heart" in 2017. He credits these productions, as well as the chance to partner with LoveYourself in a workshop for counselors in the past, to the knowledge he's gained about HIV. "I was educated about how many people get infected. I think it was only 22 [Filipinos testing reactive, in a day], at that time." (In comparison, a July report released by the HIV/AIDS and ART Registry of the Philippines shows that this has increased to up to 35 new cases in a day.)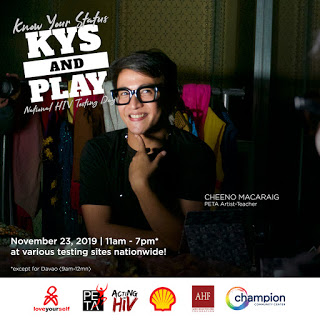 For Cheeno, everyone should get into the habit. "Actually dapat lahat ginagawa 'yun, kasi para sa 'yo rin 'yun eh; para sa health mo, at para ma-protektahan mo ang sarili mo." (Actually, everyone should be doing it because it's for yourself, your health, and for you to protect yourself) To this, Jimi agrees. "That's the only way you'll know your status. Believe me, it will help you."
HIV testing can only end up with one of two results, yet regardless of the outcome, Jimi calls it a "win-win situation" adding, "You'll know how to cope with the situation that you're in. There's no better feeling than to have peace of mind." Eko stresses this out as well: "Getting a non-reactive [result] is also a reminder that everyone is susceptible to the virus. To be tested regularly is the key."
Saving Your Skin
Actors Bene Manaois, Dylan Ray Talon, and Miguel Almendras star in "Under My Skin" which opens February of next year. Written by Rody Vera and directed by Melvin Lee, the play tackles HIV through accounts of different characters affected and impacted by the virus.
Bene, Dylan, and Miguel are thankful for the opportunity to be a part of this meaningful project, and become ambassadors of #KYSandPlay, as this sheds new light to what they know so far about HIV, and how they can be advocates of this cause and become better colleagues to the rest of the theater community.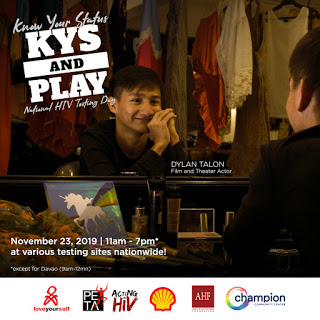 "Nagpapasalamat ako sa PETA at binigyan ako ng mas malapit na pagtingin sa sitwasyon," (I'm thankful for PETA for giving me an closer look at the situation) says Dylan who, prior to this project, has only learned about HIV through self-research and stories from other people in his network who live with HIV (PLHIV). He's eager to get himself into the advocacy armed with the facts he needed to know.
Bene, meanwhile, highlights the importance of self-care through testing and knowing one's status, and how care and concern for other people, particularly PLHIVs can spring from it. "As a person and an artist, it's always of great concern to know [how to care about others]. Tao rin sila, kabiyak mo rin sila." (As a person and an artist, it's always a great concern to know [how to care about others]. They are people too, They are family.)
There's no reason not to get tested. At this day and age, you have to break the stigma. Don't be afraid, don't limit yourself.

Miguel Almendras, theater and TV actor
No Day But Today
Sensational, award-winning titles such as RENT, The Normal Heart, and Angels in America center on the strength amidst the struggle and stigma surrounding HIV. This representation in the theater is what "Under the Skin" aims to achieve, but with a local, more familiar approach. This also makes the collaboration with LoveYourself for #KYSandPlay the right fit, allowing theater actors to be more effective advocates by playing important roles both on- and off-stage.
"You'll be surprised at how much people just don't know," reveals Topper, which is why he believes "it's so important to keep spreading the message and to end the stigma."
For Eko, theater "gives an avenue, a space to talk about the issue." He emphasizes this, realizing that the impact of HIV has come closer and more urgent, given the rising number of cases.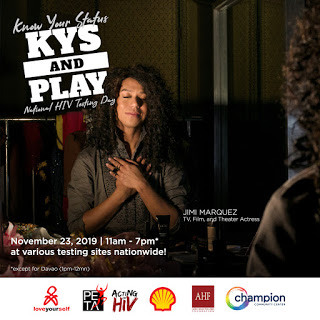 This impact is indeed closer to home for Jimi, who shares about a friend who has been diagnosed. "It can happen to anyone. [That's why] as much as we can, we're encouraging everyone [to get tested]. It can only do you good."
From this new-found advocacy, Dylan hopes he can inspire everyone to finally take on this important step of knowing one's status. "Kung anuman ang resulta, mas makikita mo 'yung halaga ng sarili mo." (Whatever the result is, you'll be able to see how valuable you really are.)
After the #KYSandPlay National Testing Event, you can still have free and confidential HIV screening at any of these venues: Metro Manila (LoveYourself clinics in Anglo in Mandaluyong, Uni and Victoria by LoveYourself in Pasay, Welcome in Quezon City, and Lily by LoveYourself in Parañaque), Luzon (Hero by LoveYourself in Bacoor, Cavite, AVES Love and Light in Imus, Cavite, Lakan Community Center in Mabalacat, Pampanga, and Amos Tara in Puerto Princesa, Palawan), Visayas (LoveYourself White House and Atma Prema Community Center in Cebu City, Cebu, Bangaw Federation in Talisay, Cebu, LoveYourself venues in Lapu-Lapu and Mandaue City, Cebu, and Rajah Community Center and kNOwTELL Health and Wellness Lounge in Iloilo City), and Mindanao (Olympus Society of Davao in Davao City*, Oro Pia Community Center in Cagayan de Oro, and Mujer LGBT Organization in Zamboanga City).
Text by Ulysses Konstantin Largado