No one can think about baklang kanal and not mention Inah Evans. "Maybe because I'm unapologetic and savage af," she quips. The rising social media star, also known as Mother Kepler, Barangay Queen, and yes, "Baklang Kanal" personified, readily takes on a new role as an advocate of HIV education and testing. "I think ang daming (a lot are) uneducated about it," she says about the rising rate of HIV infections, with younger people taking a bigger share of the statistics. "I just want to be part of informing the public about it."
Inah shares her excitement on adding her personal flare to this important advocacy. "Ang ingay-ingay ko (I am admittedly loud), so why not mag-ingay ako (speak up) for something good 'di ba (right)?" Joining comedian/host Peachy Roberts and drag queen Viñas Deluxe, the trio now help debunk common HIV myths and educate against misconception for #SaferNowPH.
The OG Baklang Kanal herself takes us "Inah" her mind in this LoveYourself interview. Here's what we got:
On misconceptions: Do you have any personal experiences where people have wrong impressions about you? How did you handle it, and how did you prove them wrong?
Sobrang dami (there's just a lot)! Hahaha! Minsan nga, iyong wrong impressions na iyon, when you let it get into your head, you almost start believing, it too. (Sometimes, when you let those wrong impressions get into your head, you almost start believing it, too), Kaya importanteng dapat (That's why it's vital that) you know yourself and the rest can f*ck themselves. Whenever people get the wrong impression about me, I don't try so hard to please them, I just live my life normally and it's up to them to figure me out. I think it is stupid and unfair to judge someone based on some fragments of wrong impressions and mistakenly conclude it as a whole. Alam mo iyorn?! Hahaha!"
How do you feel on being part of an HIV awareness campaign, debunking myths and misconceptions about the virus?
I'm always honored. Every time I'm contacted by LoveYourself and its affiliates to do campaigns with them, (I have) no second thoughts.
It actually feels good being part of a campaign where we educate people because you know, knowledge is power!

Inah Evans
What HIV myth or misconception have you encountered?
May mga nakakausap ako na (I've met people in the past and) they think na mahahawa sila (they can get HIV) just by kissing alone. So kapag may ganu'ng instances, kinukuha ko iyon as an opportunity to educate. (I take those instances as opportunities to educate). Lahat naman tayo nagsimula rin sa walang alam (We all start from not knowing anything) until someone taught us things. So bigayan lang, hey!
What are your thoughts about misconceptions like HIV can be transmitted via mosquito?
2021 na mga Kakosa! If naniniwala pa rin kayo sa ganyang (you still believe those) misconceptions, I say lumapit kayo sa mga (rely on) advocates and centers that offers free HIV counseling. Saka ang dami-dami na (Besides, there are currently multiple) platforms on social media to learn all this. MAG-ARAL PO TAYO (Let's educate ourselves).
As a socially aware baklang kanal, what's one thing you wish you can tell your younger self about sex and sexual health?
Ako talaga, (Personally) I will say: "Younger Inah Evans, I'm so proud of you!" Hakhakhak! Kasi talagang (I know for a fact) I'm careful. Always safe sex,ever since. Kahit gaano ako kalasing o kawalwal, gagapang ako papunta sa bag ko to get condoms hahaha or kung wala, kailangan talaga makapag-produce kami. (No matter how drunk or wasted I am, I'd crawl if I have to only, to grab condoms from my bag, or I'll make sure I can get one.) Sex can wait but we only get one chance to get infected and there's no going back (so) I don't take my chances even as a teenage slut."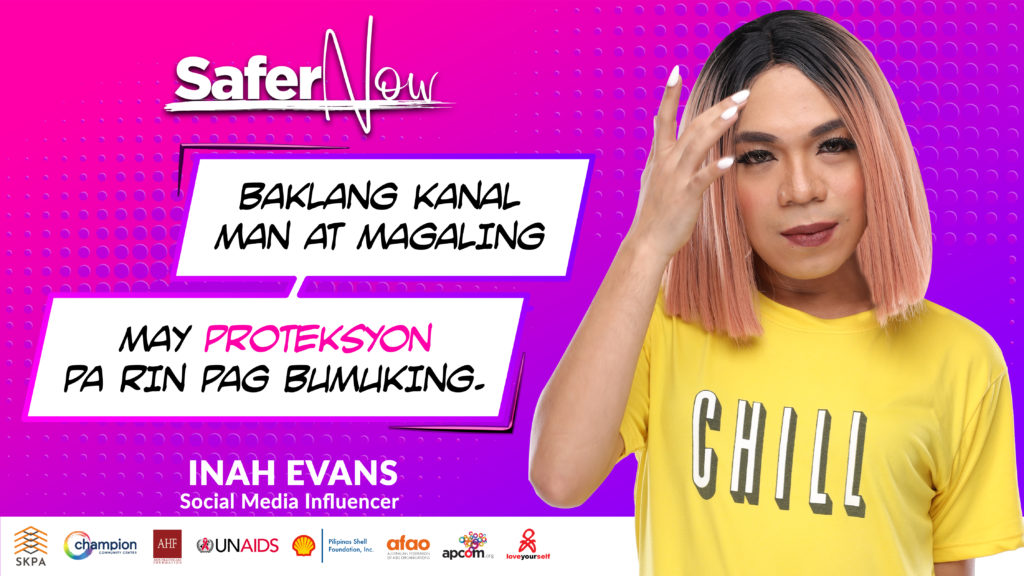 Why do people need to know how HIV is transmitted?
It's important for people to know how HIV is transmitted because it will help them prevent it at the same time, protect themselves from getting it. It's a two-way street.
"To all my Kakosa na may stigma on PLHIV, that is Kepler–Disappoved! Hakhakhak! Hindi ko kayo pinalaking ganyan hey, hey, hey! The world is cruel na, huwag na tayo dumagdag. More than empathy, we also need to be educated enough so we can destroy all these stigmas. Magtulungan tayo. Tama na ang discrimination. Wala na dapat puwang ang katangahan at kamangmangan. You owe it to yourself.

Inah Evans
See more of Inah Evans proving HIV myths and misconceptions wrong as we strive for a #SaferNowPH.