LoveYourself once again presented on the international stage the Filipino community's efforts in battling HIV as scholars and delegates gathered at the 12th IAS Conference on HIV Science in Brisbane, Australia. The IAS conference will spotlight the world's advances in HIV research, new concepts, and best practices from July 23-26 at the Brisbane Convention and Exhibition Centre.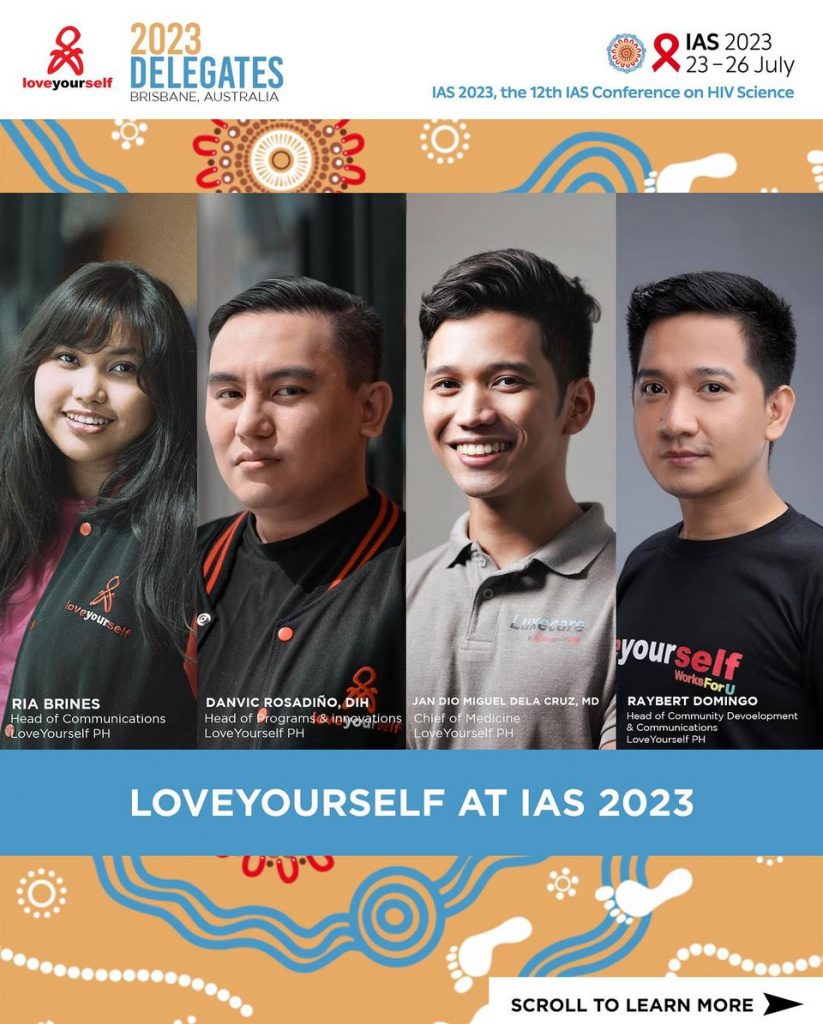 Filipino delegates from LoveYourself will present various topics, including pre-exposure prophylaxis and self-testing implementations in the country, to which the organization has a huge role to play in their inceptions.
On July 23, Danvic Rosadiño, Head of Programs & Innovations, led one of the topics about HIV financing strategies entitled "More than money: How equitable financing strategies support differentiation and sustainability in a country-led HIV response," in which he presented "The value of equitable financing" at the audience of Boulevard Auditorium & showed in the conference's Channel 7.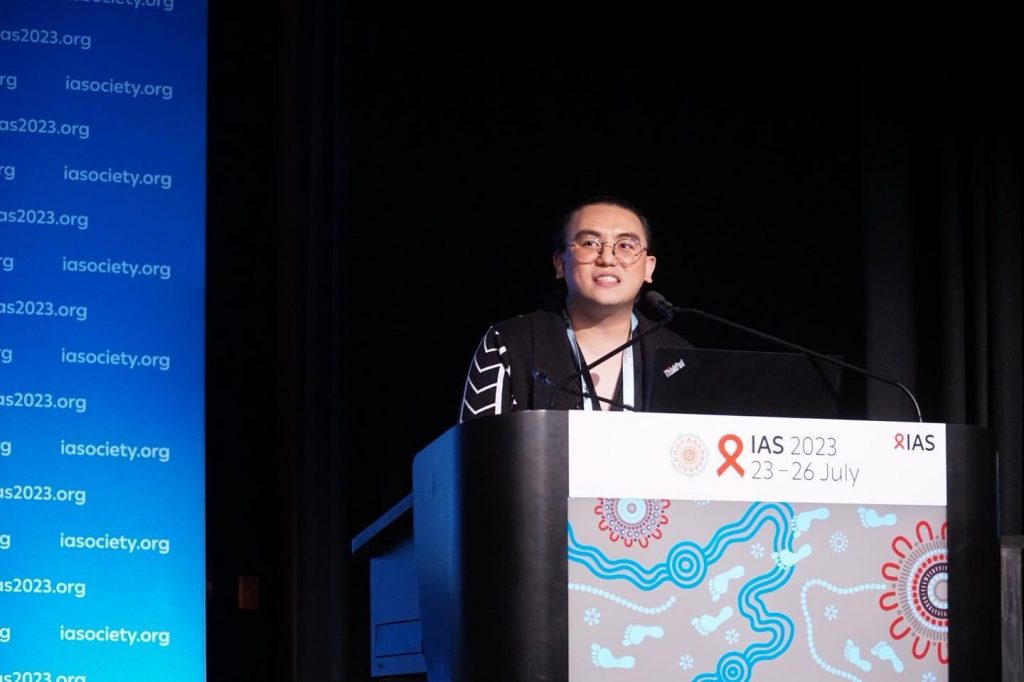 Furthermore, Danvic was also one of the speakers for the session called "Preparing for the introduction of injectable cabotegravir for HIV prevention in Asia," with a focus on accelerating PrEP rollout in the Philippines. Danvic will also present a late-breaker abstract in PrEP on July 24.
Side by side, Danvic's first session was Raybert Domingo's, the Head of Communications & Community Development, who sat as one of the panelists for the session entitled "Ending AIDS in Asia and the Pacific by 2023" held and showed at M3/Channel 5.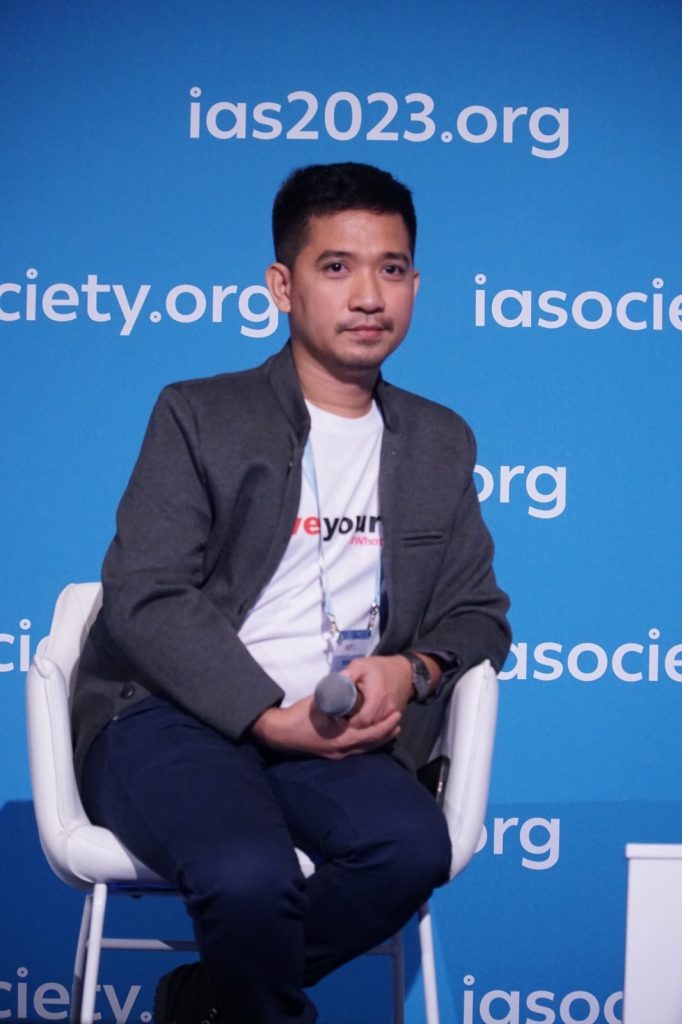 Raybert highlighted SelfCare, the HIV self-testing program of LoveYourself, and how LoveYourself roll-out demand generation activities to promote accessing sexual health services in the country. He's also the first community volunteer to be accepted as one of the media scholars for the conference.
Scholars Dr. Jan Dio Miguel Dela Cruz and Ria Mae Briñes will also present their abstracts on July 24. Miguel will have a poster presentation entitled "Evidence of peer-led demedicalized delivery of same-day PrEP in various community centers in the Philippines," while Ria will be one of the speakers for the #SwitchUp4KeyPopulations: Worldwide advancements in meeting the growing needs of the key populations session with her abstract titled: Increasing access to SelfCare: Employing an online-based demand generation strategy to increase uptake of peer-led unassisted HIV self-testing among key populations in the Philippines.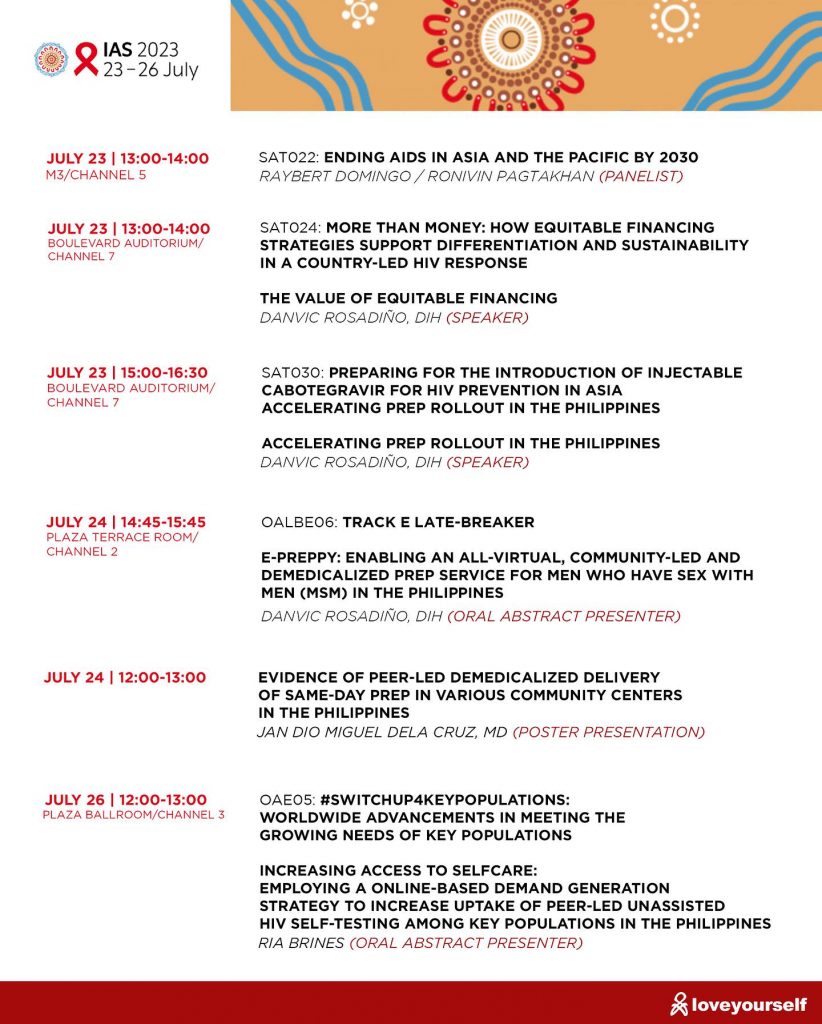 The IAS Conference on HIV Science is the world's most influential meeting on HIV research and its applications. This biennial conference presents critical advances in basic, clinical, and operational HIV research that move science into policy and practice. Through its open and inclusive program, the meeting sets the gold standard of HIV science, featuring highly diverse and cutting-edge research.
Written by Bet Domingo / iCOMM Editorial