It was on July 21, 2011 when LoveYourself, Inc. was founded. Formed with eagerness and enthusiasm to help the community, six strangers turned into friends established the LoveYourself that we know now.
In this anniversary message, founder and executive director Ronivin Pagtakhan extends his appreciation for the help the organization has gotten over the years to realize its mission. It was a remarkable 12 years made of love. He also shared his ideals for the years ahead.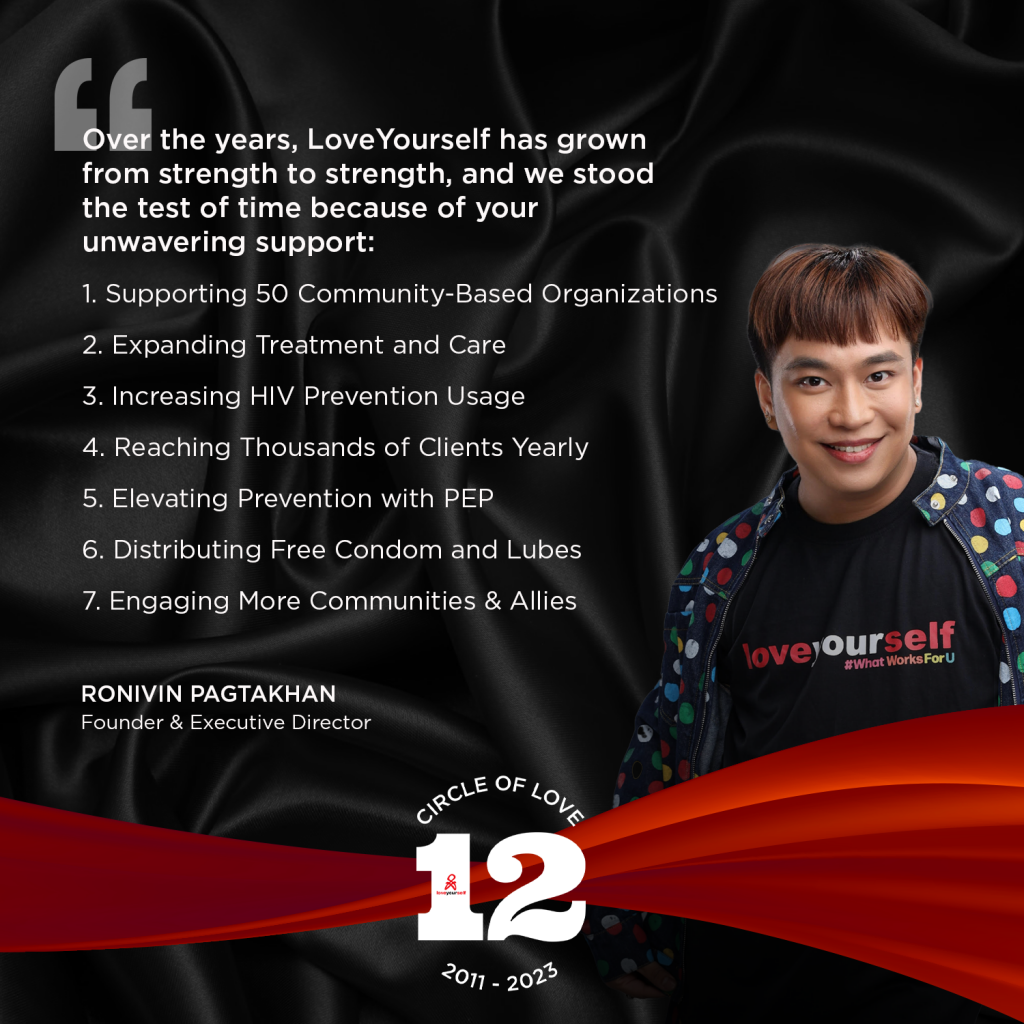 Read the full message here:
Today, July 21st, we celebrate LoveYourself's 12th anniversary, a milestone that fills our hearts with immense pride and gratitude. As we reflect on our journey, let us take a moment to recognize the remarkable progress we have made together.

Over the years, LoveYourself has grown from strength to strength, and we stood the test of time because of your unwavering support. I am pleased to share with you some remarkable achievements that we have accomplished together:

1. Supporting 50 Community-Based Organizations (CBOs): Our commitment to collaboration and partnership has allowed us to extend our reach to 50 CBOs for the next cycle from 34 nationwide. Together, we work towards spreading HIV/AIDS awareness and fostering a culture of acceptance and understanding.

2. Expanding Treatment and Care: LoveYourself has touched the lives of over 12,000 people living with HIV, linking and providing them with comprehensive treatment and care services. Our dedication and collective efforts continue to empower individuals to lead healthy and fulfilling lives.

3. Increasing HIV Prevention Usage: We have reached a significant milestone of having 10,000 individuals on Pre-Exposure Prophylaxis (PrEP). This preventive measure has played a crucial role in reducing new HIV infections, giving hope at stopping the epidemic and paving the way for a brighter future.

4. Reaching Thousands of Clients Yearly: HIV testing remains one of our primary commitments, as we have successfully conducted over 200,000 tests yearly. By making testing accessible and promoting a culture of regular testing, we are working towards breaking the barriers and stigma associated with HIV.

5. Elevating Prevention with PEP: LoveYourself has assisted 3,500 individuals through Post-Exposure Prophylaxis (PEP) for their emergency cases. By offering timely support and access to life-saving medication, we ensure that those in need receive the care they deserve.

6. Distributing Free Condom and Lubes: We have distributed over 500,000 condoms and lubes, ensuring everyone that safe and responsible practices are within reach. This initiative has contributed significantly to the prevention of HIV transmission.

7. Engaging More Communities & Allies: We have successfully reached out to more than 500 companies, schools, and local communities through our LoveYourself Caravan, spreading awareness and fostering a supportive environment in various spaces. Together, we strive to create a society where compassion and inclusivity thrive.

Looking towards the future, we have set our sights on opening five new LoveYourself Hubs and Clinics before 2024. These safe spaces will serve as beacons of hope, providing comprehensive services and support to those who need it the most.

Additionally, we are eagerly exploring innovations, such as injectable PrEP and Doxy-PEP, to enhance our preventive efforts further and provide more options for individuals seeking protection and care.

None of these accomplishments would have been possible without the dedication of our invaluable volunteers, partners, sponsors, and funders. We express our heartfelt gratitude to each of you for your unwavering commitment to our cause.

We also extend our most profound appreciation to our cherished clients for your trust and for choosing LoveYourself. Your resilience and determination inspire us daily, and we remain steadfast in our mission to serve you better.

Most importantly, I want to recognize and honor our hardworking staff and volunteers. Your passion, professionalism, and unwavering dedication form the backbone of LoveYourself. Together, we carry the vital brand of experience—iniingatan (nurturing), inaalagaan (caring), inaasikaso (attending to)—as we continue to make a positive impact on the lives of those we serve.

Thank you for celebrating 12 years with us. Let us continue to stand together, united in our commitment to HIV/AIDS awareness & prevention, shared community causes, and compassionate care.

– Ronivin Pagtakhan, LoveYourself Founder & Executive Director
Happy 12th Anniversary, Lovers! See you on August 19 for the grand celebration!
Mabuhay kayong lahat!