Volunteers and staff of LoveYourself have flown to Montreal, Canada, to represent the Philippines for the AIDS 2022 conference, kicking off the organization's celebration of its 11th anniversary.
The AIDS 2022 conference is the largest global gathering of HIV advocates and movers to support knowledge sharing, greater understanding, and stakeholder networking to address the epidemic.
Organized by the renowned International AIDS Society (IAS), conference activities started with pre-conference events from July 27 until July 28 (EDT). The conference proper will be held from July 29 to August 2 (EDT).
More than ten scholarship grants and support were given to LoveYourself committee volunteers and program staff for the initiatives they have led to improving the HIV landscape in the Philippines. So far, this delegation to the international conference is the biggest for a Philippine civil society organization, such as the LoveYourself.
After their team's grueling tasks of creating these academic abstracts and concept notes, 12 proposals were accepted and will be presented in person and virtually at this year's conference. These proposals include:
– Realized potential: Results from a post-demonstration nationwide rollout of a community-run COVID-responsive unassisted HIVST service in the Philippines

– Predictors of uptake of HIV prevention interventions among transgender individuals in a community-led clinic in Metro Manila

– Finding local models for comprehensive HIV/AIDS management in closed settings: Documenting the experience of the Bureau of Jail Management and Penology (BJMP) in Cebu City, Philippines

– Mobilizing Key Populations (KP) in Demand Generation of HIV Services and Community-Led Monitoring (CLM) Through Community Journalism: The Ripples Experience

– SummerFunCollab: Engagement of online anonymized influencers in creating awareness and demand of HIV pre-exposure prophylaxis among high-risk men who have sex with men in the Philippines

– SelfCare's Cat and Pao: The use of community-led automated virtual assistance and peer support in an unassisted HIV self-testing program in Metro Manila, Philippines

– BreakFree: Breaking gender norms and empowering trans people and cis women for better sexual health choices

– #UMatter: Stories of Struggle, Hope, and Empowerment in the U=U Lived Experiences of Filipino People living with HIV

– Capturing Empowerment from the U=U Lived Experiences of Filipino People Living with HIV Through the #UMatter Photovoices

– SuperBuds and the CombiNation: Making HIV combination prevention information fun and engaging through the use of innovative approaches and visual media

– May Stigma Ba? (Is There Stigma?): A qualitative investigation into HIV stigma in the Philippines for MSM and TGW populations and their families

– Communicating truths: promoting HIV and stigma awareness through storytelling and devised performances inspired by the #MayStigmaBa? Project qualitative research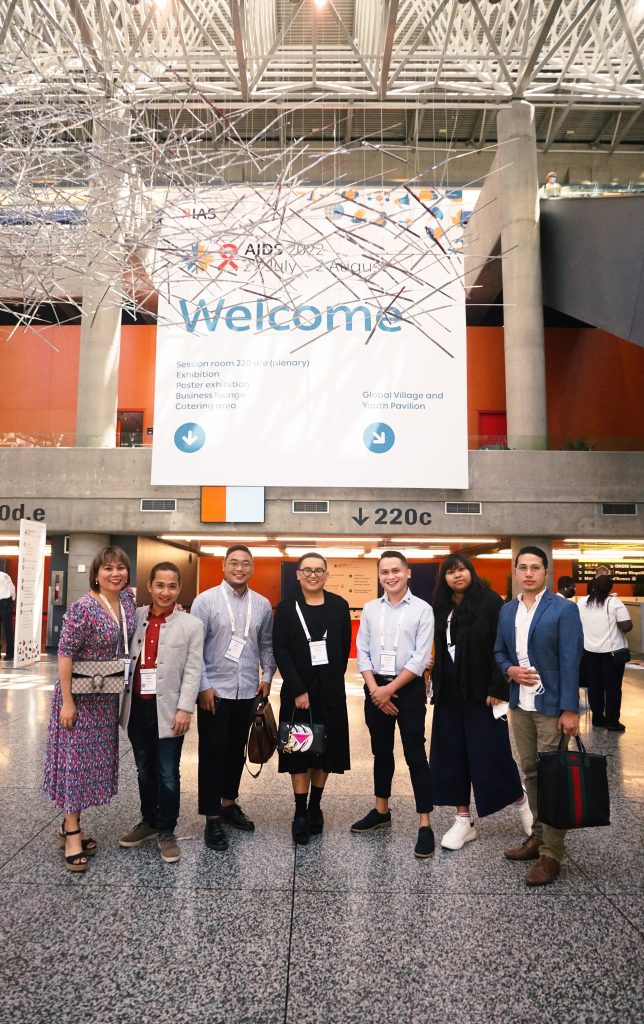 Grantees will present their respective proposals and engagement activities to thousands of conference participants.
In person scholars for the AIDS 2022 are Edgar Bagasol Jr., Ria Briñes, Raybert Domingo, John Oliver Corciega, Dr. Patrick Eustaquio and John Darwin Ruanto. Meanwhile, Danvic Rosadiño and Rosario Domingo will represent LoveYourself and EpiC Project. Mark de Castro, a LoveYourself volunteer, will also participate under the sponsorship of Pilipinas Shell Foundation Inc.'s HIV program.
Jess Pe Benito, Kurt Silvano, and Mark Russel Catayong will attend the conference sessions as virtual scholars. LoveYourself founder and executive director Ronivin Pagtakhan will also participate at the conference virtually.
LoveYourself's participation in the AIDS 2022 conference demonstrates not only its thought leadership mindset for the HIV movement in the Philippines but its commitment to extending the creation of ripples of positive change in the global community.
Written by Bet Domingo
Photos by Ria Briñes