From a single Tweet and six individuals, LoveYourself has grown exponentially in its eleven years of existence. It is with great pride to see how LoveYourself has evolved to what we call home, community, and a safe space, not only for the LGBTQI+ and the PLHIV communities but basically for all of us.
Now at 11, I never would have thought that we would have the opportunities we have now. From a handful of volunteers, we now have a total of two thousand volunteers and advocates. From volunteering at RITM's satellite clinic in Malate, we now have 10 safe spaces for your sexual health, trans health, mental health and other psychosocial support needs. We have Anglo in Mandaluyong, Victoria in Pasay, Welcome in Manila, Lily in Parañaque, Hero in Bacoor, White House in Cebu, Amos Tara in Puerto Princesa, Bagani in Bacolod, and Luxecare clinics in EDSA-Shaw Starmall and Alabang. We also have safe spaces nationwide with the help of our Champion Community Centers network, a group of 24 amazing community-based organizations like ours.
Though the journey may not have been the smoothest, our message of self-worth has certainly resonated to all who have come through our doors, be it in our centers, on our communication channels or events. Primarily, we thank our mentors and colleagues in the advocacy for teaching us how to navigate with issues and concerns us and the HIV landscape locally and internationally. Clients, volunteers, and staff have found a community that made ripples of positive change that can last a lifetime. Let's continue empowering and nourishing each other's self-worth to further our cause.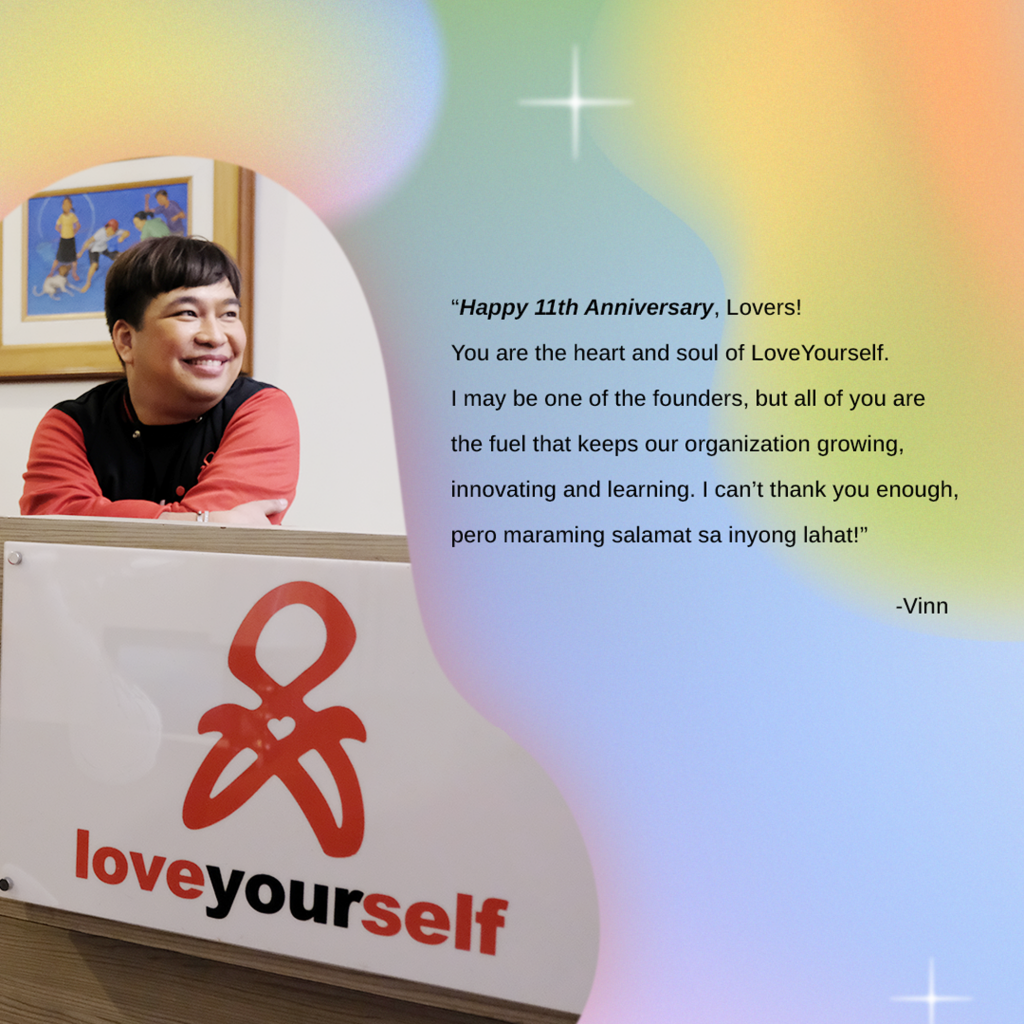 To our institutional partners, we won't reach our goals year-on-year without your help. Our gratitude extends to the moon and back. Thank you for trusting us: Pilipinas Shell Foundation, Inc., PROTECTS, Champion Community Centers, AIDS Healthcare Foundation, The U.S. President's Emergency Plan for AIDS Relief (PEPFAR), EpiC, USAID Philippines, Department of Health, Philhealth, World Health Organization, UNAIDS, Frontrow, Lauvette, Camber Pharmaceuticals, Spaces MNL and OwlRight Studios.
Happy 11th Anniversary, Lovers! You are the heart and soul of LoveYourself. I may be one of the founders, but all of you are the fuel that keeps our organization growing, innovating, and learning. I can't thank you enough, pero maraming salamat sa inyong lahat!