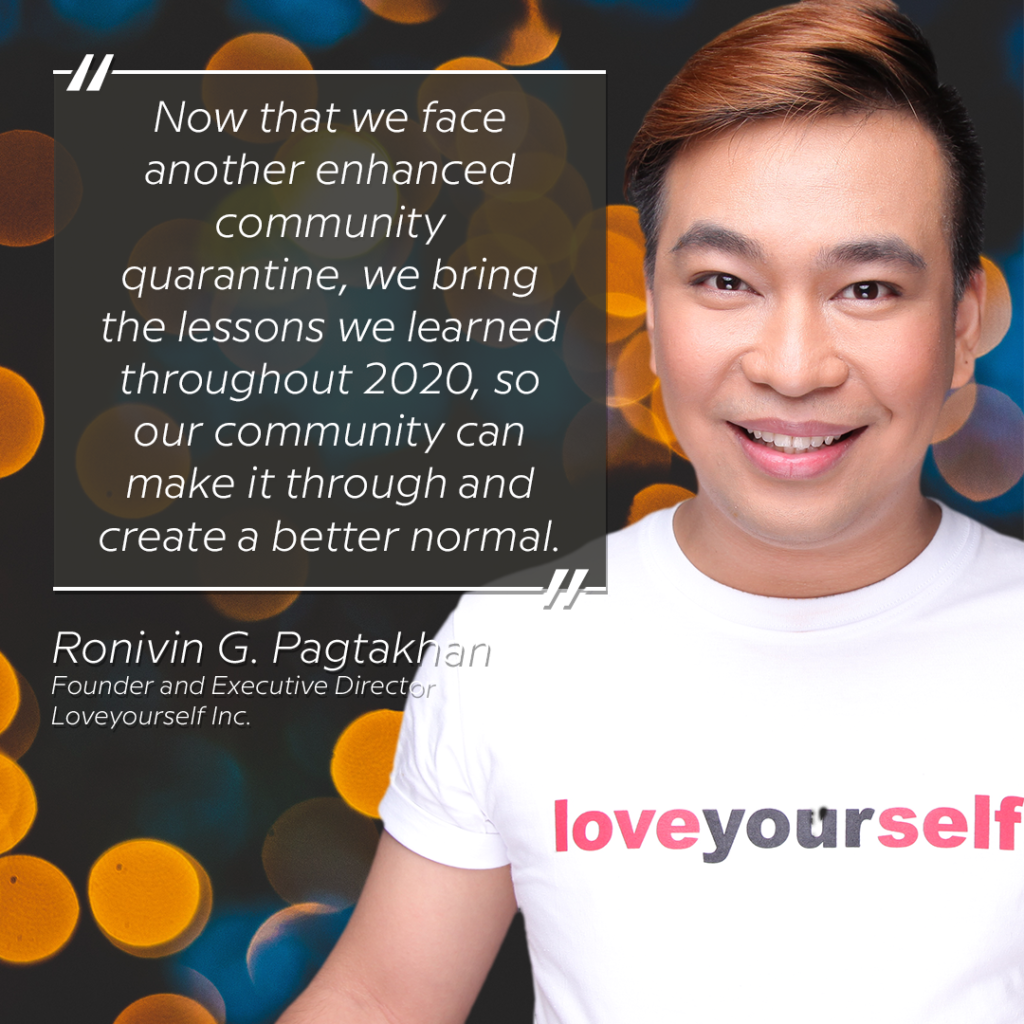 It has been more than a year since the COVID-19 pandemic has affected our nation. Now that we face another enhanced community quarantine, we bring the lessons we learned throughout 2020, so our community can make it through and create a better normal.
With cases of COVID-19 rising once again, we are encouraged to stay home and limit our travel to only those essential. Even with these limitations, we continue to provide services to the communities we serve for sexual, mental, and transgender health needs. We established innovative and pandemic-responsive programs to make sure our clients' safety from COVID-19.
Throughout the past year, sexual health services, such as HIV testing and treatment, have been supplemented with telehealth systems.
For HIV testing, we give options for testing clients to know their status. We continue to facilitate regular testing services under the Booking system to limit by appointment and better manage foot-traffic for social distancing in the center. Last year, we initiated the SelfCare program in Mega Manila for the country's first-ever self-screening program. With this program, clients can opt to check their status at the confines of their private safe space. Now, we are on its full-scale implementation nationwide while also giving free 1,800 kits to those who need it the most.
Treatment clients are being served through Xpress Refill and iCON (Interactive Consultation). These new programs enable us to bridge the gap of access to treatment medicines and medical consultation services to over the 7,000 people living with HIV enrolled in our treatment hubs.
We also march along with our trans siblings. With Booking and iCON, we deliver gender-affirming hormone therapy (GAHT) and other trans health services to our transitioning clients. Aside from maintaining their biomedical transition safely, we also launched our Transcend by LoveYourself program to cater to holistic trans services. We are here to guide them on their journey to be the person they see themselves to be.
During these trying times, our mental health is a priority. Our Flourish by LoveYourself continues with its peer-counseling "Circles," adapting its mental wellness sessions online with the fourth cycle ongoing. In overcoming this challenge, we seek to provide intervention and highlight the need for empathy and compassion during these times.
In collaboration with Pilipinas Shell Foundation, AHF Philippines, SKPA AFAO, and USAID EPIC FHI360, we are scaling up our efforts in strengthening community systems and service delivery. With the Champion Community Centers, expansion of PrEP, and continued emphasis on combination prevention, we hope to create a better normal as we move through the pandemic.
My heart goes out to our volunteers and staff who have tirelessly served despite the difficulties of the pandemic. Without your heartfelt dedication and blazing passion, we won't be able to provide the care that our community needs. We have our volunteers and staff to thank for the number of online campaigns, events, engagement activities, and even the very technology we use for our services. Indeed, they are the lifeblood of LoveYourself.
With these advances we've made, we hope to encourage our community to maintain the good habits they've developed for their own wellness. As we continue to rally against the twin HIV and COVID-19 pandemic, we are all striving to make a better normal that best suits our community's different lifestyles.
We thank you for staying with us throughout our nearly a decade journey. We are genuinely grateful for loving yourself with us by your side. And in that path we're taking, may you all flourish. We will never stop serving our communities even if we have already won our battles. Until that day comes, keep safe, everyone!