Love is everywhere as Lovers all over the metro converged at the LoveYourself Pride Convention (#LoveConPH) held at ArcoVia City in Pasig last Sunday (June 26).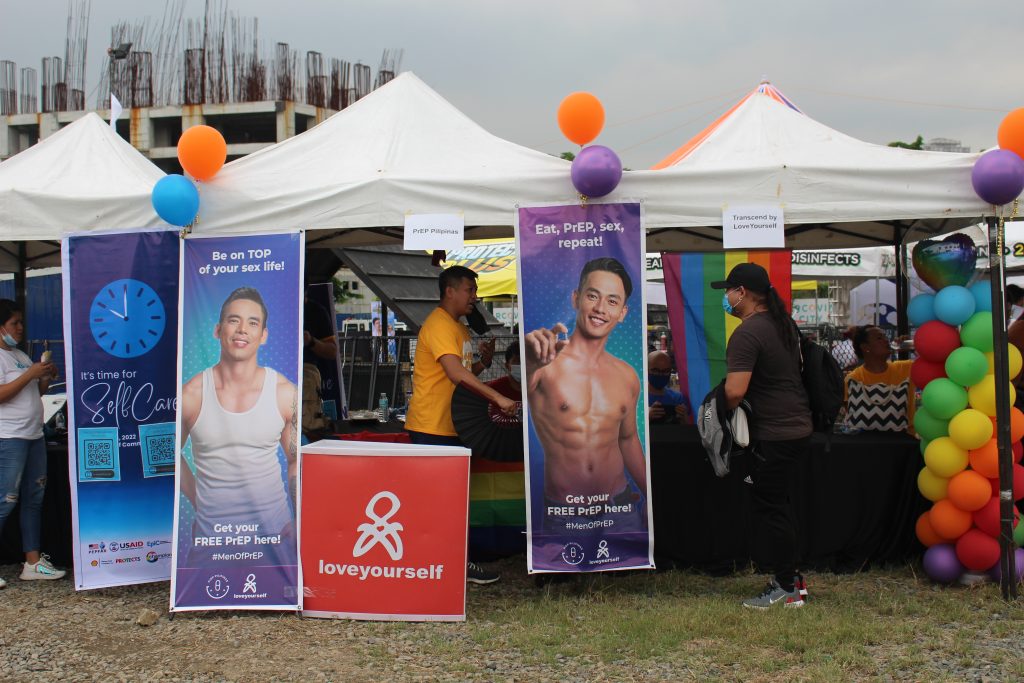 LoveCon started with the opening of pride booths at 1pm from partners, including MegaWorld, Tiktok, Task Us, FrontRow, Camber Pharmaceuticals by Hetero, SIP Purified Drinking Water, Sun Life, Up Mesh, Andiaethetic, and Pru Life. LGBTQI+ merchants also showcased their products, which include Scramble Prince, Sugarbomb Desserts, Papitea, Tresmonte Co., and Brew That Kape.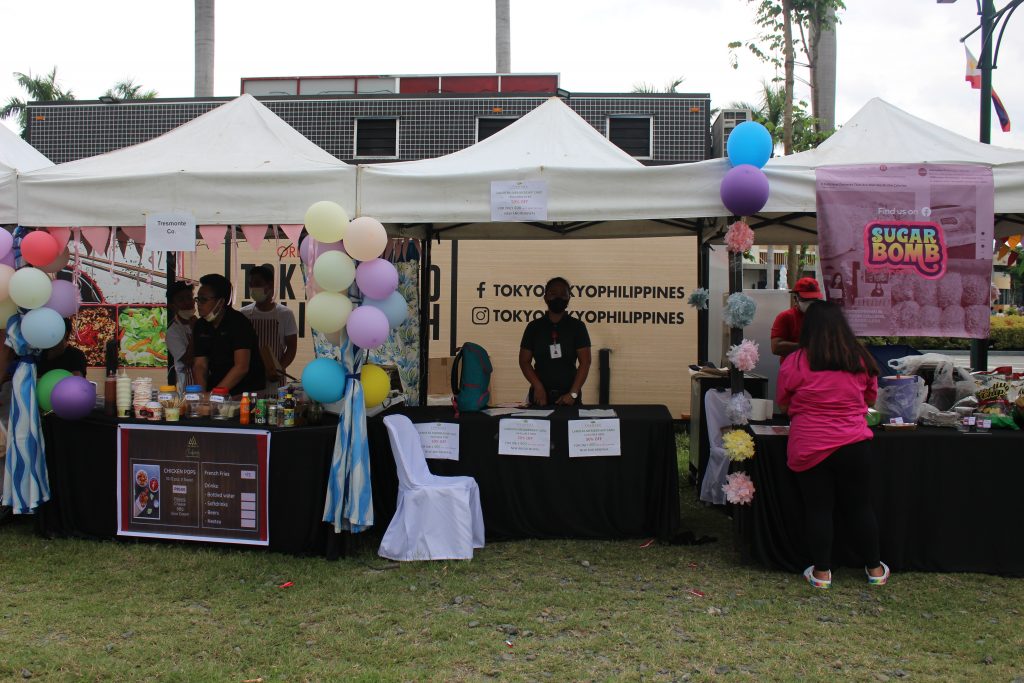 LoveYourself also put up booths representing its various programs to offer and conduct its services to LoveCon goers right then and there, including HIV testing thru SelfCare, and enrollment in a pre-exposure prophylaxis (PrEP) program thru the PrEP Pilipinas booth. Transcend and Flourish by LoveYourself booths were also present at the venue to reach out to potential clients.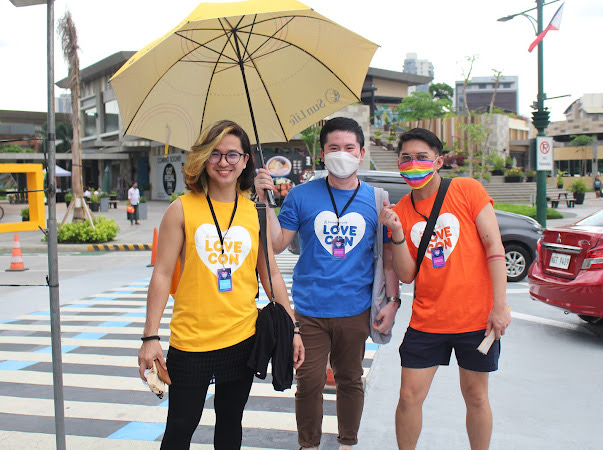 Interactive booths such as the Kissing, Marriage, and Jail booths were popular and brought life to the visitors. LoveYourself volunteer-staff, Jess Pe Benito moderated these booths while donning his dominatrix persona, engaging people to kiss, marry, and be imprisoned for fun!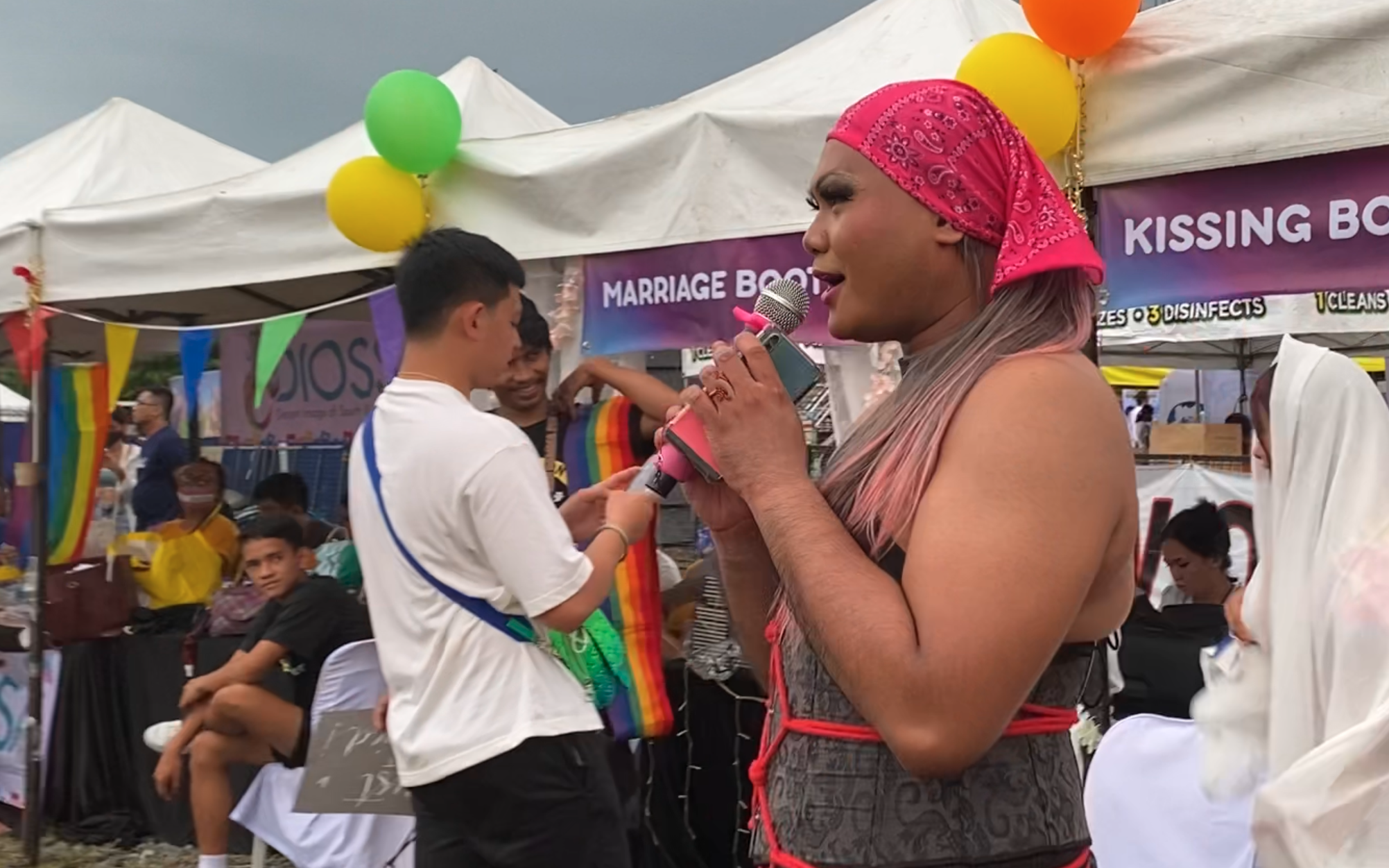 Despite the inclement weather, LoveCon was full of life. People are singing and dancing along to the sound and music played in the different booths. While the high heels protest was canceled due to heavy rains, many have still worn their heels and walked proudly as the event progresses to showcase pride-pumping performances.
Hosted by drag queen Clea T., comedienne host Peabo, and beauty queen and ally Joy Barcoma, the evening show was staged under the magnificent Arco de Emperador lit with 3D mapping projection of pride colors. It started with the announcement of winners from the different raffle games of the sponsors. Right after, LoveYourself founder and executive director, Ronivin Pagtakhan delivered his inspirational pride message for everyone.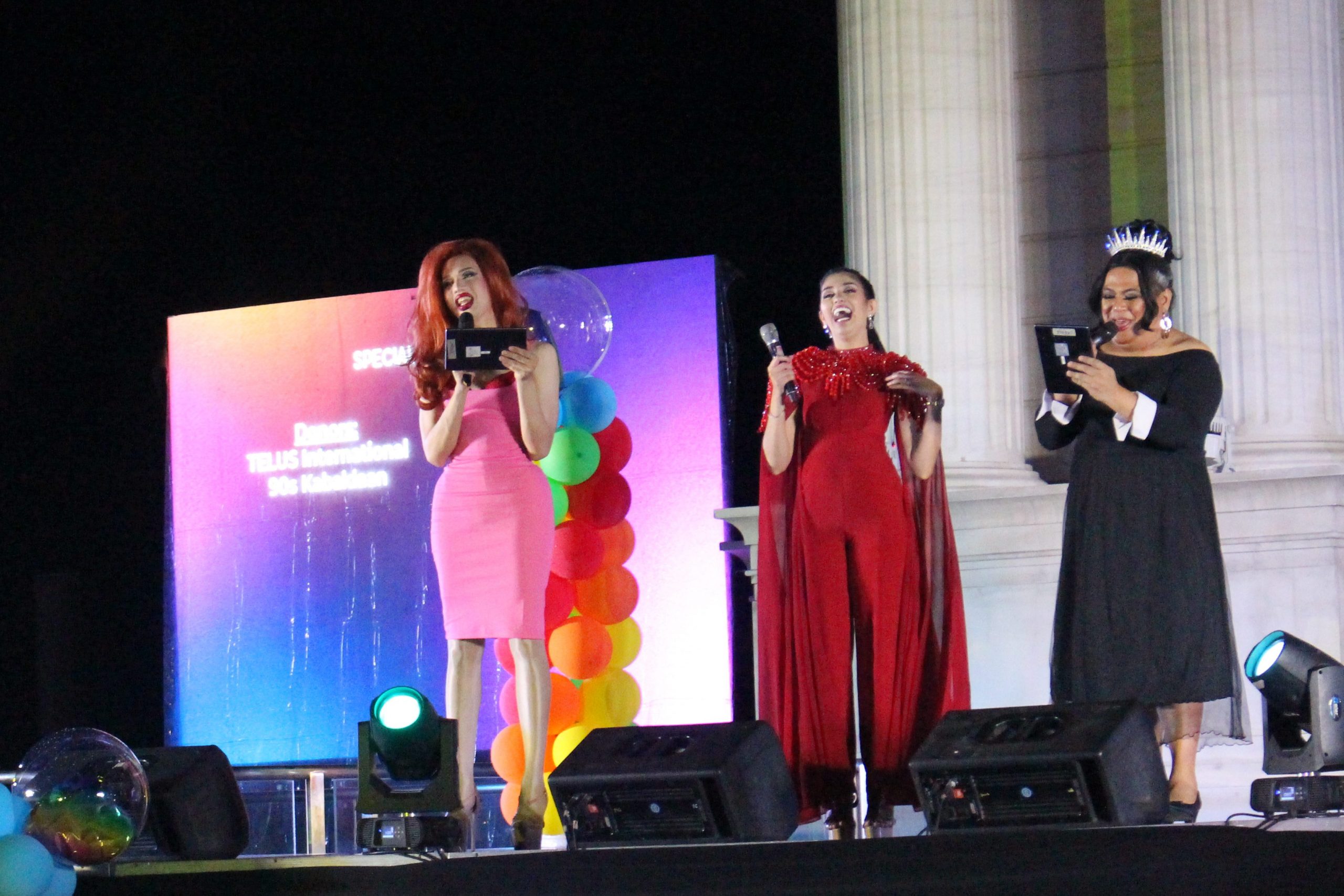 Angat Buhay All-Stars, a cheer dance group, hyped up the crowd with their exhilarating tumbling and tosses, towering pyramids, and energizing choreography. These stars are just perfect for opening the show.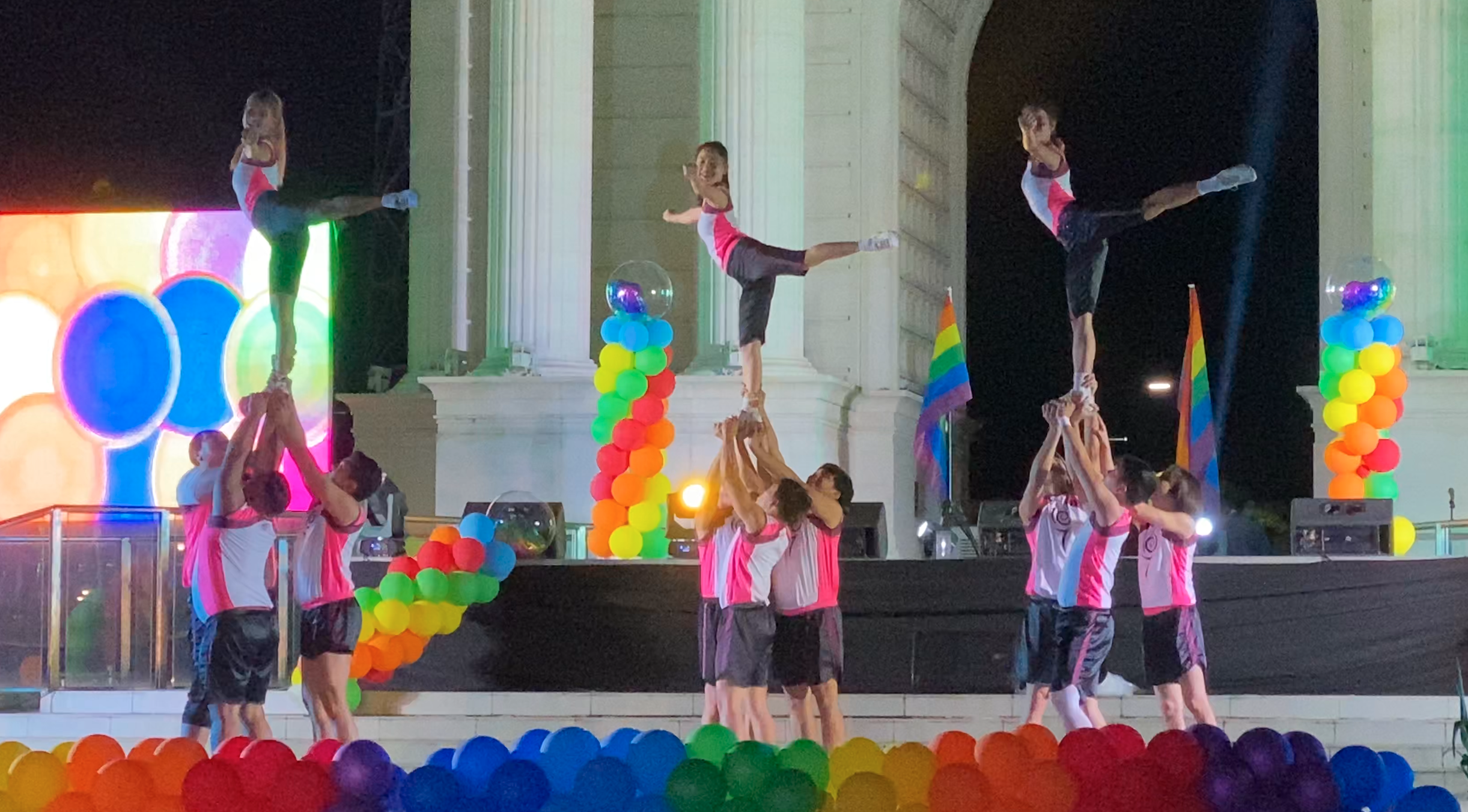 A roster of drag artists followed suit, putting meaning to the core of the pride event with all of their show-stopping performances. Also, their full make-up and glittering dresses speak volumes of their caliber. These drag queens include Deedee Holliday, Gorgeous Dawn, Lady Gagita, Moonlight, Cardi XD, Maniqueen, Citrina, Matilduh, Muah Dayaw, Myx Chanel, Martha Amethyst, Judith, Aries Night, the House of Empress, and Maria Christina.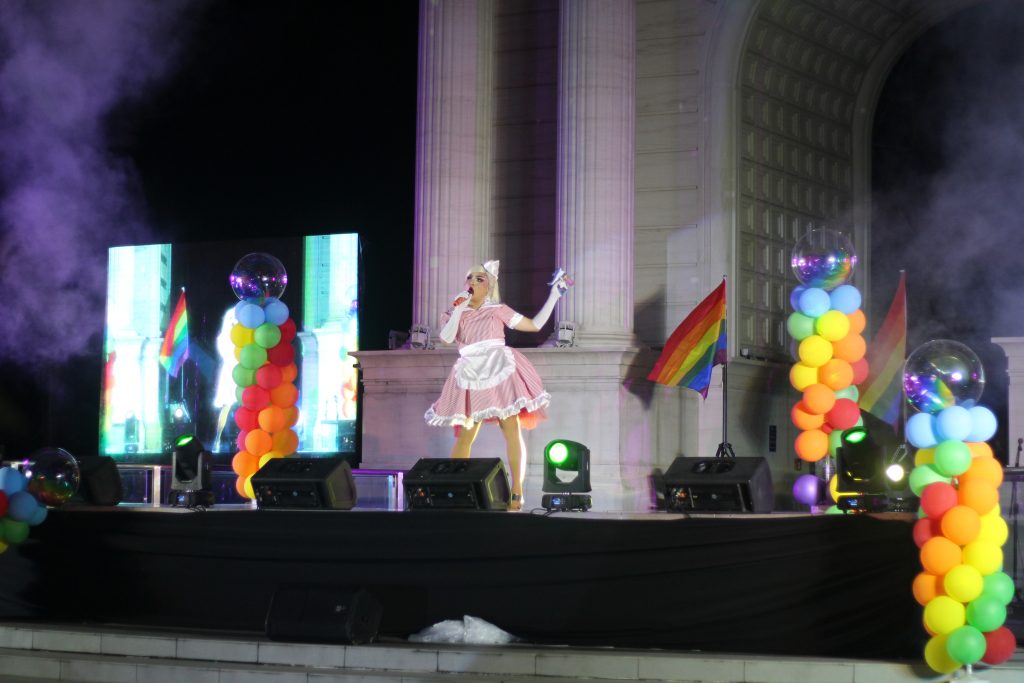 Serenading the Lovers during the show are LGBTQI+ artists whose stories of triumph inspire so many. These talented singers include Miguel Odron, Kio Priest, Matthew Chang, Pixie Labrador, JA Quintana, Mark Andreev, and Jayper Palma.
Alab Poi Dancers lit up the stage with their LED light displays in which one of the segments even brightly spelled out Happy Pride.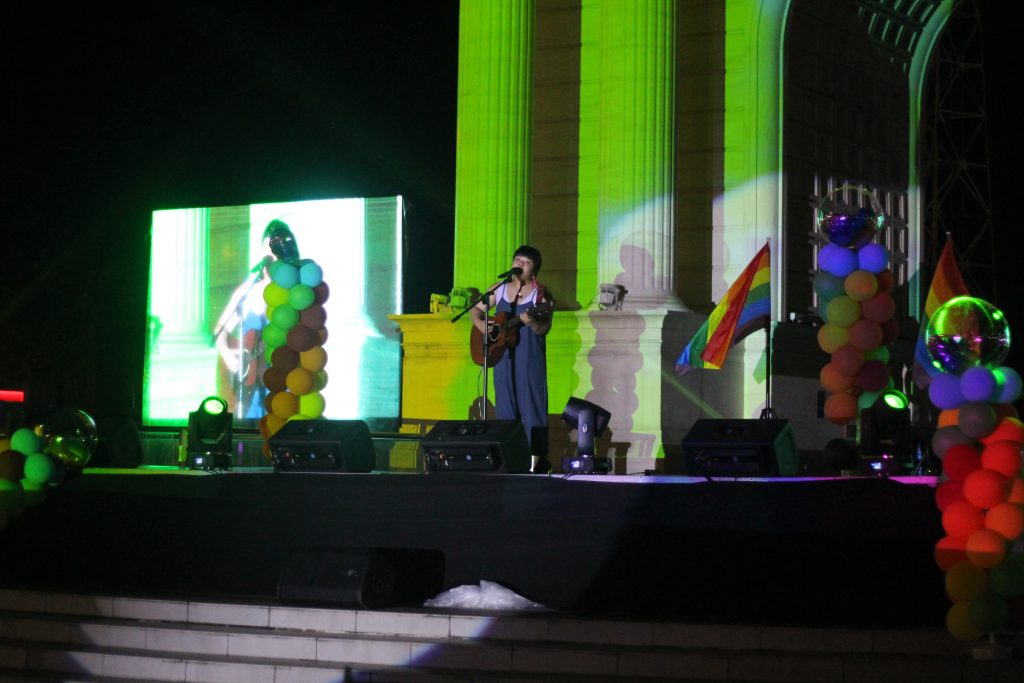 Just before midnight, LoveCon ended with house music spun by DJ Patty Tiu, who didn't stop the beat despite the rain. The pride party continued with DJ Patty until everyone takes love and pride in themselves.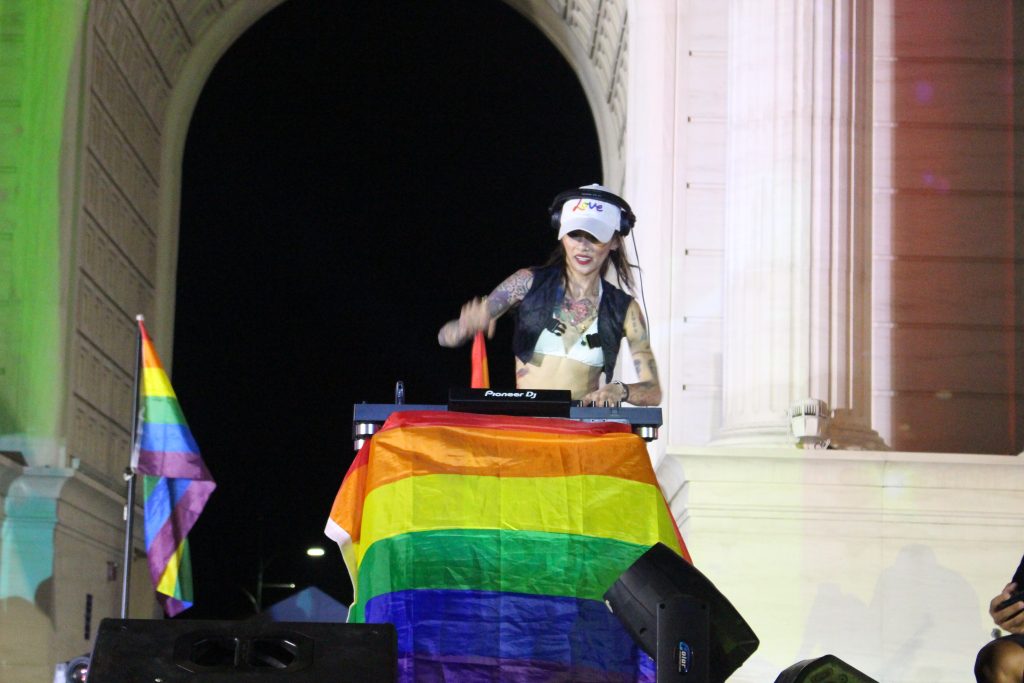 After all, rain or shine, June or not, love and pride must be celebrated all the time.
#LoveConPH is presented by LoveYourself. Co-presented by Camber Pharmaceuticals, Inc., TikTok, Megaworld Lifestyle Malls, Arcovia City , and FrontRow.
In partnership with The U.S. President's Emergency Plan for AIDS Relief (PEPFAR), EPIC, USAID Philippines, Pilipinas Shell Foundation, Inc., PROTECTS, Champion Community Centers, AIDS Healthcare Foundation, Philhealth, World Health Organization, and UNAIDS. Also in partnership with Lauvette.
Powered by Spaces MNL, Owlright Studios Sponsored by ERO condoms, Procter and Gamble, TaskUs, and Village Pipol Magazine. Also sponsored by SIP Purified Water and Magnitude Wellness Massage & Spa.
Written by iCOMM Editorial
Photos from Amara Ligaya & Bet Domingo