Online comedy star and host Macoy Dubs and Miss Trans Global Philippines national directress Janlee Dungca helped kick off this year's National HIV Prevention Month (NHPM) in a virtual launch show held on July 31. Packed with events and initiatives while remaining virtual in the midst of an ongoing pandemic, NHPM 2021 invites us all to "Be Informed. Be Empowered. Be SaferNow Philippines!"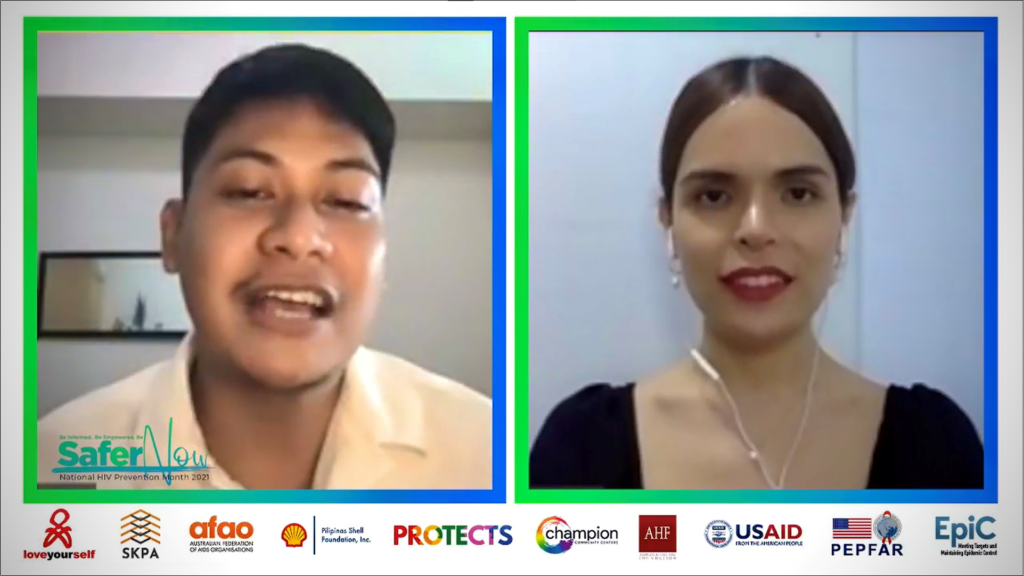 Initiated last year through the partnership of LoveYourself and the Global Fund Sustainability of HIV Services for Key Populations in Asia (SKPA), the NHPM continues to promote and highlight the country's efforts aimed at preventing HIV through education and empowerment. NHPM mainly focuses on the importance of HIV combination prevention methods—condoms & lube, Pre-exposure Prophylaxis (PrEP), Post-Exposure Prophylaxis (PEP) and HIV Treatment—and enlighten and encourage Filipinos to practice multiple ways to stay healthy regardless of HIV status.
Among this year's projects to celebrate NHPM: a new original superhero comic series, distribution of free PrEP, regional community initiatives, and a photo-video docuseries.
Superbuds Save The Day
Inspired by the CombiNation comics series first released by the Ripples publication of the Champion Community Centers, the SuperBuds campaign features "super buddies" in their noble quest of ensuring a SaferNow Philippines through promoting and educating different HIV prevention methods. The familiar-sounding title is not a coincidence—the models-turned-super buddies are no less than Century Tuna Superbods 2020 finalists.
Joining the virtual launch on behalf of the super buddies is Candice Ramos, who aside from being a Superbods 2020 finalist is also Miss Philippines Eco-Tourism 2012 and Miss Global Philippines 2015. "This is such a strong campaign," shares Candice about their excitement with this project. "Mas maganda kung 'yun prevention natin ay combination ng iba't ibang aksyon o practices."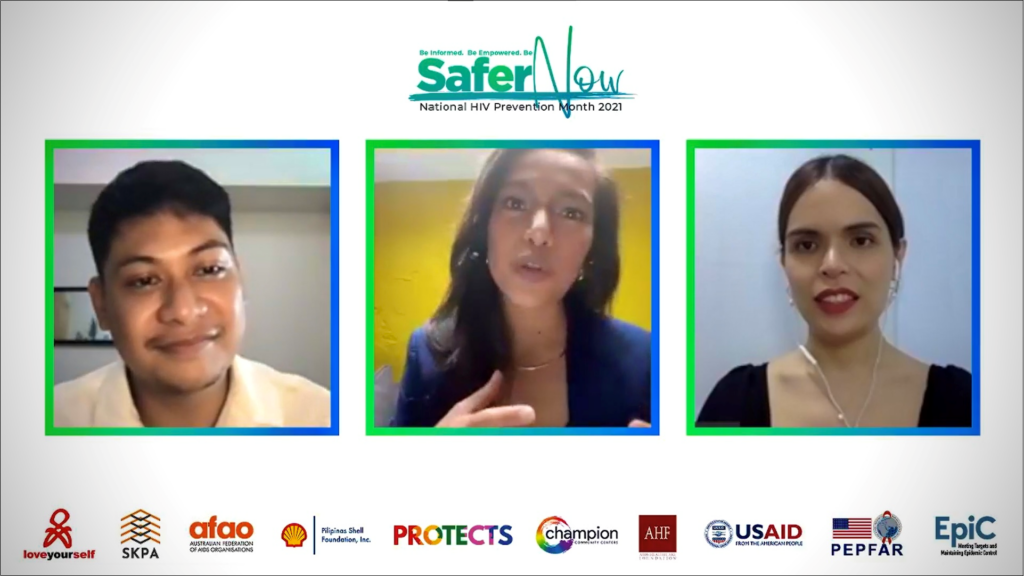 Candice agrees that combination prevention must be considered as your "buddy" in the fight against HIV, and that its status-neutral nature makes it universal and relevant. "Kahit anong status mo, nawawala na yun stigma. Lahat tayo nagtutulungan para ma-prevent ang HIV from spreading."
Awareness and education are key to win the fight, and the SuperBuds are here to ensure just that. "Mas maganda na pare-pareho nating alam ang combination prevention methods na 'to para sama-sama natin silang ginagawa."
Be on the lookout for Candice and fellow buddies Erie Matic, Enzo Bonoan, Jojo Urquico, and Jason Senga in this nine-episode series that's surely packed with action and information. Head on to the Safe Spaces PH Facebook page to find and share new releases every Monday.
Free of Charge, Free of Worries
What's not to love about free stuff? For a limited time, thanks to the efforts of the National HIV-AIDS Program of the Department of Health Pilipinas Shell Foundation, Inc. PSFI-PROTECTS Project and the USAID EPIC Grant, multiple community centers throughout the country now distribute free PrEP.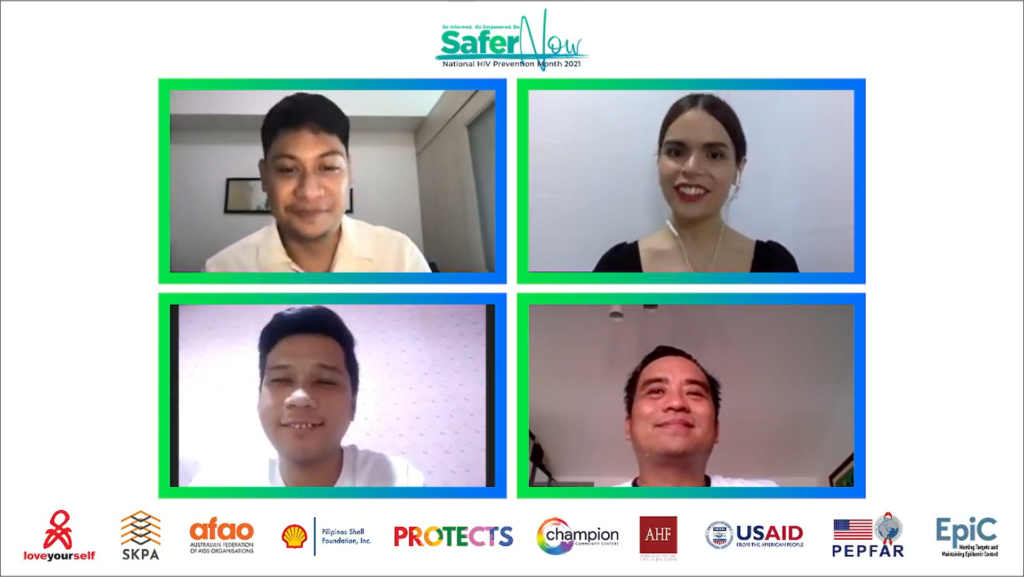 Dr. Loyd Brendan Norella of PSFI, together with Lesther "Jhet" Sibunga, executive director of Lakan Community Center and Primary HIV Care Clinic, shared what's in store for anyone who'd like to sign up for free PrEP.
"Currently, we have a target of 3000 clients that we would want to enroll (in) free PrEP by the end of the year," according to Doc Loyd, with a possibility of adding more as the project progresses. LGUs and community centers in NCR, Central Luzon, Iloilo, Cebu, and Davao have been mobilized to make this happen beginning in April. Up to 60 centers are projected to be able to cater to this distribution effort by December.
Community centers chosen to distribute free PrEP are also enabled to facilitate the baseline laboratory screening required to anyone who wishes to qualify. Jhet proudly shared that through this project, their reach is not only limited to Pampanga where their center is based, but to the entire Central Luzon.
Designed to protect against HIV exposure, PrEP is best taken daily at a set schedule for maximum protection. 2+1+1 two pills 2 to 24 hours prior to sexual activity, followed by another pill after 24 hours from initial intake, and one more pill after another 24 hours. Combination with condoms and lubes for an added layer of protection.
Combining his call to action with an important reminder, Doc Loyd points out that PrEP's worry-free promise only pertains to HIV risks. "Other sexually transmitted infections are still out there," he says, further highlighting the importance of combination prevention.
Jhet encourages any sexually active individual, particularly the ones constituting the key population to take advantage of this offering. "Kung dati, binabayaran ito, pero ngayon ibinibigay na po ito nang libre." And this chance should indeed be grabbed while supplies last. Be sure to follow @HIVPrevMonthPH and @ChampionCCPH on Facebook, Twitter, and Instagram, or coordinate with your nearby community centers to avail.
Regional Efforts
Leaders from provincial community centers also hopped in on the online event to share their respective initiatives and insights.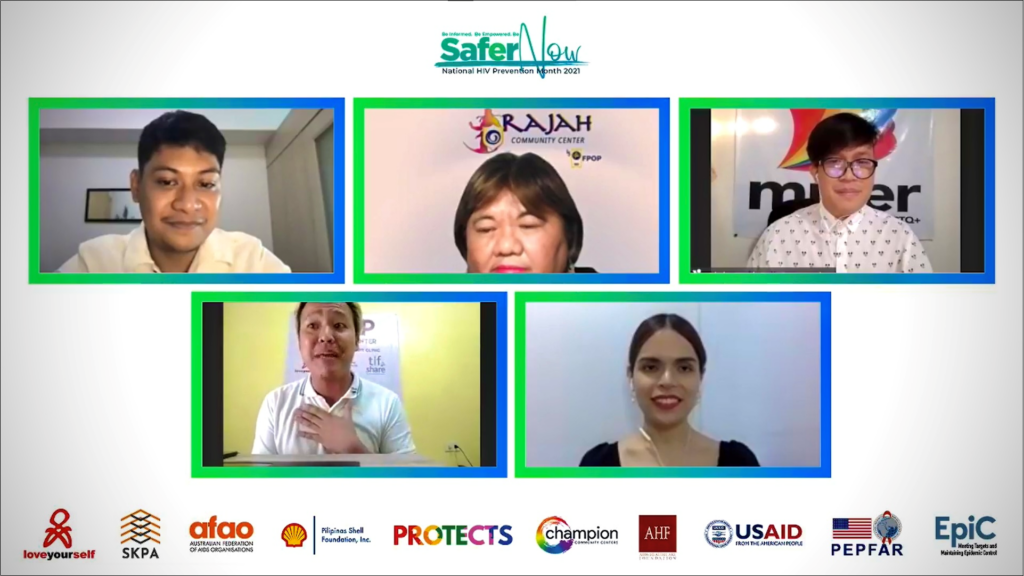 Representing the rest of Luzon, Murphy Glory of Family Planning Organization of the Philippines (FPOP)-Pampanga explained how their projects slightly tweaked the theme of this year's NHPM to be multi-sectoral and encompassing: "Sana All, Dapat All", to stress out that efforts don't fall only on all the members of the community, not just HIV advocates and organization leaders. While a kick-off ceremony has recently been held, public events like motorcades and testing booths had to be postponed due to the pandemic.
Speaking for Visayas, meanwhile, FPOP-Iloilo's program manager Mona Liza Diones happily shared their inclusion to the previously mentioned Free PrEP project, now with over 90 clients served. It has also amped its social media presence to respond to online queries, and reinforced its telemedicine consultations and door-to-door delivery of antiretroviral stocks and even necessary laboratory services to clients. Mona also reminded everyone of the importance of treatment as prevention, circling back to the U=U principle. She also noted that the availability of several combination prevention methods are as unique as every individual, and that we should find what fits our unique lifestyle.
Similarly, Mx. Alvin "Toni Gee" Fernandez, president of Mujer-LGBT in Zamboanga City in Mindanao ensured that last year's Ronda Mujeres initiative continues its efforts to deliver sexual and transgender health services to individuals and communities within its reach, on top of making their homebase open and able to accommodate those who can visit them personally. Toni Gee also echoed the previous sentiments on encouraging the entire community to take action, "Let's get involved with the problem."
Focused on U
The heart of all our efforts in the HIV advocacy center at the individual, where we draw hope, inspiration, and motivation. This is exactly what U Matter aims to showcase and impart to everyone.
Premiering soon, this photo and video docuseries highlights compelling stories of people living with HIV (PLHIV) who face the battle head on, and have triumphed and taken control of their lives by achieving and maintaining an undetectable, and therefore an untransmittable, viral load status.
Bravely putting faces into these inspiring stories are two individuals featured in the series, Basha Rivera from Cavite, and Raffy Ardemil from Cagayan de Oro who graced the virtual launch to promote the project.

For Raffy: "Ang hirap mabuhay kapag natago ka." This mainly moved him to be transparent about his status and let everyone know about his battle, not only to people in his circle, but even publicly on social media. "Kahit naging positive (yun HIV result ko), naging positive din ang mindset ko na hindi ito ang tatapos sa buhay ko." From his near-death due to opportunistic infections, Raffy is proud to show how he bounced back to health, graduated in college, and now serves as a caseworker for LoveYourself and PSFI as a way to give back to the people and organizations who helped him along the way.
Basha fought back tears after seeing rushes of the episodes featuring her screened for the first time during the virtual event. Her life story is as colorful and interesting as real-life can get—a transgender mother who faced PLHIV woes while completing her transition through Gender-affirming Hormone Therapy (GAHT)—and Basha recognizes why it;s important to tell her story. "Nadadagdagan ang mga kapatid nating nada-diagnose. Napakaigi na makita nila, na ma-empower ang trans community, ang trans PLHIV, sa kanilang right to access quality health services." Basha also took the chance to quash misconceptions that taking ARTs interfere with GAHT, as well as assure fellow transwomen that help and services are available to those who need them. "I'm a living proof."
Production is ongoing for further U Matter episodes, slated for release this September on LoveYourself TV and the Safe Spaces PH Facebook page.
Ripple Awards: Back for a Third Wave
As projects and efforts forge on despite the pandemic, the recognition of key movers and leaders is back this 2021. Nominations are now accepted for the 3rd Ripple Awards. This is made possible also as a timely celebration of LoveYourself X, the organization's tenth year anniversary with the theme, "A Decade of Excellence in Serving the Community."
The recognition body has three award categories: The Ripple of Inspiration, Ripple of Activation and Ripple of Innovation.
The Ripple of Inspiration category honors five amazing individuals whose kindness, brilliance and bravery are uplifting the lives affected by the HIV pandemic.The Ripple of Activation category, meanwhile, lauds 3 organizations that created and brought change to the HIV advocacy by mobilizing people and communities to be agents of change. Lastly, two projects that brought about a big positive change to a specific community facing HIV- related challenges through innovative ways are recognized with the Ripple of Innovation award.
Visit bit.ly/RIPPLEAWARDS for more information on the 3rd Ripple Awards, as well as guidelines and instructions for submitting nominations.
The NHPM is presented by SKPA and PROTECTS Project, in partnership with LoveYourself, AFAO, Pilipinas Shell Foundation, Champion Community Centers, AIDS Healthcare Foundation, USAID, PEPFAR, and EPIC, supported by Lauvette, Camber Pharmaceuticals by Hetero, Durex, Megaworld Lifestyle Malls, La Jeunesse Aesthetics Wellness Centre, and Procter & Gamble, and Sponsored by Bliss Pleasure Enhancing Lubricant and Double Benefit PH.