LoveYourself's unwavering advocacy on HIV prevention forges ahead, in support of National HIV Prevention Month (NHPM) this August 2020. With the support of the Australian Federation of AIDS Organizations (AFAO) through its Sustainability of HIV Services for Key Populations in Asia Program (SKPA Program), and together with Pilipinas Shell Foundation, Champion Community Centers, and key stakeholders, we're expanding our reach to key communities in engaging and educating about HIV combination prevention.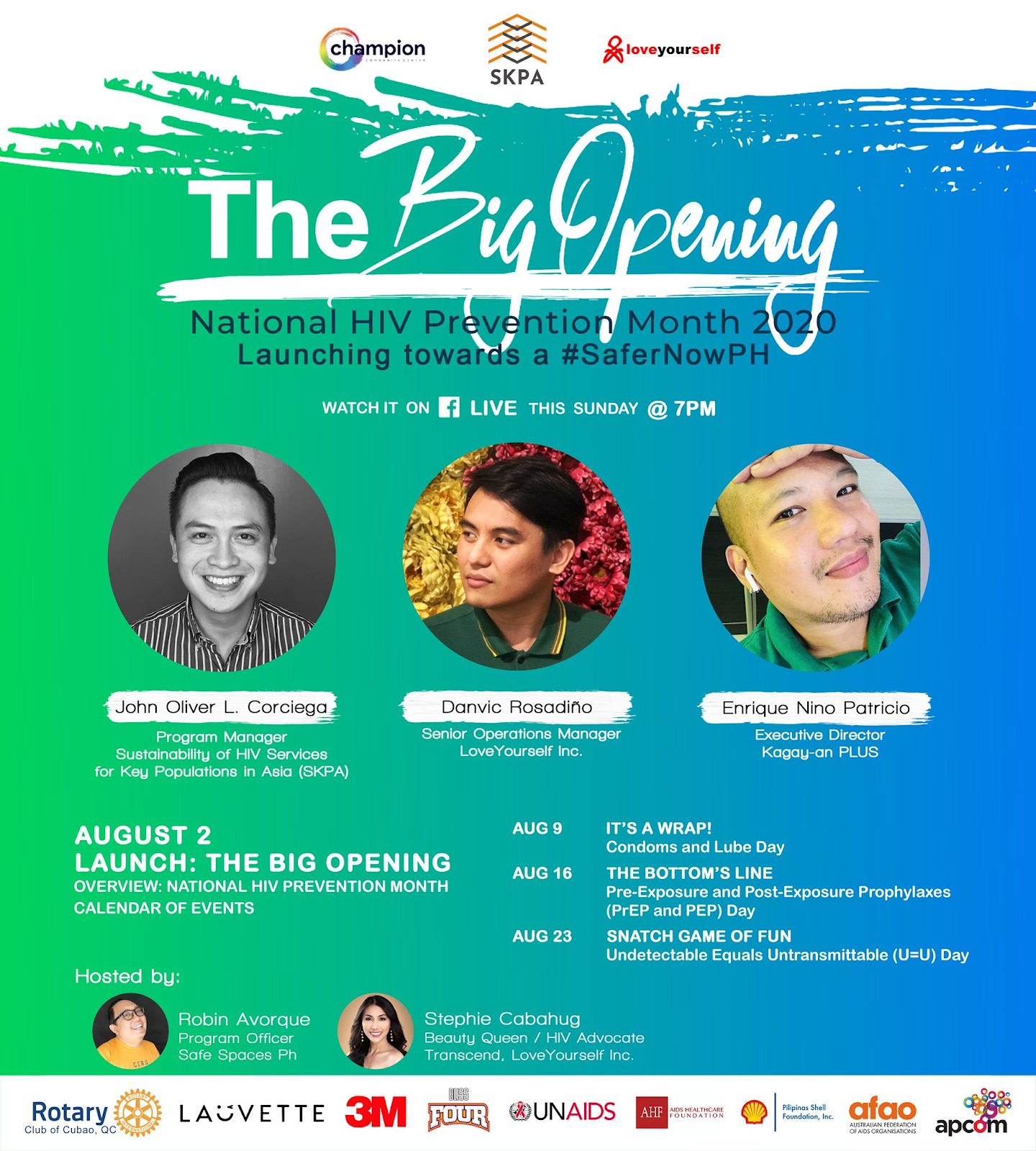 Carrying the theme #SaferNowPH in its inaugural year, the activities and events all throughout the NHPM aim at reinforcing the Combination Prevention (CombiPrev) strategy in fighting HIV. During The Big Opening virtual launch event streamed via Facebook Live on August 2, 2020, Danvic Rosadiño explained that CombiPrev is a "multitude of options to clients so they have a way to prevent HIV." As clients vary in lifestyle and needs, this approach allows them to pick and combine more than one option to remain safe against HIV. Rosadiño also added that even for people living with HIV (PLHIV), methods are available to make it easier for them to "live a happy, healthy life."   CombiPrev consists of condoms and lubes, pre-exposure prophylaxis (PrEP), post-exposure prophylaxis (PEP), and for PLHIVs, maximizing timely and consistent anti-retroviral treatment as prevention (TasP). With HIV testing still a crucial step in determining one's HIV status, anyone can now identify which prevention methods fit them perfectly. Combining these prevention ways truly help keep any individual #SaferNow:
Correct use of condoms and lubes prevent the transmission, not only of HIV, but also other sexually-transmitted infections (STIs).
When taken continuously as prescribed, PrEP is proven 90% effective against acquiring HIV
PEP may be taken within 72 hours of potential exposure to HIV risks to avoid transmission
Anti-retrorival treatment drugs help PLHIVs lower their viral load to Undetectable levels, a goal which makes the virus no longer transmissible (Undetectable=Untransmittable or U=U)
LoveYourself curbs its services to adapt with the changes brought about by the ongoing pandemic, by making sure that clients and volunteers are both kept safe while CombiPrev methods and key services are made available. From appointment systems and virtual consultations through ICON, to online delivery options for refills, clients can continue to rely on LoveYourself for HIV prevention methods.   Watch out for various events all throughout the month of August to celebrate NHPM, and let us all explore and experience ways to be #SaferNow.   Feel free to watch The Big Opening launch here.
Text by Ulysses Konstantin Largado