Pancho Magno has a body built for adoration.
Fans worship every inch of this six-foot-tall Bench fashion show model and My Husband's Lover supporting star: From his intense eyes and razor-sharp jaw line, to those bulging arms and that luscious Moreno complexion.
What's the secret to Pancho's irresistible sex appeal? He treats his body like a sacred object, nourishing it with rigid workouts, a healthy wheat bread diet and a large dose of self-respect.
Pancho, who happens to be straight, shares that any guy can get the same sexy confidence by learning to love himself. And it can begin with something as simple as taking a free HIV test.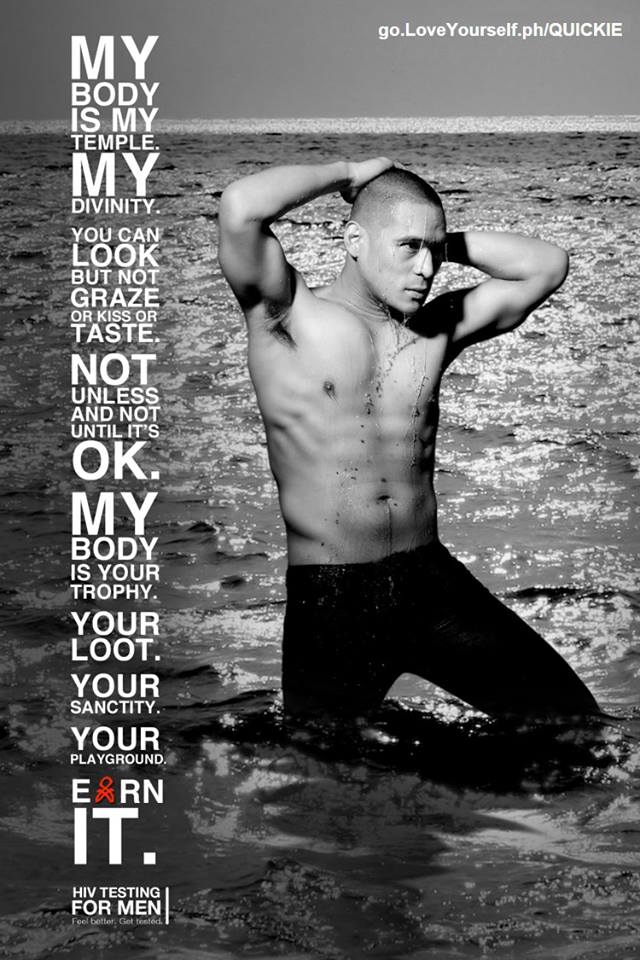 In the poster above, a wet and torso-baring Pancho represents the LoveYourself ideal — the attractive and adventurous man ready to take on the world after knowing his HIV status.
All Filipino men should get tested, according to Pancho, and feel empowered by it.
Please get tested. Loving yourself is not just physical. It's everything – emotional and health-wise. HIV testing is also not only for yourself, but also for your partner.

Pancho Magno, model/actor
Visit go.loveyourself.ph/HIVtest to schedule your free, confidential and discreet HIV test.
Pancho is the latest model ambassador for Project Indulge, a LoveYourself campaign to spread awareness for and encourage HIV testing among men who have sex with men or MSM population, considered one of the most vulnerable to contracting the virus.
The campaign is a collaboration with award-winning advertising agency Campaigns & Grey and top-ranked photographer Jeanne Young. Previous celebrity models include Manhunt International 2012 winner June Macasaet, Philippine Volcanoes rugby flanker Kit Guerra, Mr. Gay World Philippines 2012 Carlito Rosalindo, Jr., and TV5 celebrity chef Jeremy Favia.
LoveYourself has provided thousands of sexually-active Filipinos with free HIV testing and counseling through its Malate-based LoveYourself Hub. Demand for LoveYourself's HIV testing services has grown exponentially, so it plans to build a second center called LoveYourself Anglo along Shaw Boulevard near EDSA. Visit go.loveyourself.ph/anglo to help Pancho and LoveYourself spread the message of self-love and acceptance.
Text by Michael Jamias
Featured image courtesy of Bench/