We reach the home stretch of this year's Pride Month, but LoveYourself's
Usapang ATBPride
just won't leave anyone behind, making sure each color of the Lesbian, Gay, Bisexual, Transgender, Queer, Questioning, Intersex, Asexual, Ally, and more (LGBTQIA+) rainbow shines vibrant. The last two installments of the virtual discussion highlighted the community's queer and non-gender conforming individuals, as well the intersexuals and asexuals.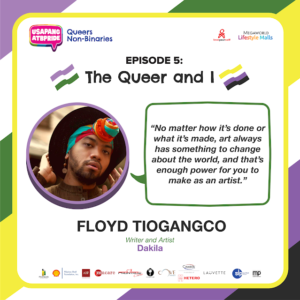 "The Queer and I" is the penultimate Usapang ATBPride episode which aired on June 23rd, 2020, hosted by Joma Ragrario. Artist and writer Henrie Diosa, artist, writer,
DAKILA
Partnerships Manager Floyd Tiogangco, and TV and movie creative manager and head writer Jay Fernando readily answered questions about what it means and how it feels to be breaking the confines of binary gender. They also shared experiences about work, dating, and social relationships and how being queer or non-binary enjoys the freeing sense of fluidity, but may also present challenges especially to people who may not be as informed or open-minded.
The virtual talk series ended with the June 25th, 2020 episode entitled "The Best of Both Worlds." Guests Gabriel Hopkins, an Arizona-based debate speaker, writer, and global change advocate, and Jeff Cagandahan, a former educator whose landmark Supreme Court win made him the first intersex individual allowed to change his gender marker, joined host Asha Gutierrez in discussing crucial topics affecting asexual and intersex people. They walked the viewers through their journeys of discovery and acceptance. Particularly, Gabriel shared how he carefully explained his sexuality to family members and friends, and while Jeff emphasized the factors for him to decide that legal actions must be done to serve not only himself, but other intersex individuals who, until winning the case in 2008, seem invisible in the country.
Both episodes highlighted the innate defiance of every individual, and how one must not be limited to standards the society has set. Mirroring the previous week's theme, it is important that we assert our own identity, and this week's discussions further stressed the importance of visibility, acknowledging that while each person is different, and we vary in terms of knowledge and awareness, the bottomline of respect and love fills these gaps and helps embrace the diversity.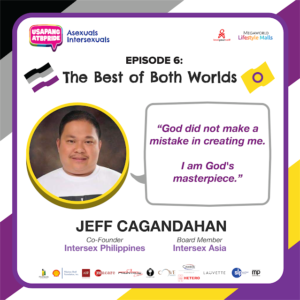 LoveYourself is grateful to everyone who made Usapang ATBPride possible, most especially the support of Megaworld Lifestyle Malls, Pilipinas Shell Foundtion, Inc., PhilHealth, Macare, AIDS Healthcare Foundation, Cove Manila, Camber – a subsidiary of Hetero, Frontrow Cares, Victoria Court, and Lauvette. All six episodes of Usapang ATBPride are available on
LoveYourselfTV
. Catch them and all other fabulous content, and don't forget to subscribe!