What a June it has been. Pride Month certainly went by so fast, but the celebration doesn't stop just yet. On June 30, 2020, Miss Universe 2018 and community ally Catriona Gray hosts a special episode of The Universe Speaks featuring sensational guests including Gretchen Ho, Nicole Cordovez, Zephanie, and many more!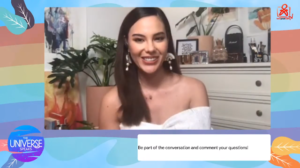 Naniniwala akong hindi ako nag-iisa sa karanasang ito. Lahat tayo, ano man ang pinagdaanan natin ay may matatanggap sa pamamagitan ng pagbibigay. – Catriona Gray
Catriona shared her experience during the COVID-19 pandemic and how the act of giving has been a way for her to not only mediate the healing of others, but herself as well. She reflects on how we find meaning in life when our individual pursuits intersects with the needs of others. She further on exclaims that we need to continuously close the gap between ourselves and the "othering" of people different from us so we can become a united community.
Following Zephanie's outstanding performance of Lady Gaga and Ariana Grande's Rain on Me, Catriona introduces how important living one's truth is as a community of LGBTQIA people and as an ally. She's later on joined by fellow allies, Dr. KC Halili, Masanori Takamoto, and Nicole Cordovez to discuss how fighting for equal rights does not only include people directly affected by the movement, but includes the people who share their values.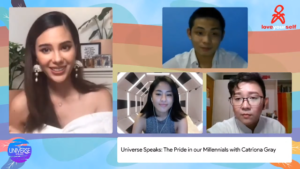 After a heartwarming message from our amazing drag performers, Catriona talks with the community on what Pride means to them. Together with Vinas Deluxe, Macoy Arevilla, AJ Dela Paz, and Rod Marmol, they discuss how they use their influence outside of the  community to continually advocate for different LGBTQIA issues.
Catriona later discusses how leadership is important in mobilizing the country to be more accepting and safe for its LGBTQIA citizens. Young bright minds Carl Uba, Riyan Portuguez, and Gretchen Ho share their experiences in creating organized positive change in their individual fields and communities.
Finally, LoveYourself Executive Director Ronivin Pagtakhan joins Catriona in talking about the HIV advocacy in the context of the pandemic.
Want to know more how our millennials join together to fight for a safer and more accpeting country? Watch the video above, and don't forget to like, comment, and subscribe to 
LoveYourselfTV
. Hit the notification bell so you won't miss an episode of 
The Universe Speaks!