Miss Universe 2015 and UNAIDS Goodwill ambassador for Asia and the Pacific, Pia Wurtzbach fronts this year's Philippine International AIDS Candlelight Memorial (PIACM) online event entitled "U Matter: U Light the Way" on May 16, 2021 at 4pm. Together with LoveYourself and Project Red Ribbon, this online commemoration is celebrated annually during the third Sunday of May.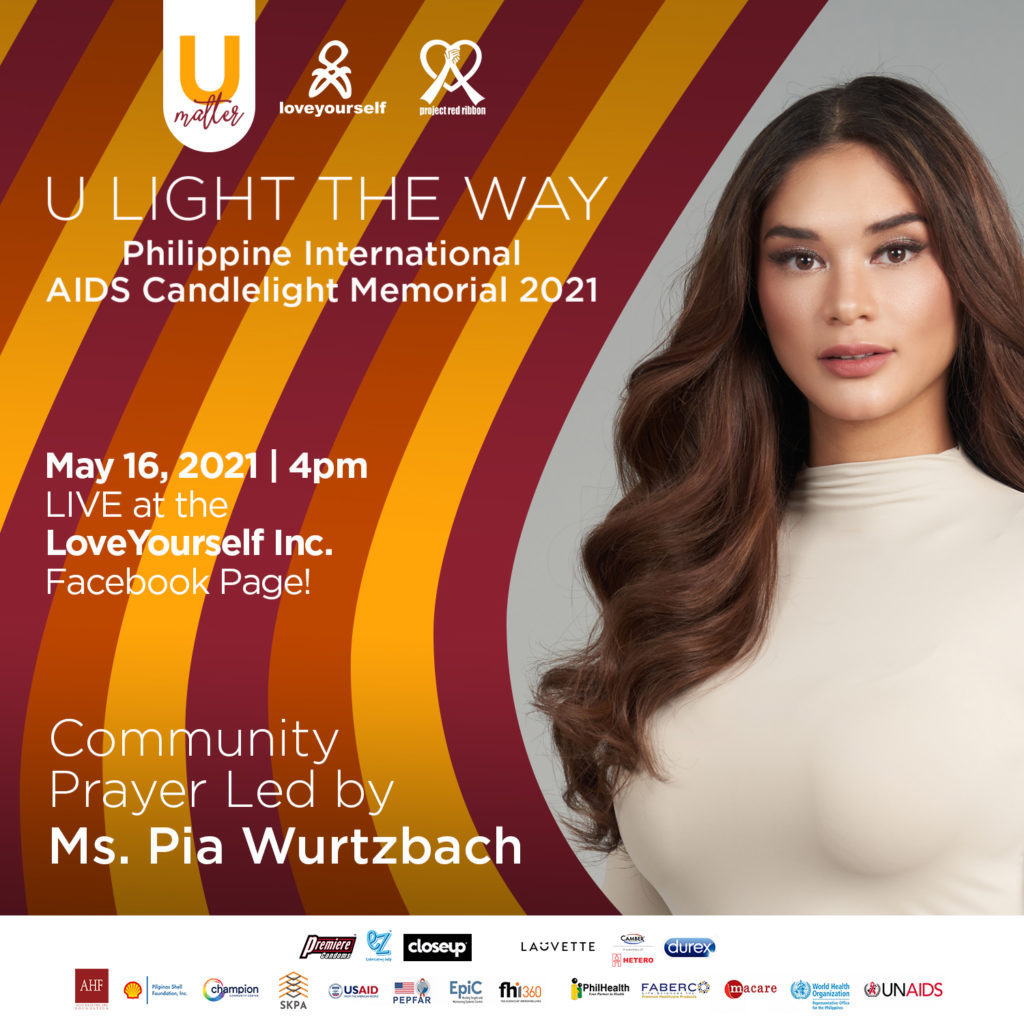 U Matter: U Light the Way is a virtual memorial concert that gives the opportunity to remember the lives lost to AIDS-related complications. It also aims to honor those who dedicate their lives in fighting against the virus especially with the strides made during the pandemic. This year Wurtzbach leads the community prayer for the first time.
U Matter: U Light the Way also seeks to highlight the different facets of U that guides the community within the advocacy.
"U as a Person" pertains to our own individual HIV journeys. Regardless of our HIV status, this emphasizes the responsibility and importance of taking care of our health and well-being, as we also continue to battle the ongoing COVID-19 pandemic.
"U=U as a Combination Prevention" highlights the "U=U" concept, or Undetectable equals Untransmittable, emphasizing that successful HIV treatments remain as powerful prevention methods and is an ideal goal for our PLHIV loved ones.
"U as an Advocate" reflects the challenges that organizations face in continuing to provide support and resources to the community in spite of the global COVID19 pandemic.
And finally, "U as the society" to encourage everyone to be in solidarity against the stigma of living with HIV.
Catch amazing performances by our Filipino artists and join U Matter: U Light the Way, the Philippine International AIDS Candlelight Memorial's virtual concert ceremony live on May 16, 2021, Sunday at 4 PM on PIACM and LoveYourself Inc.'s official Facebook Pages.

U Matter: U Light the Way is presented by LoveYourself Inc and The Project Red Ribbon. Also brought to you by Premiere Condoms, EZ Lubricating Jelly, and Close Up. In partnership with AHF Philippines, Pilipinas Shell Foundation, Champion Community Centers, SKPA, USAID, PEPFAR, EpiC, FHI360, PhilHealth, Faberco Life Sciences, Macare Medicals, WHO Philippines, and UNAIDS. In partnership with Lauvette, Camber Pharmaceutricals by Hetero, and Durex.
###