Transcend by LoveYourself brings its #BreakFreePH campaign to celebrate the crystal anniversary of Accenture's diversity organization Friends, Lesbians, and Gays (FLAG) on April 22, 2021.
#BreakFreePH ambassadors Megan Young and Mela Habijan spoke about the campaign emphasizing the inclusive nature of the campaign. The campaign truly encourages to drive a culture that empowers all women.
Despite our differences, this campaign shows that cis and trans women can empower each other.

Mela Habijan, Miss TransGlobal 2020, #BreakFreePH Ambassador
Young talked about how the campaign aims to change how society perceives the power that all women possess, which affects, to a degree, how women access and obtains the services they need. Young shared how there can be an air of judgement when women make choices for their sexual health.
Habijan gave a moving speech about women of trans experience, and how crucial it is to become visible in the eyes of the world, especially as a trans woman. Habijan spoke how more often than not, trans women are made or expected to choose between education, or even a career opportunity, and their identity.
I'm learning more about my trans siblings.

Megan Young, Miss World 2013, #BreakFreePH Ambassador
Transcend by LoveYourself program director Yanyan Araña also spoke about the safe space that it provides through its Victoria by LoveYourself community center. With trans health services, and sexual health services available, both cis and trans women can come without judgement. "Thankfully transcend by LoveYourself is here to be with us in our journey in transition" said Habijan.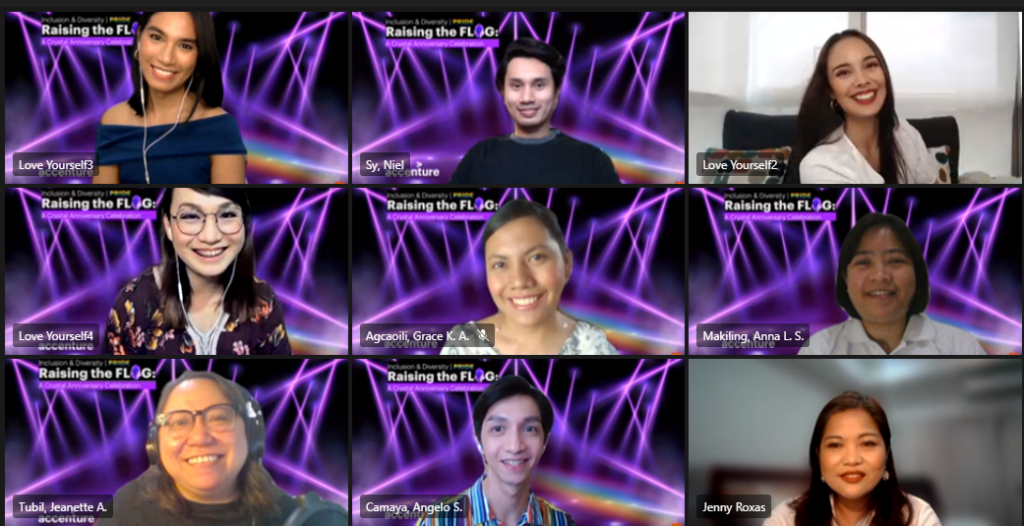 Gelo Camaya, FLAG-LGBTQ+ Community Lead at Accenture Philippines shares how delighted they are to partner with LoveYourself in celebrating their anniversary. "The Community celebrates yet another milestone with its 15th Year Anniversary. Together with fellow advocates and many more allies such as LoveYourself, it remains committed in the continued promotion of LGBTQ+ rights, women empowerment and a culture of equality." With over 500 virtual attendees, FLAG's crystal anniversary celebration was a block-buster. Alongside electrifying performances and inspiring choruses, LoveYourself got to share its campaign to a community of loving members.
Text and images by LoveYourself Integrated Communications