Celebrarting a decade of creating ripples of positive change in the community and excellence promoting self-worth, LoveYourself Inc (LYS) gets the party started on the third season premiere of its online talk show Voice of the Volunteers on Ausgut 22.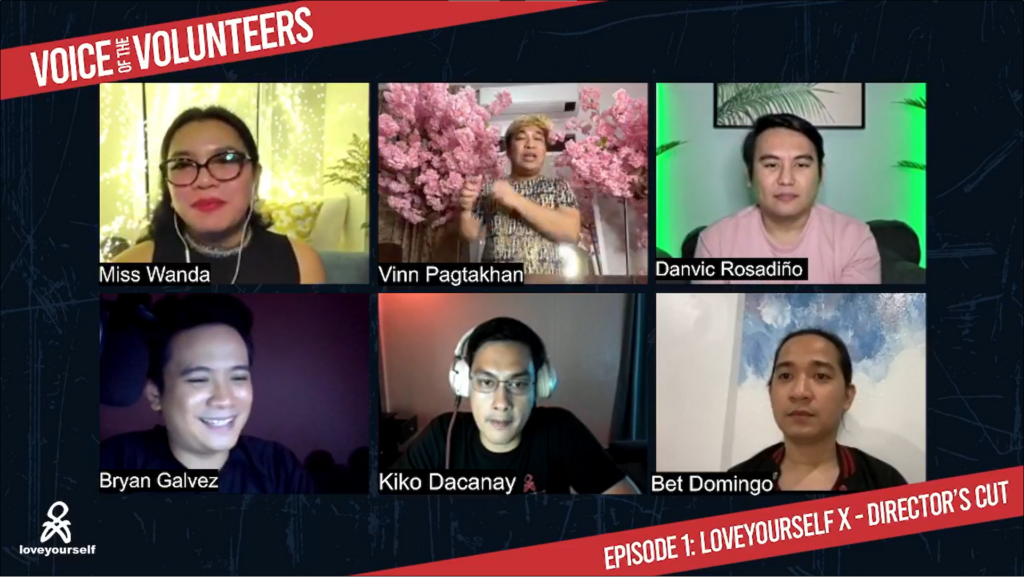 Hosted by Bryan Galvez from Batch Duque and Miss Wanda of Batch Upendo, no less than the directors of LoveYourself joined the episode for an hour full of fun and insights—founder and Executive Director Vinn Pagtakhan, Director for Operations Danvic Rosadino from Batch Vanguard, Director for Community Engagement & Partnership Kiko Dacanay from Batch Absolute, and Director for Communications Raybert Domingo.
Vinn took the opportunity to call on inactive volunteers to participate in the organization's programs. "Please let us how we could engage those previous batches, first generation of volunteers and most recent volunteers, let us know what LoveYourself can do for you." enticing other volunteers to be active. Kiko echoed this call as he shared how they have made efforts in engaging sub communities. He's also been working on promoting inclusivity with the help of volunteers, which is crucial at a time when, according to recent data, HIV cases in women show an increase.

Danvic, meanwhile, highlighted the organization's significant contributions on multiple fronts: HIV advocacy, mental health awareness, and sexual and trans health access. He also shared how LYS has been helping in the country's fight in the middle of the COVOID-19 pandemic. Danvic assured that initiatives and projects are well underway: improved accessibility of COVID-19 self-testing, free PrEP roll-out, and free HIV self-testing kits, among others.
For Bet, Innovation is a key pillar in making the organization's efforts relevant and far-reaching. From maintaining a strong social media presence, to utilizing accessible platforms like TikTok, LYS has always ensured that its campaigns and promotions are geared towards education and empowerment for a "SafreNow Philippines".

The directors also readily spoke their minds out in a game where they need to finish a series of questions. Here's what went down:
"Choosing happiness is…"
"…being able to help others." —Vinn
"…viewing that this world is still beautiful despite na mga nangyayari ngayon." —Danvic
"…to find peace within, knowing you did best, at least you know you did your best." —Raybert
"…our utmost priority in life despite of all the things that we do everyday" —Kiko
"Passion for me is…"
"…pursuing your purpose in life." —Kiko
"…the drive that gets you going." —Raybert
"…my commitment to become not only the best in the world, but to be the best for the world." —Danvic
"…making sure that your fire is burning in spite of and despite adversities." —Vinn
"When I say 'love',…"
"…love is giving yourself unconditionally." —Vinn
"…hindi lang sya tsismis, pero dapat naramdaman mo siya ng totoo." —Danvic
"…it's genuine, it's true, it's given to you." —Raybert
"…(it) should be given to yourself, to your special someone and to the whole community." —Kiko
"What are your aspirations for LoveYourself?"
"Tap more communities to (whom we can) provide services, like non-binary or (senior) 'Golden Gays'." —Kiko
"Level up touch, empower them, when we create campaign, we want them to use it holistically for themselves and their respective community." —Raybert
"We want to offer not just services, but really more of (advocacy) opportunities like sexual health, sexual orientation, mental health that are evidence–based." —Danvic
"More innovation, we shouldn't stop with things that we are comfortable, self-sustaining we want this to continue 40, 50 years from now." —Vinn
Text by Ben Quiaoit
Photos screen-grabbed from Voice of the Volunteers