LoveYourself holds the first-ever #SaferNowPH Summit – an online conference promoting innovations in HIV prevention. This is all in effort to rally with the global community towards flattening the HIV curve. The Summit will be held for three days from December 2-4 from 1:00pm-3:00pm (PST) streaming live online from Club United in Merville Park Subdivision, Paranaque City.
Each day is themed to how at different levels, we can change the conversation around HIV. December 2 discusses how we can Dare to Change the International Perspective on HIV. On December 3, we tackle the evolving continuum of HIV care through Care for the Local Community. Everything is then rounded out on December 4 as we talk about concrete ways on how we Share the Advocacy with Our Communities.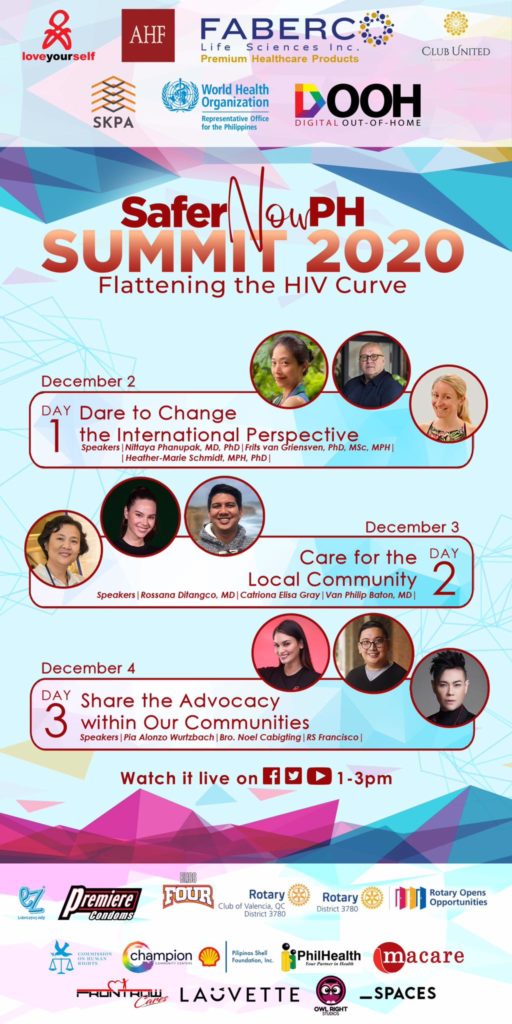 The three-day event will be hosted by Miss Trans Global, Mela Habijan. Together with global ambassadors, advocates unite to flatten the HIV Curve. Catriona Gray, Pia Wurtzbach, and international experts come together to advance local efforts this World AIDS Day 2020 commemoration-celebration.
Text by Carlos Diego A. Rozul