In celebration of World AIDS Day, LoveYourself held its first ever 3-day #SaferNowPH Summit on December 2-4, 2020. Held in Club United, Paranaque City, the event aimed to translate global conversations on HIV and AIDS to local action. Catch the recorded sessions on the SaferNow Philippines Facebook page if you haven't already.
Dare to Change the International Perspective
The first day of the summit gathered international leaders changing how HIV is approached across nations. Executive Director of the Institute of HIV Research and Innovations in Bangkok Thailand, Nittaya Phanupak, MD, PhD discussed how we can address the gaps in the 90-90-90 vision for HIV through the Status Neutral Approach. With a responsive testing program that provides same day dispensing of needed services, we can begin to accelerate flattening the HIV curve.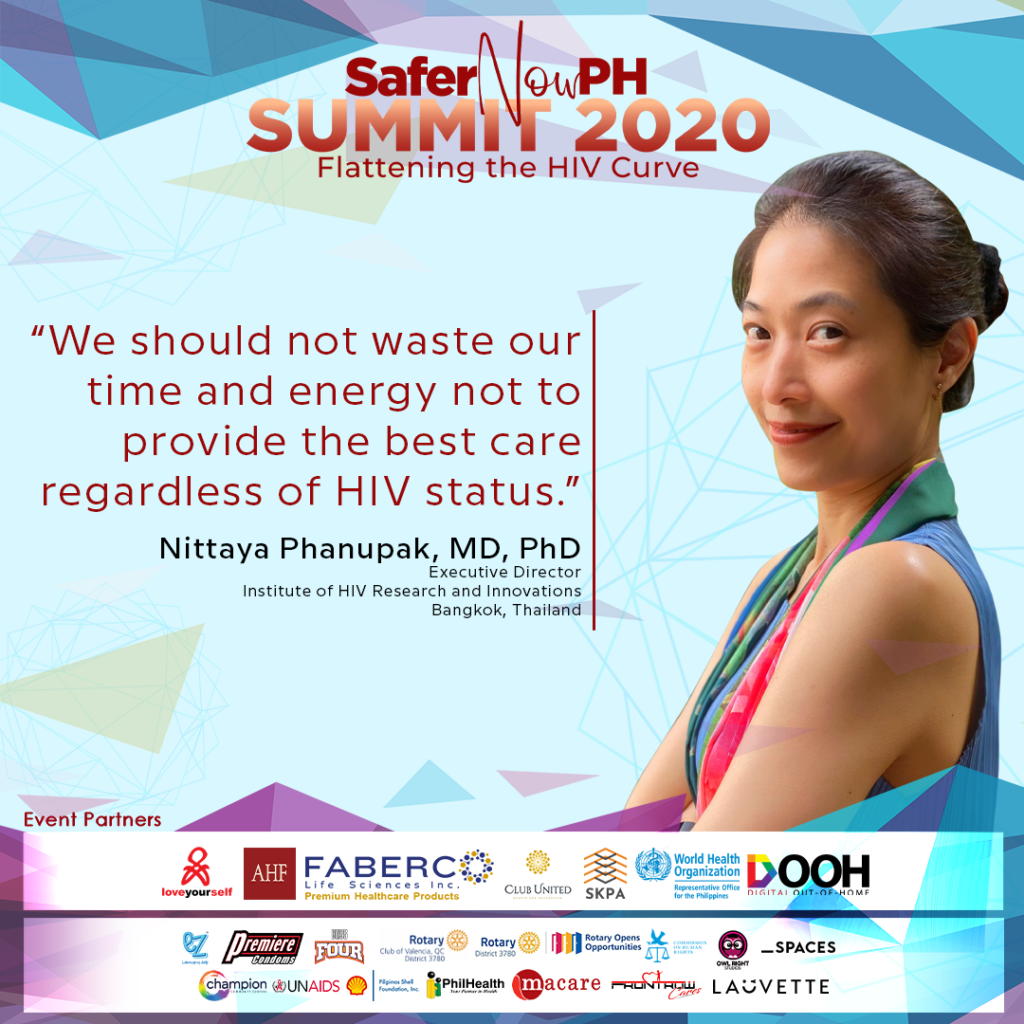 Fritz van Griensven PhD from the University of California San Francisco demystified sexualized drug use and reduction of risk for HIV by highlighting the importance of PrEP and ART adherence. This was further echoed by the regional advisor on PrEP for UNAIDS Asia and the Pacific Healther-Marie Schmidt PhD who shared their experience in scaling up their treatment as prevention and PrEP program in New South Wales, Australia from 2012-2015.
Care for the Local Community
On the second day, the summit highlighted country-wide innovations in the HIV advocacy. From allyship, testing, to even treatment, the speakers of the day brought the discussion closer to home. Dr. Rossana Ditangco, head of the AIDS Research Group of the Research Institute for Tropical Medicine gave a comprehensive introduction to the new anti-retroviral (ARV) drug coming to the Philippines – Dolutegravir.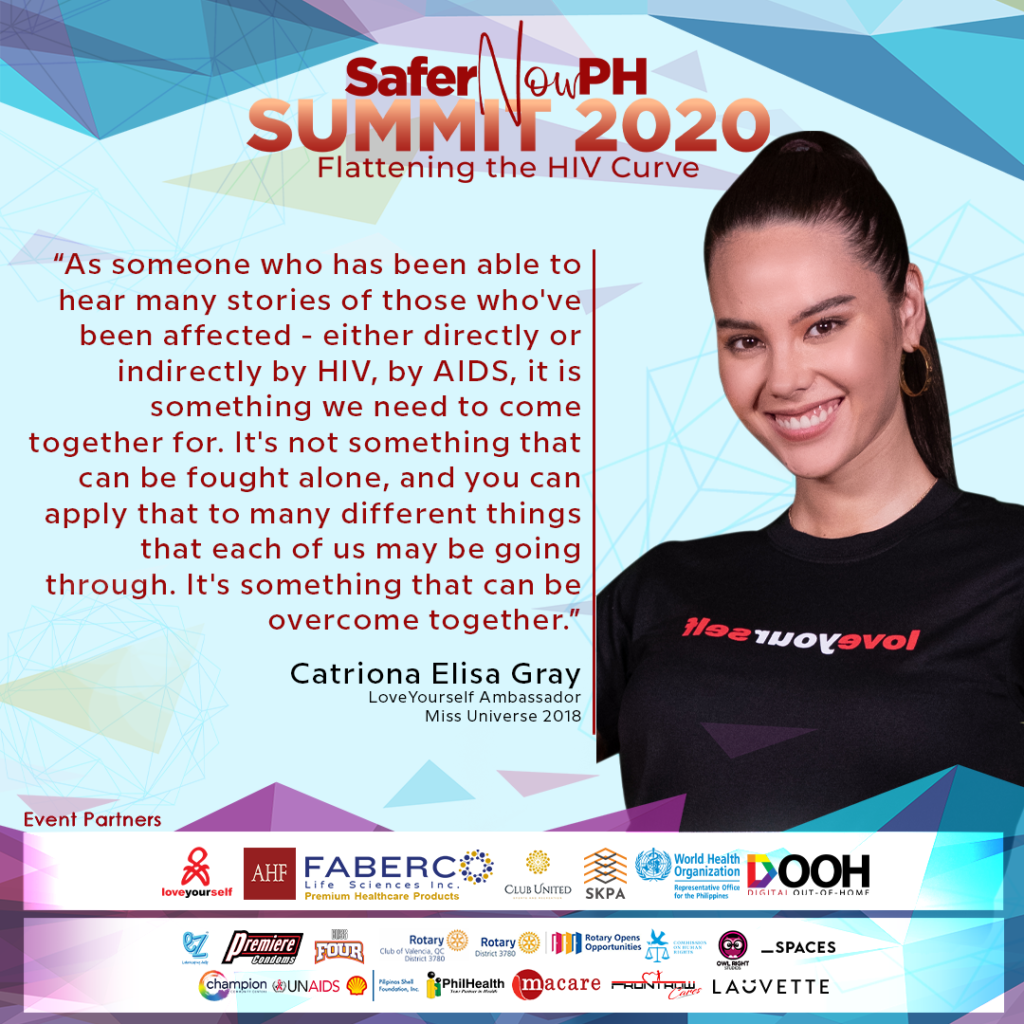 In conjunction with this new ARV, LoveYourself Director for Operations Danvic Rosadino then further explained how LoveYourself has adapted to keep HIV services accessible, and clients empowered during the pandemic. With structures that enable individuals to take care of their sexual health, Miss Universe 2018 and LoveYourself Ambassador Catriona Gray emphasized how allyship can be a powerful motivator to enable people access already available services.
Share the Advocacy Within Our Communities
Lastly, the dialogue shifted to actionable ways on how everyone can share the advocacy with more people. Flourish Circle Program Consultant Bro. Noel Cabigting highlighted simple ways on how each one of us can be a compassionationate ally with our brothers and sisters living with HIV. Miss Universe 2015 and LoveYourself Ambassador Pia Alonzo Wurtzbach then emphasized the importance of support in the context of HIV from accessing HIV services to living with the virus. Co-founder and CEO of Lauvette Atty. Renz Rollorata showed how this can be amplified as a corporate organization through its corporate social responsibility.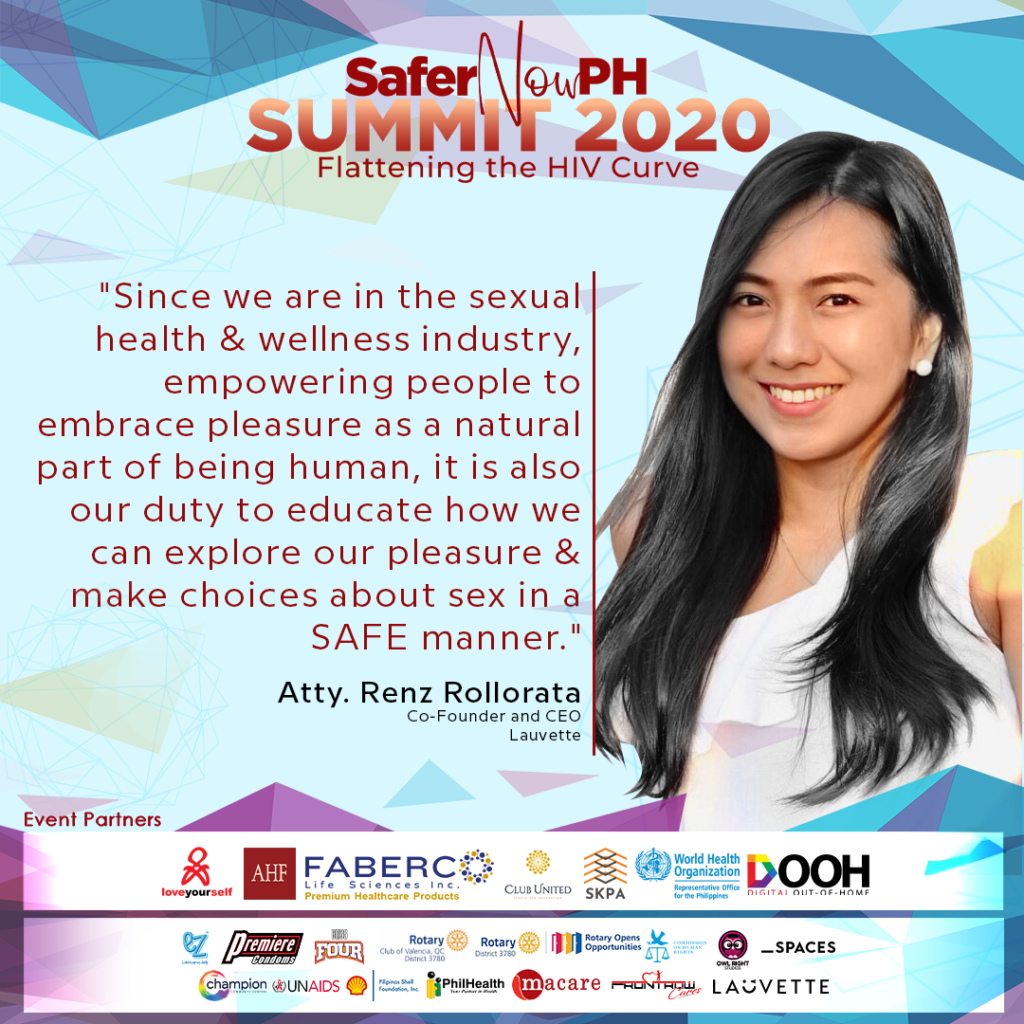 The current situation may have restrained how the HIV advocacy usually delivers its services, but by sharing simple and replicable innovations, we can create a concerted effort towards uplifting the lives of our fellow Filipinos living with HIV, and those afflicted with its stigma. Indeed, no one is safe until everyone is safe, not only from our co-occurring pandemic, but from the social repercussions of prejudice brought about by misinformation.
Text by LoveYourself Communications