Whenever the universe speaks to us, we feel a sense of serenity and contentment. During Pride Month on June 13, 2020 Miss Universe 2015 and UNAIDS Goodwill Ambassador for Asia and the Pacific Pia Wurtzbach shared her voice in becoming an ally of the LGBTQIA+ community, hosted by the Phikippines' King of Talk, Boy Abunda on The Universe Speaks by LoveYourselfTV.
I think the universe is telling us to press pause. It's telling us to realign ourselves and really think what's most important to me. –

Pia Wurtzbach
Tito Boy and Pia first talk about how in the time of COVID-19, Pride Month can be celebrated by simply loving ourselves first. This comes with knowing more about and appreciating the history of the people where you belong. Finding meaning in the celebration of Pride Month can be very personal, and require reflection in these trying times.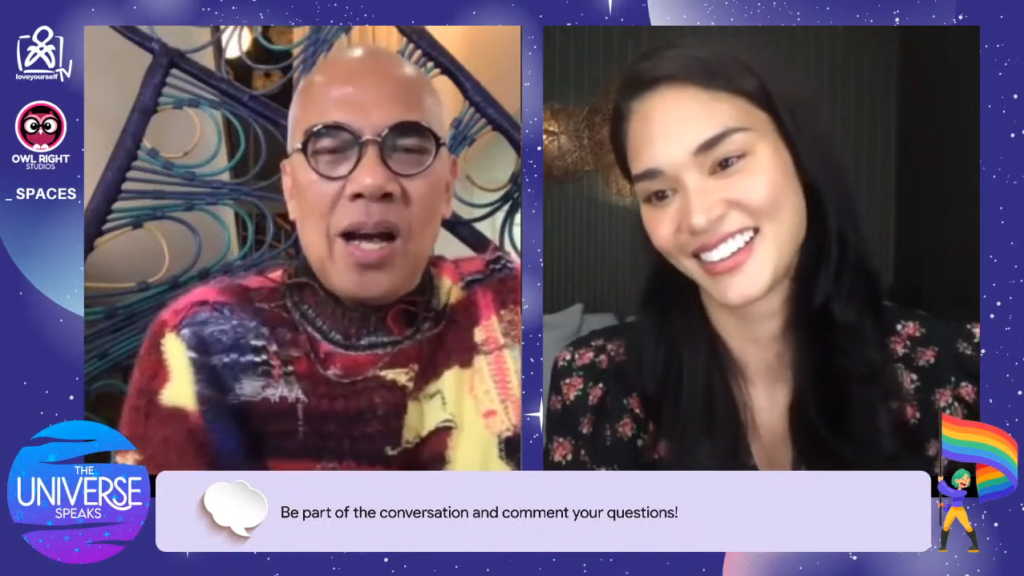 As a non-LGBTQIA+ person, Pia has been called babaeng bakla, which Boy described as a woman who is cool, confident, creative, and unafraid to express herself and she feels like it's a compliment to her ability to keep things fun despite her hectic work schedule while being outspoken about what she thinks and feels. However, Pia as a friend takes things seriously, pouring out her trust, support, and loyalty to the people who she sees as friends. And although she doesn't expect the same level of loyalty from her friends, she ensures that trust should be mutual, especially for when someone would come out to her.
The concept of a safe space was emphasized by Pia and Boy when talking about issues surround coming out. Pre-conceived pressures of society take such a toll on how people see the world, that people can forget that self discovery is a journey that can change over time. Thus it is not only important for people who identify as LGBTQIA+ to cultivate this safe space, but to everyone as well.
Want to know more about how to be an ally? Watch the video above, and don't forget to like, comment, subscribe to LoveYourself TV, and hit the notification bell so you won't miss an episode of The Universe Speaks!
Text by LoveYourself Communications