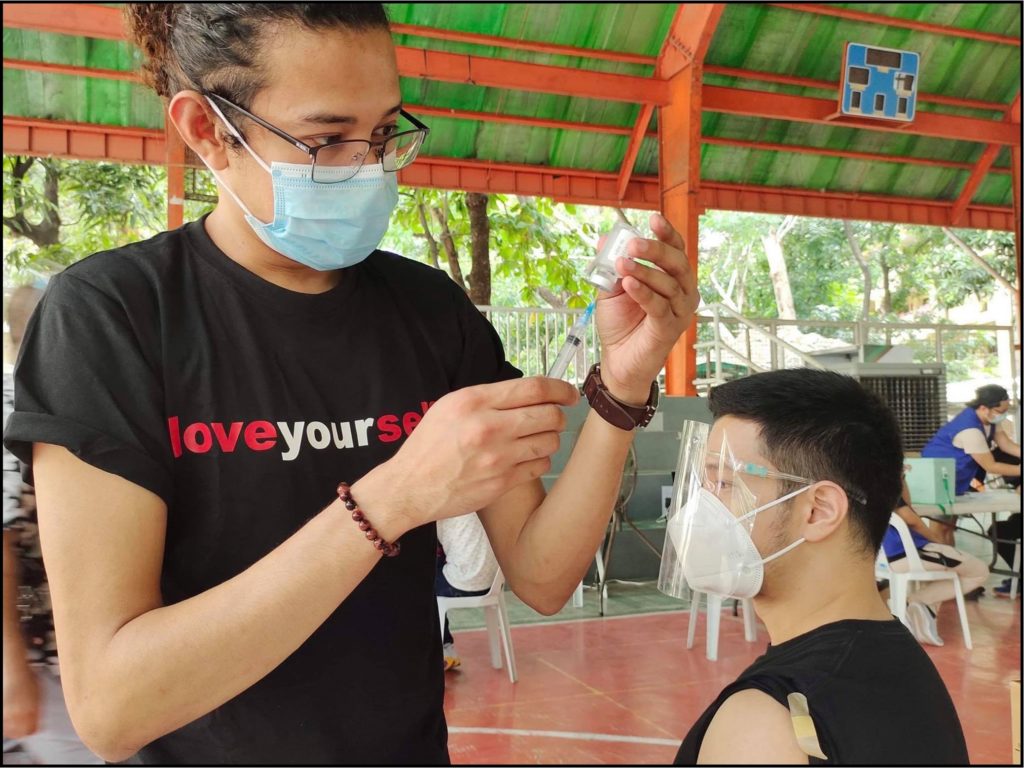 Volunteers and staff at LoveYourself, Inc. gained both an incredible opportunity and massive responsibility this week, after securing approval and training to facilitate and administer COVID-19 vaccines, with the help of the Mandaluyong City Epidemiology and Surveillance Unit (CESU). The rollout began Monday, May 17, 2021, and will continue until Saturday, May 22.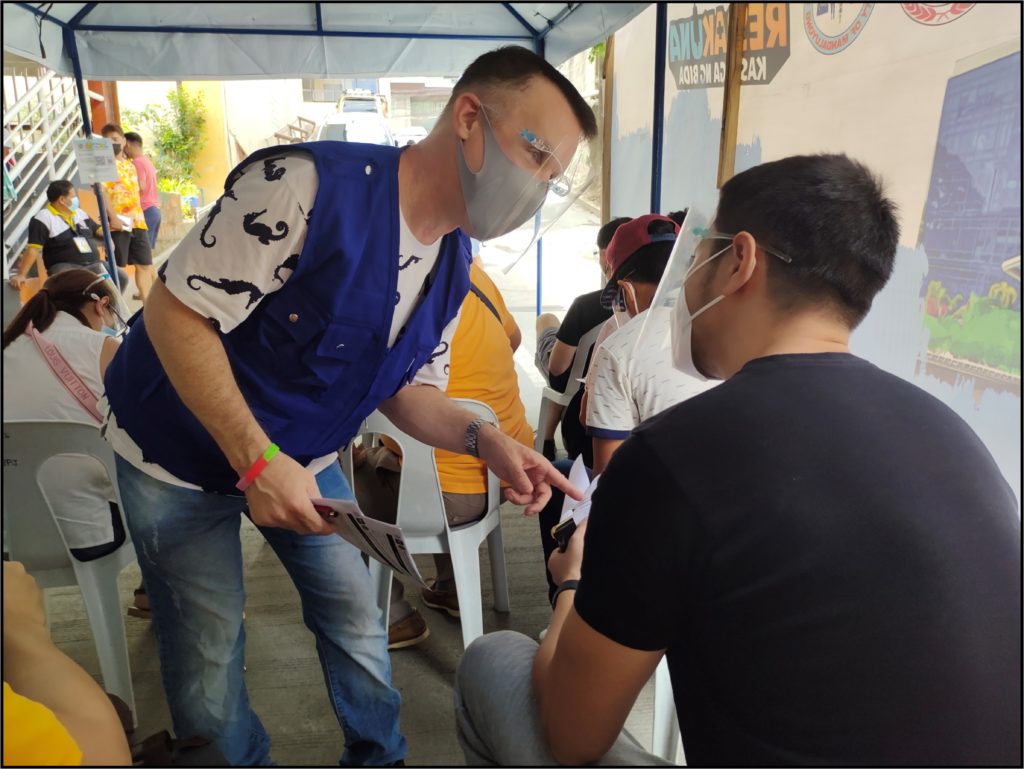 "We have been trying to apply to be a vaccination site," said LoveYourself, Inc.executive director Ronnievinn Pagtakhan, via Facebook Live on May 14, sharing how the turn of events came to be. "We got the training already, have prepared the requirements." Upon coordination with Mandaluyong CESU, an adequately-spacious venue was secured at the Eulogio Rodriguez Integrated School located at Cavo F. Sanchez St., Hagdan Bato-Itaas, Mandaluyong City.

With limited crunch time, but armed with years of planning and execution experience, thanks to the organization's tradition of holding national HIV testing events, everything is up and ready by Monday morning. For Denis Cruz, head for Quality of Life, seeing a group of volunteers in one venue reminds him of the bi-annual testing events LoveYourself used to do. "I love how we get to have an opportunity to volunteer again in spite of the pandemic. It feels like 'back to the old normal' tayo." Joy Daguiso, program lead for Flourish by LoveYourself, shared the same sentiment, but thought it's "better than mass testing. This time, we are reaching the general public."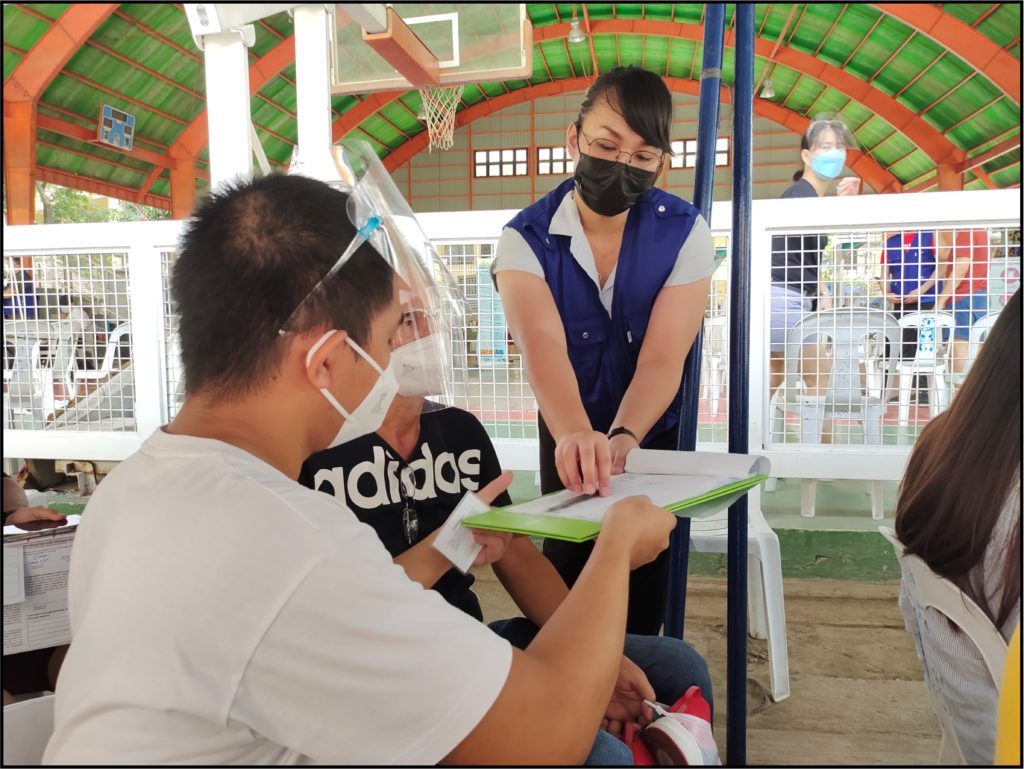 Volunteers reinforce the efficient rollout of the vaccine, but the process starts beyond the queue, as online registration is a crucial part of the flow. "Clients must validate first if they are scheduled for the day, which can only be done by signing up through Manda Vax, and making sure a confirmation notification is received," explained Denis. "Upon arrival, we hand them out the necessary forms, usher them through the stages of counseling and checking of vitals, then screening by our physicians, then administration of vaccines. Including the post-jab monitoring for any adverse effects, which is the last step, the entire run lasts a little over an hour."

Some clients have taken notice of the smooth process flow, with some taking their feedback to social media. According to Lord Rebueno, the experience was "quick and efficient." Martin Sy echoed this observation, and expressed his "kudos to @LoveYourselfPh sa maayos at mabilis na bakunahan."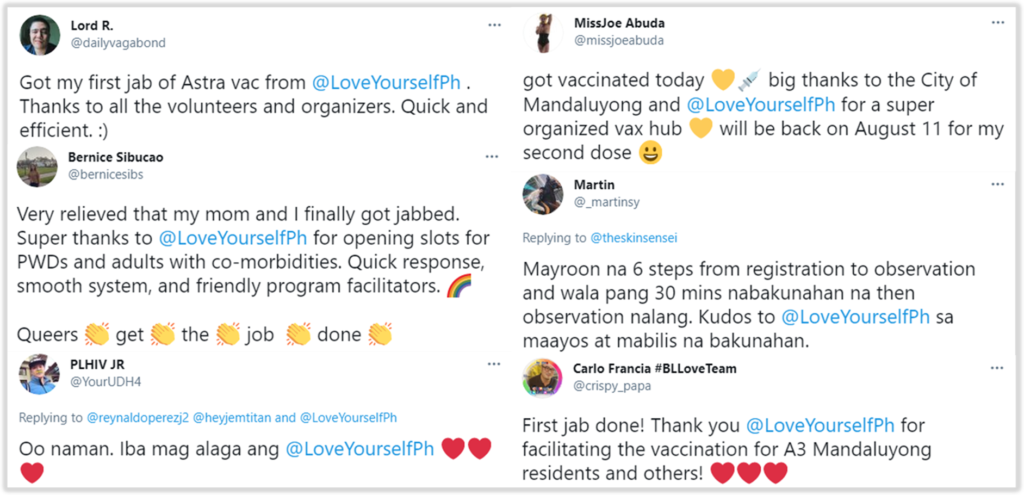 Halfway through the week-long rollout, Joy called on fellow volunteers to join and help keep the process smooth and efficient in the remaining days. "For volunteers, ito na 'yun pinakahihintay nating lahat—'yun moment na makatulong tayo ulit sa community. From mass testing to vaccination, 'isn't it amazing?'" she exclaimed. Joy recognized how this opportunity to help administer the vaccine comes at a time when the public "has realized and become more aware of the importance, not only of vaccines, but of public health and safety, in general. It impacts not just one sector, but all." In many ways than one, according to Joy, this is just one of the ways we get to live out our core intent of "creating ripples of positive change" for the common good.
If you miss hanging out with friends and fellow LoveYourself volunteers, want to take part in helping with the fight against COVID-19, or simply need a worthy excuse to get out and make good use of your time, join us on the remaining days of LoveYourself's vaccine rollout week. Medical and non-medical roles are available. Sign up at bit.ly/helpvaccine and see you there!
Text by Ulysses Konstantin Largado
Photos by LoveYourself Integrated Communications