MANILA, PHILIPPINES – Rojean Buhian was crowned Miss Trans Global Philippines (MTGPH) 2022 last Saturday night (May 21) at the recently concluded pageant held at Novotel Manila Araneta City.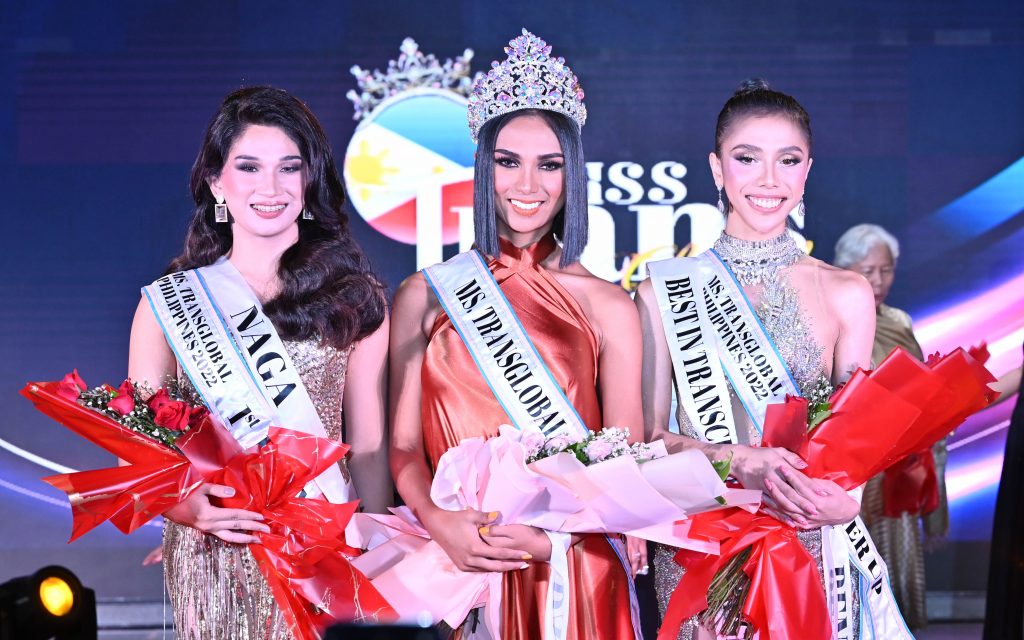 Buhian, representing Davao, bested the 14 other finalists in this year's pageant, acing all the segments of the competition. During the final question and answer portion, Buhian was asked by LoveYourself founder and executive director Ronivin Pagtakhan, who also sits as MTGHPH 2022 head judge, with the question: "How will you empower your community in normalizing HIV testing?"
Buhian started by acknowledging the challenging situation in mobilizing the community, "You know, in asking how, it is really difficult because it is really hard to assemble our brothers and sisters in our community since we are not united."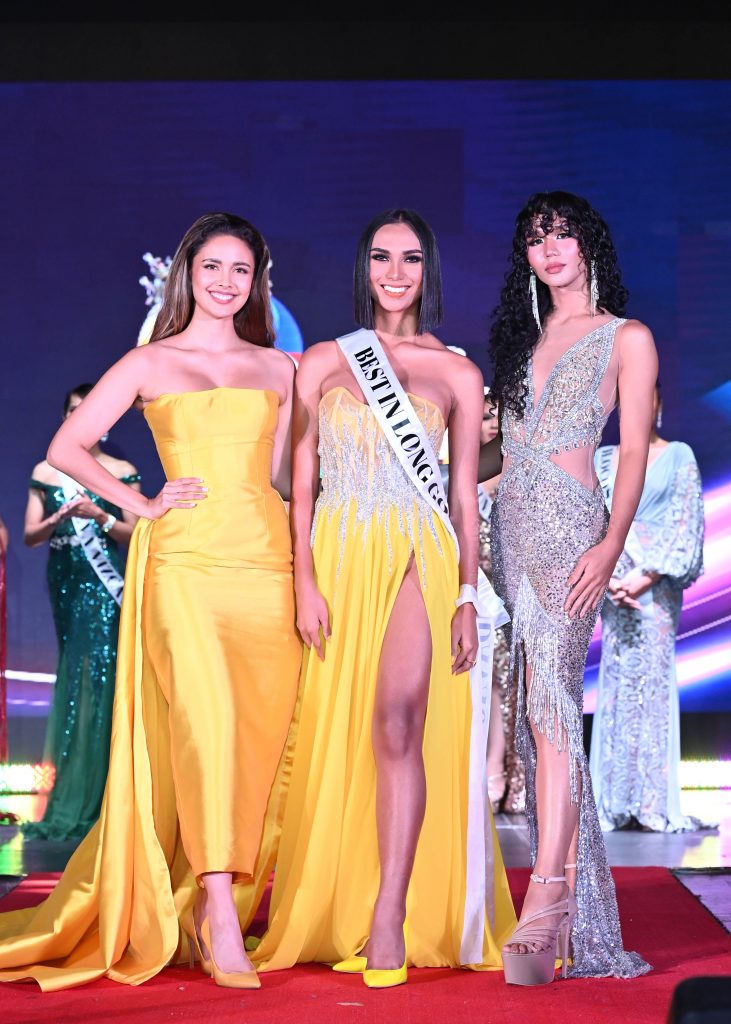 She went on to take the opportunity to inspire those who are watching to know their status. She continued, "Well, I believe that this prestigious event, as you can see all the audience, mostly of us, are LGBT community, this is the perfect time for me to empower and encourage you to not be afraid to know your status. Because at the end of the day life must go on. We are here. We are family. We are here helping one another."
Buhian also bagged the Best in Long Gown.
From its original online format, the three-hour show was a spectacle. ADDLIB set the MTGPH 2022 stage on fire with a high-intensity dance performance, followed by introductions of hosts: beauty queen Joy Barcoma, drag queen Eva Le Queen, and actor Paolo Pangilinan.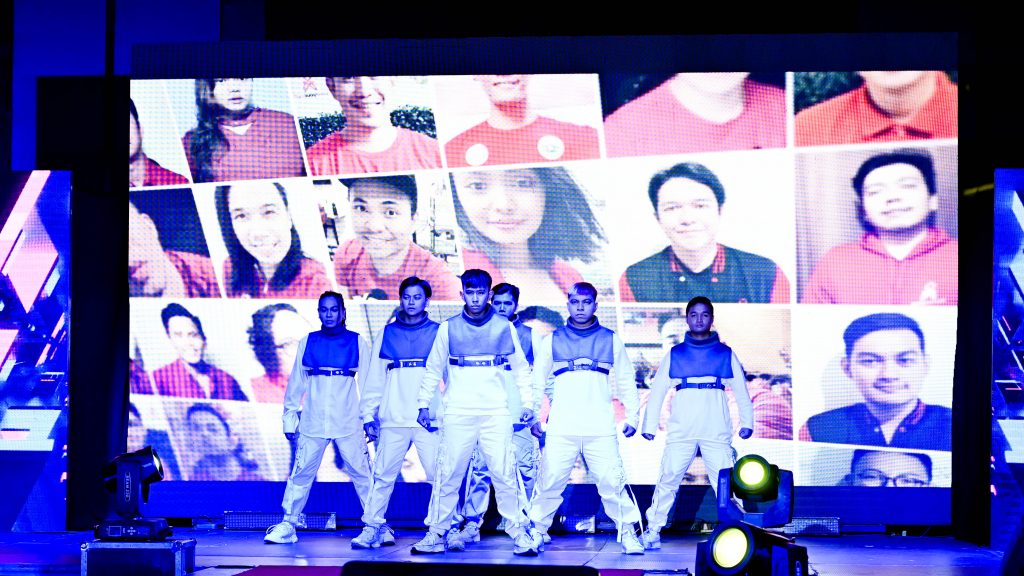 For the first segment of the competition, the top 15 finalists donned their uniquely crafted regional costumes, representing the culture of their respective localities. Pinopela sang Bagani together with music mixes from DJ Denis Llamanzares as an accompaniment to the candidates while modeling their costumes.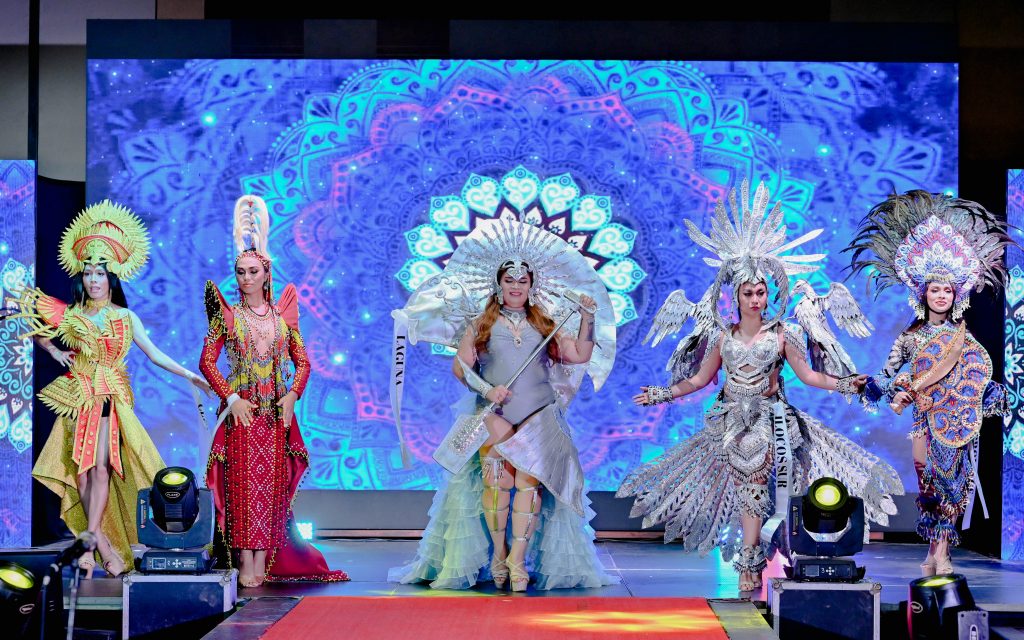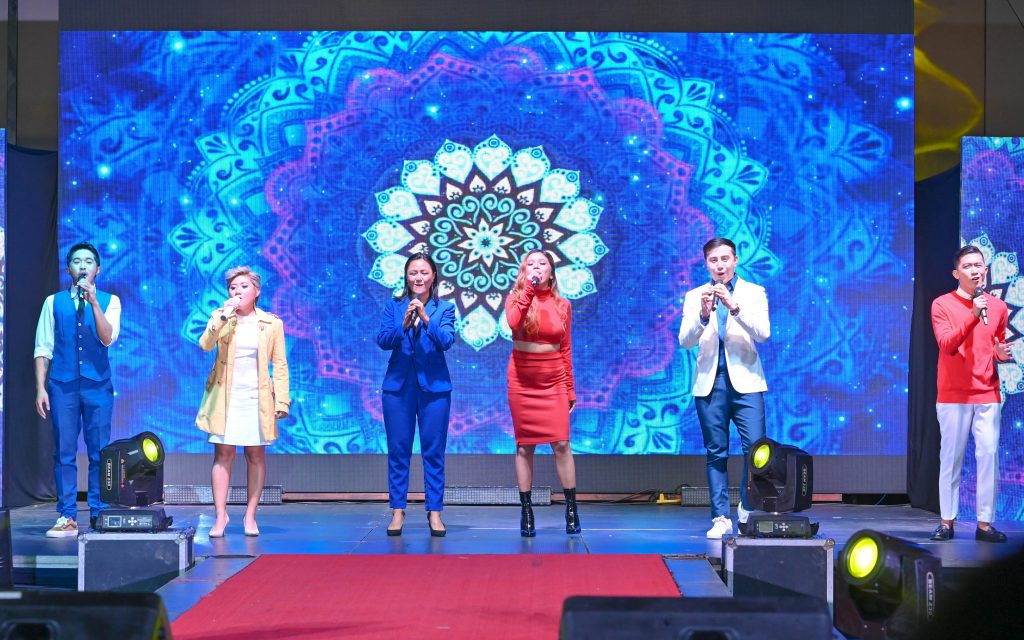 Then, the candidates changed and walked with passion and grace in their glittering and stone crusted evening gowns. The delegates glided elegantly on the stage as the song Nadarang played in the background.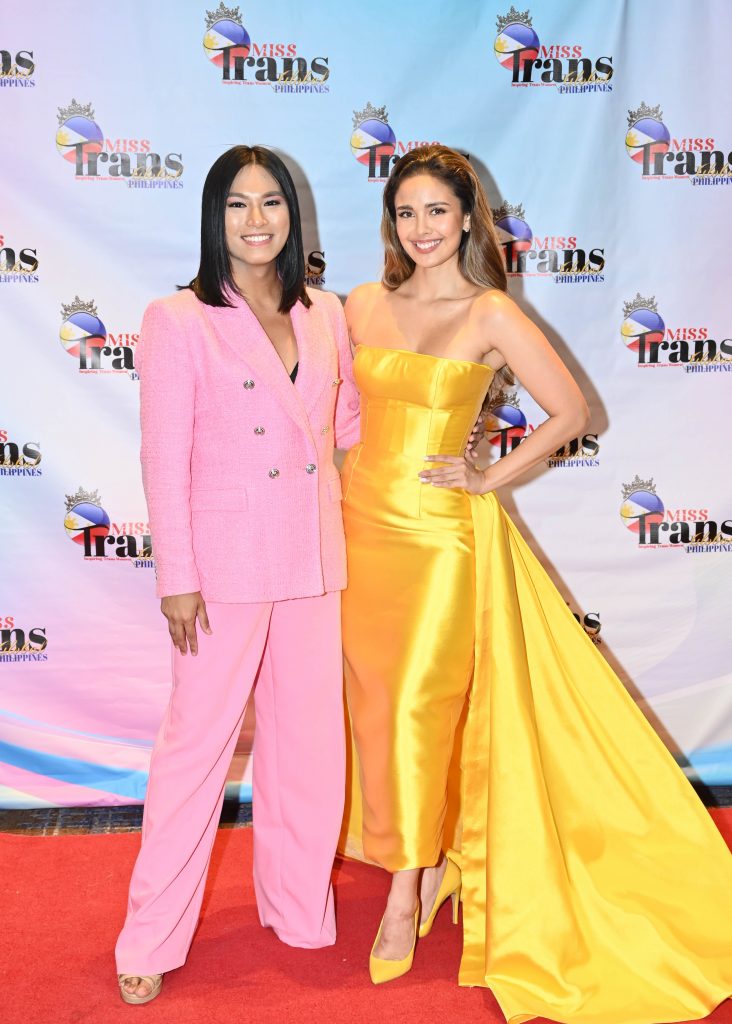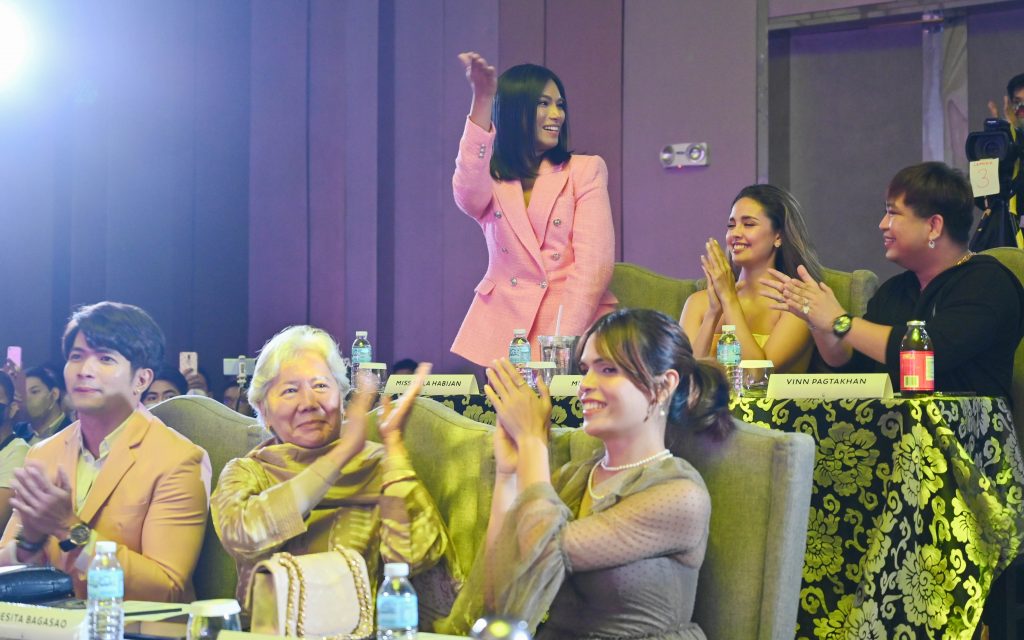 The excruciating part came when the top 5 were announced. Entering the top 5 were: Miss Davao (Buhian), Miss Naga (Christina Kendra Mendoza), Miss Benguet (Kyra Isabelle Antonio), Miss Surigao del Sur (Edcel Santillan Meneses), and Miss Cebu Province (Julie Yap).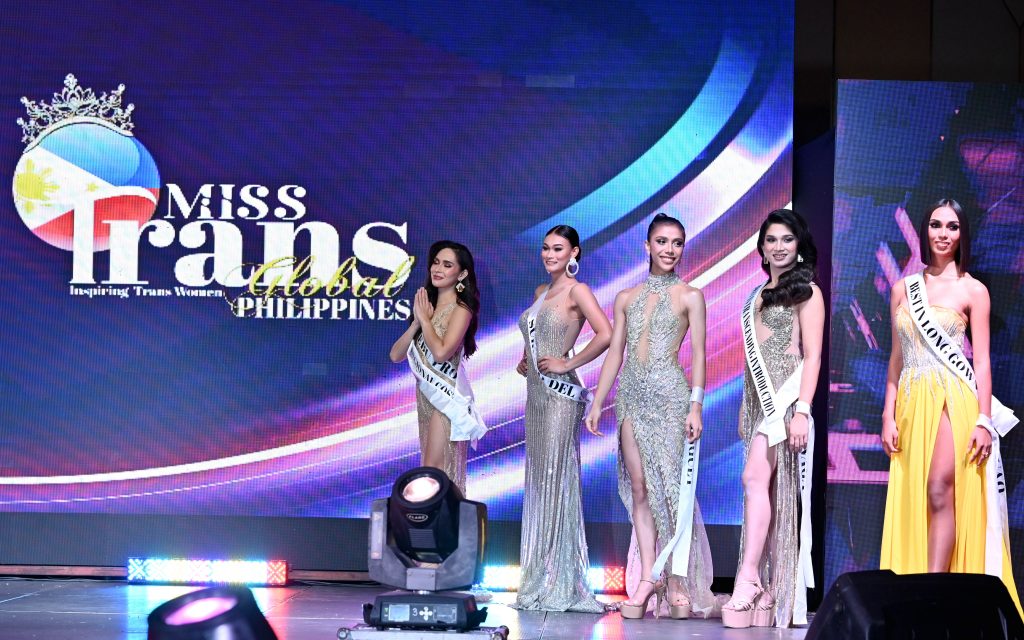 Duchess Global 2021 and Miss Trans Global Philippines 2021 Albiean Revalde also had her moment during the final walk overlaid with a voice recorded inspirational speech of her journey and gratitude to people who supported her. An instrumental version of Gabay sung by KZ Tandingan accompanied this final walk segment.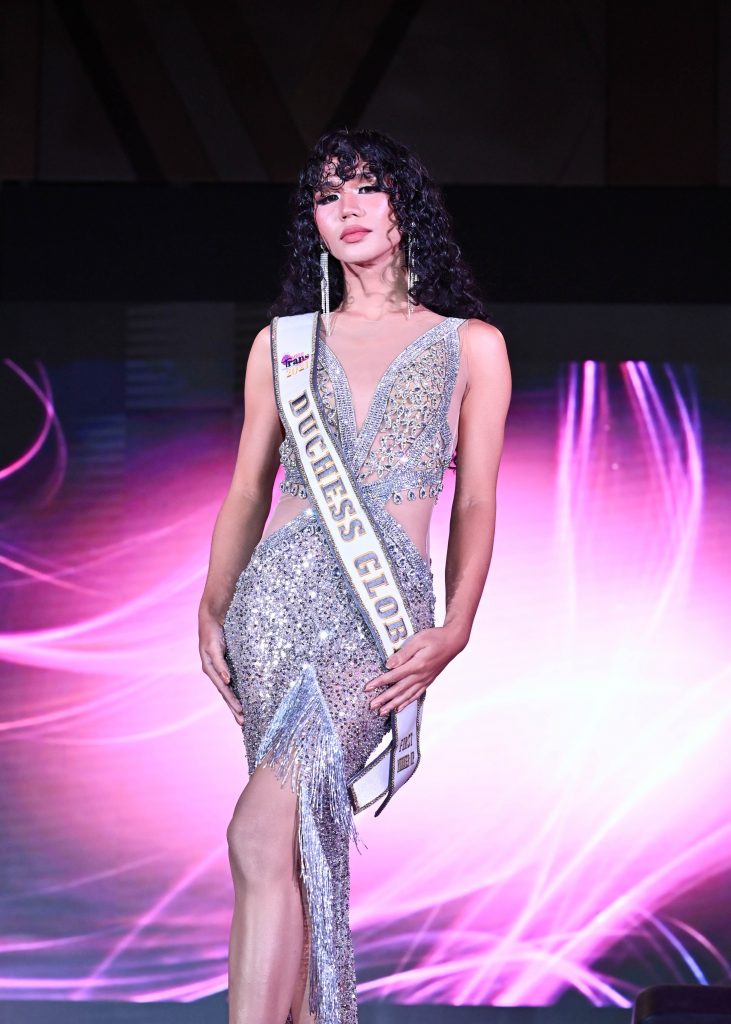 The Top 5 had their final look accompanied by a Isa Lang rendition of Jayper Palma.
As the event came to a close, the winners were announced one by one. Miss Naga got the first runner-up title and Miss Transcending Introduction award. The second runner-up was Miss Benguet, who also won the Miss Transcending Campaign award.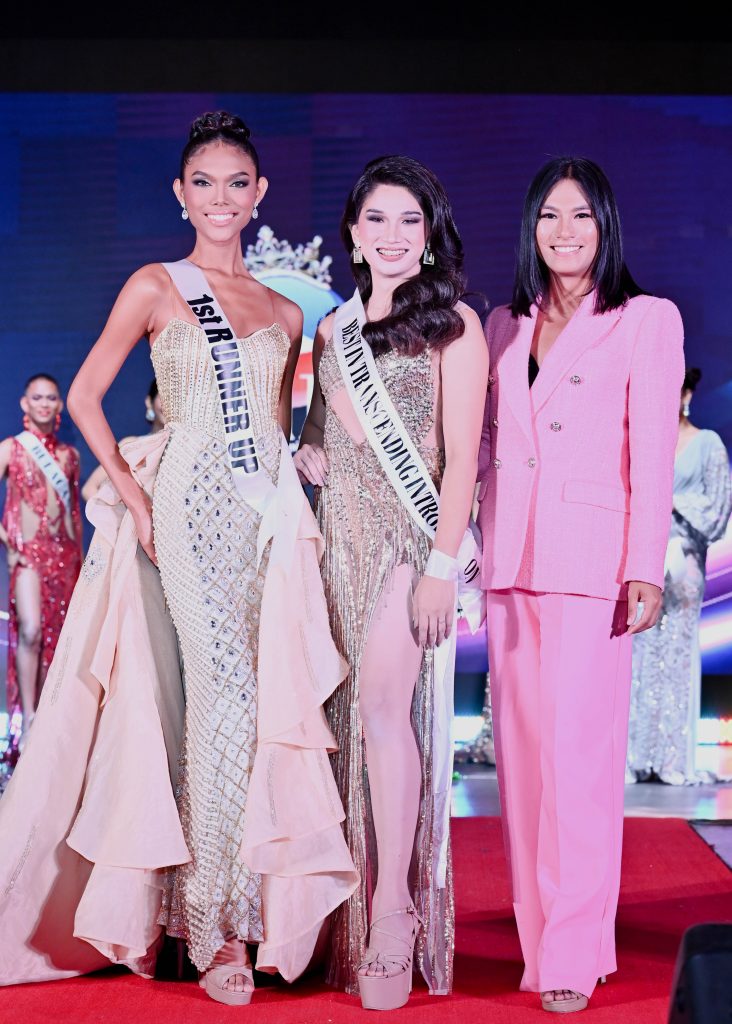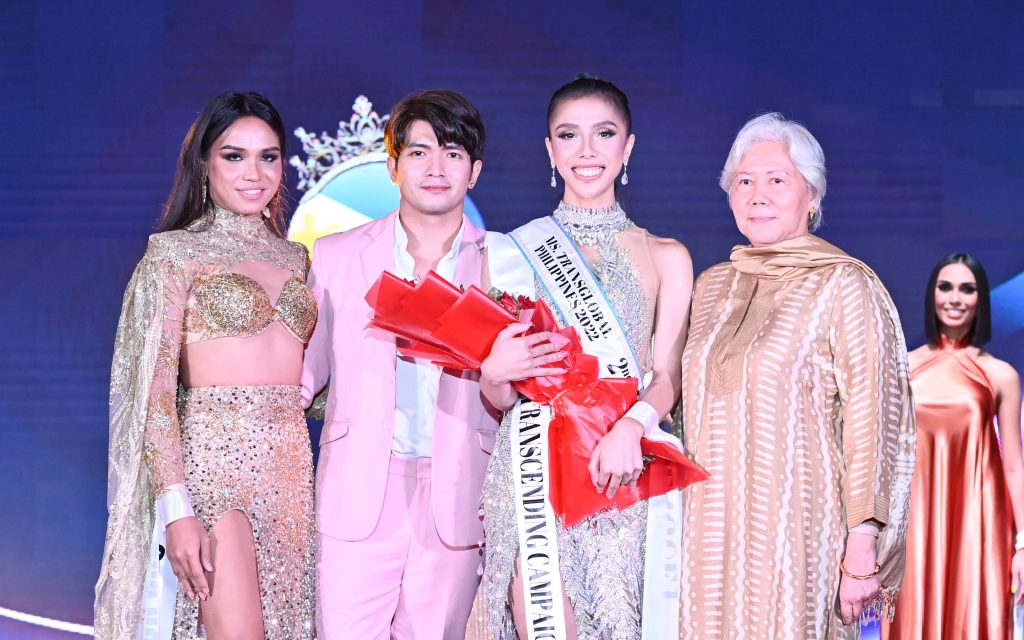 Other special awards: Social Media Star and Miss Congeniality went to Miss Laguna (Iris Magtibay), Best in Regional Costume and Miss SelfCare bagged by Miss Cebu Province, and Miss PrEP Pilipinas was earned by Miss Quezon (Nicole Silvestre).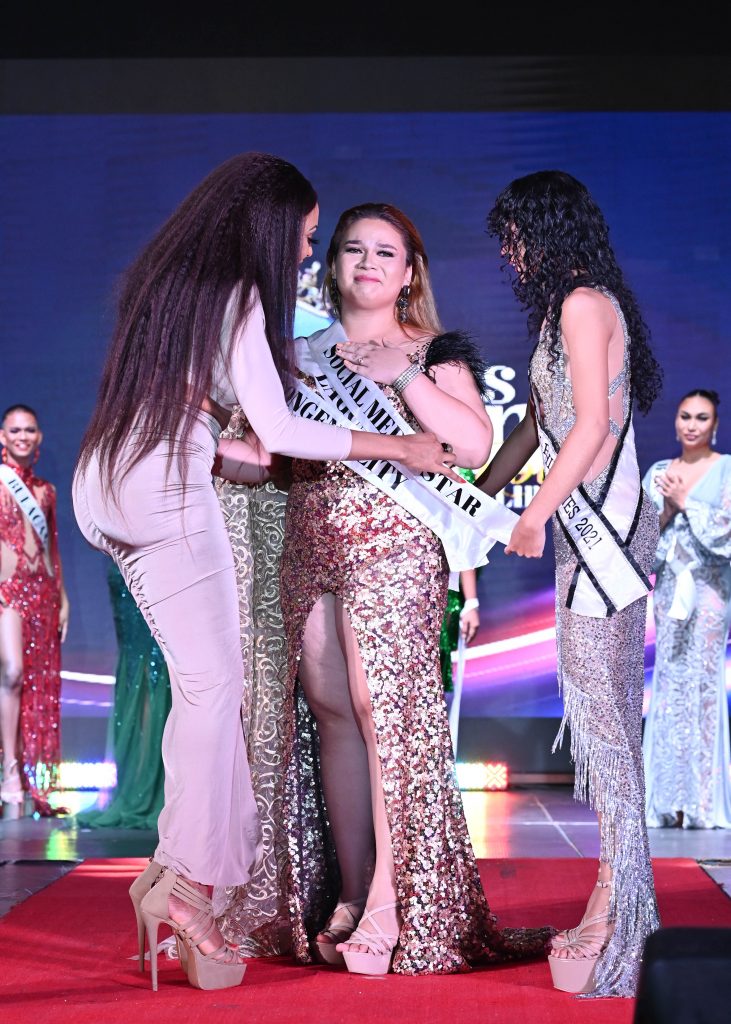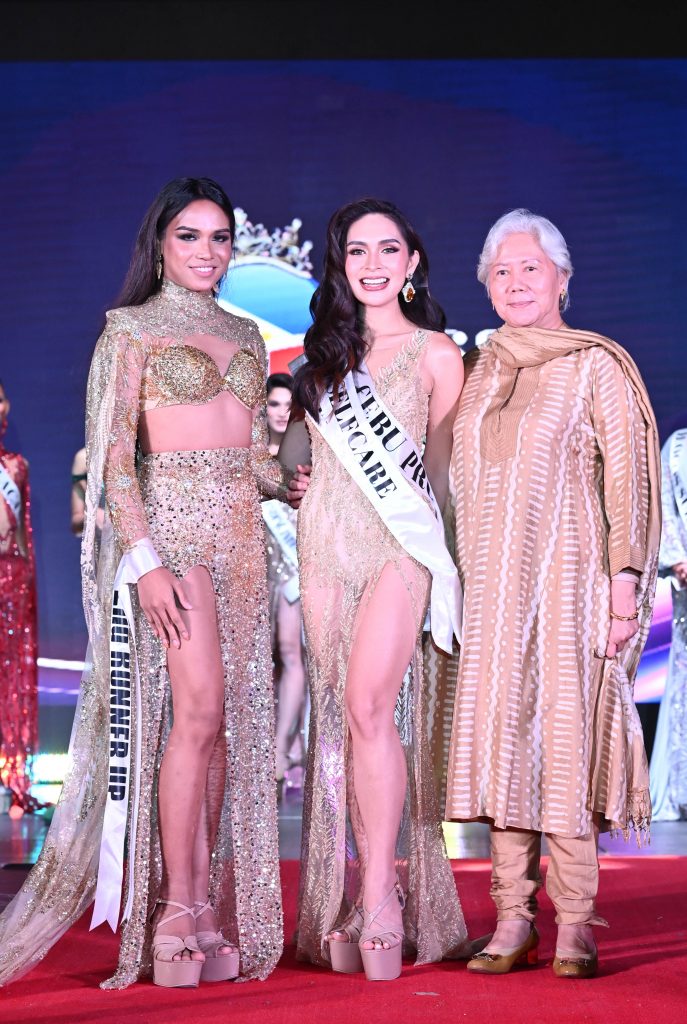 Miss Trans Global CEO and founder Sahhara Iris, MTGPH National Director Yanyan Araña and Pagtakhan also gave their inspirational speech during the show.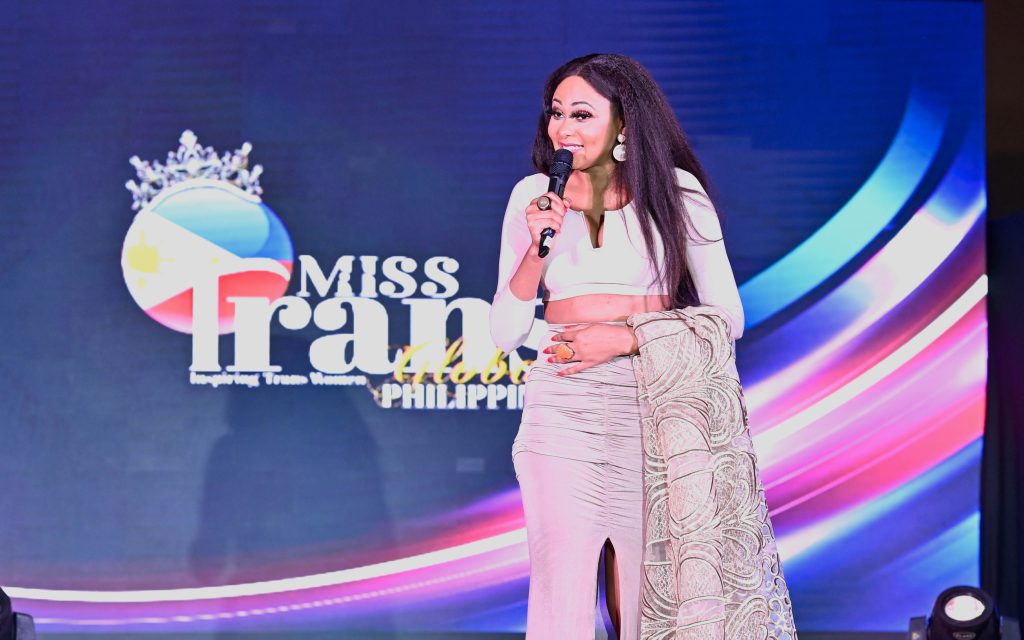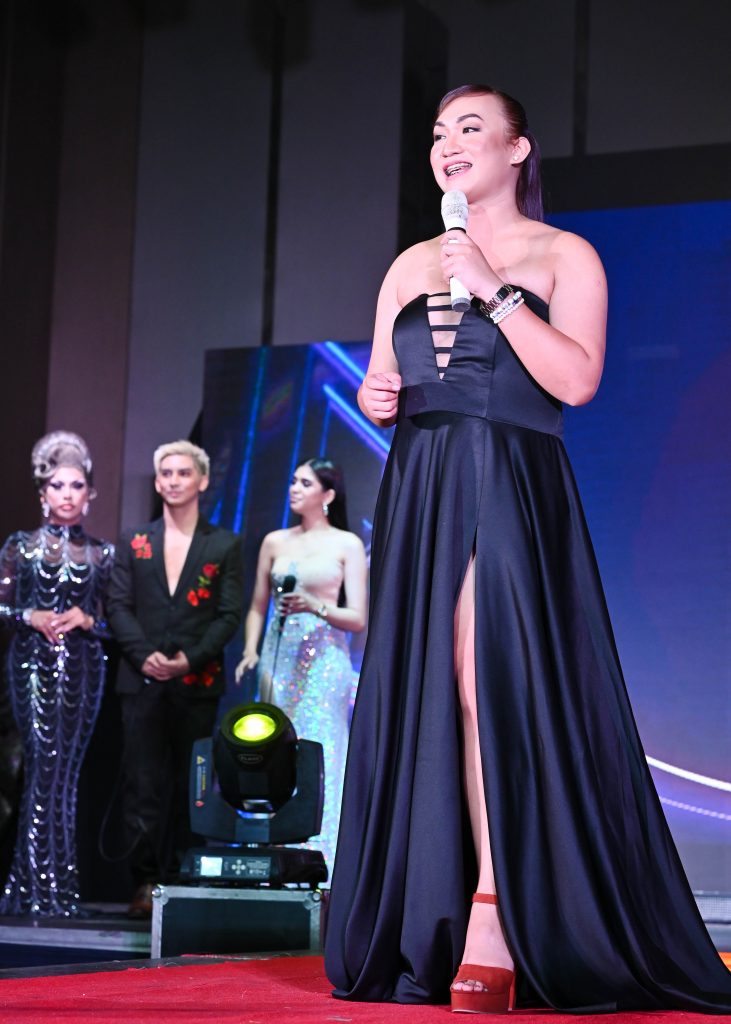 The most notable line from Pagtakhan is, "I am very proud to say that this competition [Miss Trans Global Philippines] has built more allies than competitors," empowering more communities to take care of themselves and health in general.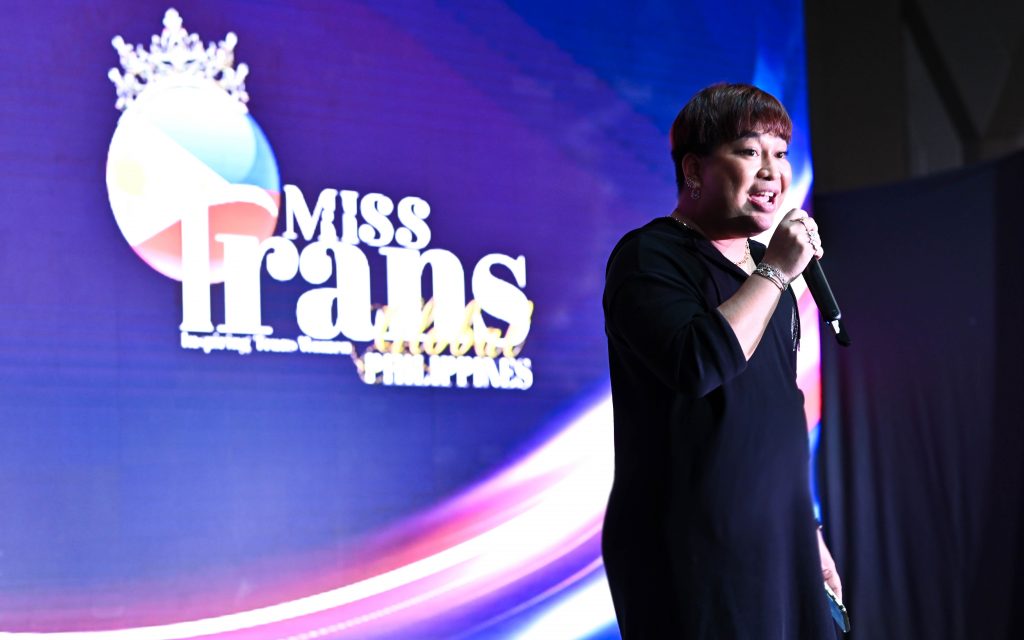 Miss Trans Global Philippines serves as the local franchise of Miss Trans Global, a UK-based organization pushing for transgender rights globally. Here in the Philippines, LoveYourself's arm for transgender advocacies, Transcend by LoveYourself, spearheads the search for the country's next rightful representative in the global pageant.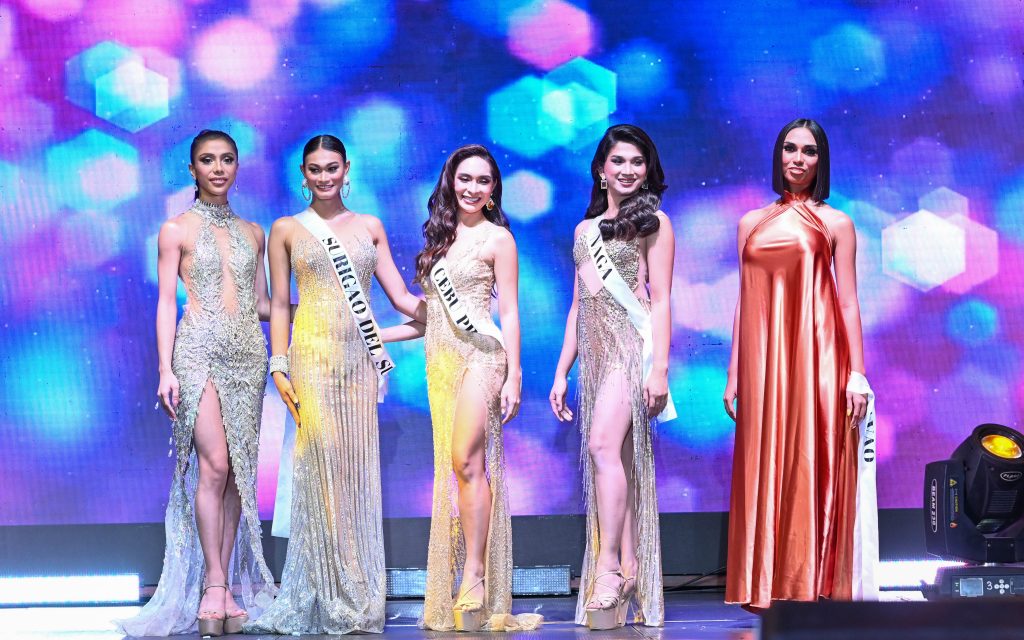 To access the full show of Miss Trans Global Philippines 2022 coronation night, check it out on the Miss Trans Global Philippines and LoveYourself, Inc. official Facebook pages.
The Miss Trans Global Philippines 2022 is presented by LoveYourself, Inc.; co-presented by Camber Pharmaceuticals, Inc. by Hetero and ERO Condom, and powered by Spaces MNL, OwlRight Studios and Castro Communications. The Miss Trans Global Philippines 2022 is also supported by AIDS Healthcare Foundation, Pilipinas Shell Foundation, Inc., PROTECTS, Champion Community Centers, PEPFAR, USAID, EpiC Project, PhilHealth, World Health Organization Philippines, UNAIDS and Lauvette, with special thanks to Magnitude Wellness Massage and Spa, and Gian Henderson Masterpiece.
Written by Bet Domingo
Photos by Spaces MNL's Sandro Paredes