The miniseries about four young men living with HIV is now streaming on iWant. Warning: this article contains spoilers.
The media regularly shares data about HIV incidence in the country. However, they seldom share the faces and stories behind the numbers. This is exactly why Mga Batang Poz, a digital advocacy series on iWant, is a welcome narrative in mainstream media that offers fresh yet relatable storylines among the youth. The show is directed by Chris Martinez adapted from a young adult novel written by Segundo Matias Jr. 
Mga Batang Poz centers around four guys who met after chatting in an online group. Three of them – Gab (Mark Neumann), Enzo (Paolo Gumabao), and Luis (Fino Herrera) are discreet gays while Chuchay (Awra Briguela) is the proudly effeminate character. Within hours, they started exchanging stories and their struggles while on a two-day road trip up north. Despite their differences, they share a common truth: they are People Living with HIV (PLHIV).
Why is Mga Batang Poz relevant now? We need not look beyond the show's title itself. "Mga" (many) as the Department of Health reported in May that 36 new HIV infections are recorded daily. "Batang" (youth) since most of these cases belong to 15 to 24 age bracket and are mostly men who have sex with men (MSM). Finally, "Poz" (a catchy term for "positive") to imply the risk involved with sexual contact which remains as the predominant mode of HIV transmission.
It's also noteworthy that this groundbreaking series casts a new lens on a wave of young PLHIVs who maintain a good social life. Their resilience in rising above prejudice and emotional trauma is inspiring for people of their same age and situation.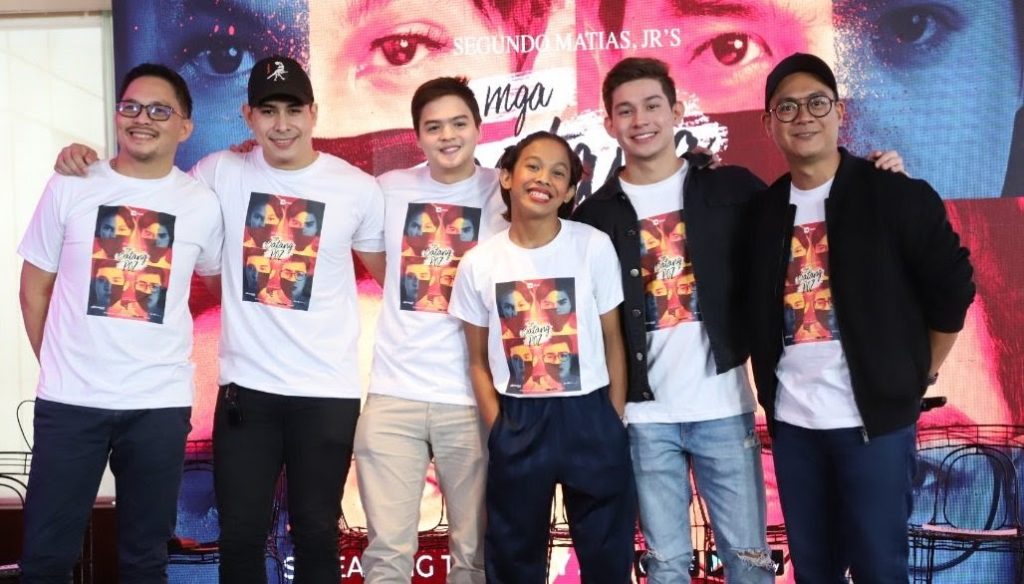 Establishing the show's relevance are the protagonists:
Luis, the promising son of a traditional Chinese family, born and raised with a proverbial golden spoon. Among the few things expected of him is to fall in love with Hazel–something that he can't force himself to do. Eventually, Luis fell into casual unprotected sex from strangers he met in a dating app;
Enzo, resentful son and brother who struggles from an inferiority complex. He found affection and fame in the alter universe, concealing his identity behind sex videos with a couple. Unfortunately, his emotions got in the way and he fell for one of them;
Gab, son of a town mayor who is one-half of local loveteam "GabVi," with Via, the daughter of another local politician. He develops an intimate and secret affair with his best friend Kenneth which sadly escalated into an abusive and depressing series of confrontations; and finally
Chuchay, the queer breadwinner of a homeless family who has to make ends meet by accepting money for sex from his employer's pedophiliac husband. Although the most vulnerable because of economic status, 'she' is the comic jester and light of the party.
The four episodes between the pilot and finale are dedicated in telling each of their lives before and after being infected with the virus. Viewers are treated to a roller coaster of emotions as they join the foursome's road trip equivalent to more than three hours of binge time.
Safe Space as a concept, reality
"I guess normal naman sa gays na magtago para hindi makilala," ("I guess it's normal for gays to conceal their identity") says supporting character RJ (Mark Rivera).
The rest of the cast confronts this thought in the finale, as if they're leaving viewers something to think about after watching. What is a safe space? Where is it? Who gives or protects it? How can one make their own? 
The show provides some answers by showing how the characters created and found their safe spaces. While difficult, all of them were able to reveal their HIV status to their circles. As a standout of the show, Chuchay's cisgender best friend Ginalyn left viewers with an emotional moment when she reaffirmed her love for her, albeit desperately fighiting tears. In a flashback scene, Luis' big brother also assured him that "no one should be sorry for being gay." The show invites viewers to be like Ginalyn and Luis who made a conscious decision to love, without buts or maybes.
All together in their Baguio inn, Chuchay assured the group that "God is not judgemental" and followed it by an in-your-face question, "Hindi ba pwedeng magmahalan na lang tayo?" ("Can't we just love one another?"). These are just some of the heart-tugging moments and shareable quotes to give the viewers emotional breaks in between episodes.
Mga Batang Poz presents that a safe space is not necessarily a physical structure. Family can be them; an online chat group can do the same. Testing centers and hospitals can provide them, so as strangers and past lovers. Creating a safe space is a conscious decision to surround oneself with people, experiences, and moments that are uplifting, warm, understanding, and tolerant. It's not always easy to look for one but there are plenty of them. 
For instance, all LoveYourself community centers are safe spaces for anyone who wants to get tested for free or access treatment for HIV and other sexually transmitted infections. Just visit loveyourself.ph of check its Facebook page for the clinics' schedules and one can visit without fear of being exposed or labeled.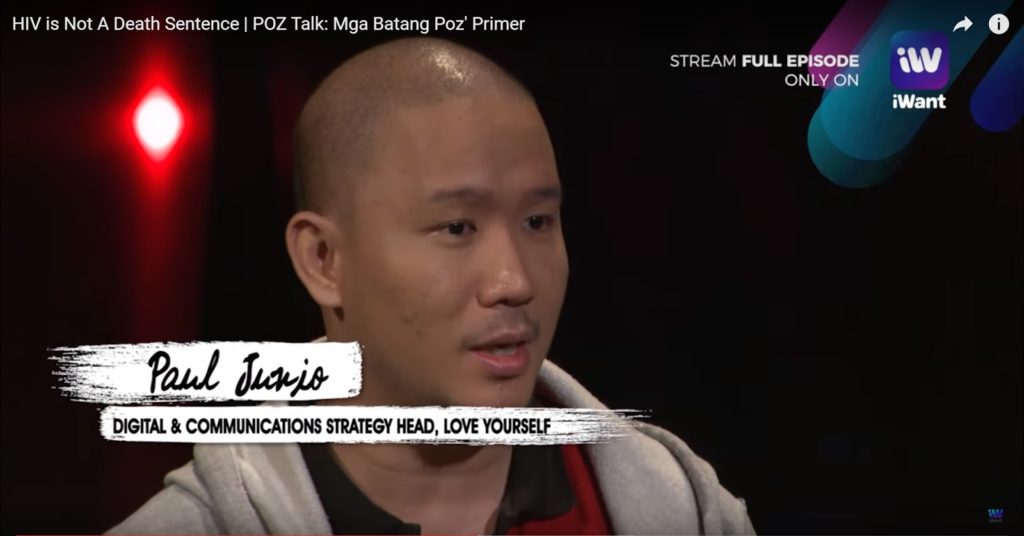 "Poz Talk"
The series generously provides a special 30-minute "Poz Talk" hosted by Karen Davila to shed light on the issue, prevalence, and stigma surrounding HIV. Davila talks to the author, cast, PLHIVs, and advocates for a well informed and relatable discussion.
Speaking on behalf of LoveYourself, communications volunteer Paul Junio echoes that the show "is a good opportunity for families to have healthy discussions inside their homes about HIV."
And that closes the loop to the show's after-credits, that Mga Batang Poz "is an advocacy series to celebrate life amidst all the pain. For there is love from family and friends." The characters showed us that there is life after HIV. It's now our turn to help, accept, and love the Luis, Gab, Enzo, and Chuchay of the real world. 
Mga Batang Poz was recently screened at Cinemalaya and Cinespectra Film Festival to educate and inform more people about the issues of some PLHIVs, and continue the discussion on safe spaces, tolerance, and the importance of treatment. It is still streaming on www.iWant.ph or you can download and register in the app for free. You can also buy the novel in major bookstores nationwide, online at nationalbookstore.com/mga-batang-poz, or contact its publisher www.lamparabooks.com.ph.
Text by Ross Manicad