The LoveYourself volunteers and employees are the ones who truly keep the organization at its best. They both share the same earnestness, passion, and tenacity for our common advocacies. The love they put into their work is truly priceless. All of them are dedicated, but nine (9) hearts stood out this year, and made remarkable impacts to the organization as well as to the community we serve.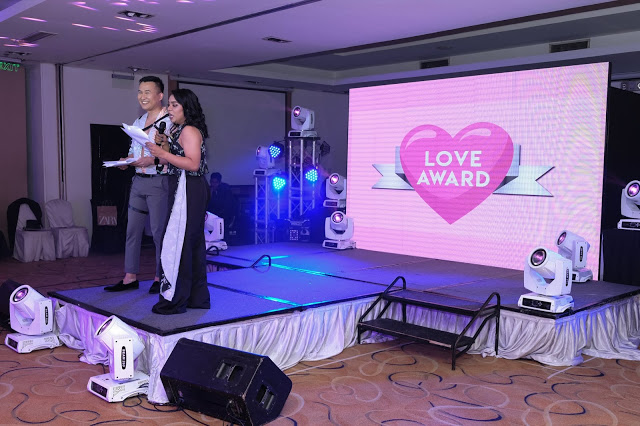 In view of their outstanding service, LoveYourself annually recognizes its people fondly called Lovers. For this year, the recognition of "Lovers" was officially named as LoveYourself Outstanding Volunteers and Employees (LOVE) Awards. This recognition is given to volunteers and staff who continuously and consistently rendered their services with all their heart and soul, which affected the community, their colleagues and the organization in many positive ways.
The very first LOVE Awards has 5 different categories, acknowledging outstanding work for raising Awareness, championing Education, increasing Engagement, sparking Innovation, and minding Operational Excellence. The awards were given on December 7, 2019, during the Kink: The LoveYourself Ball, which is a year end celebration and party.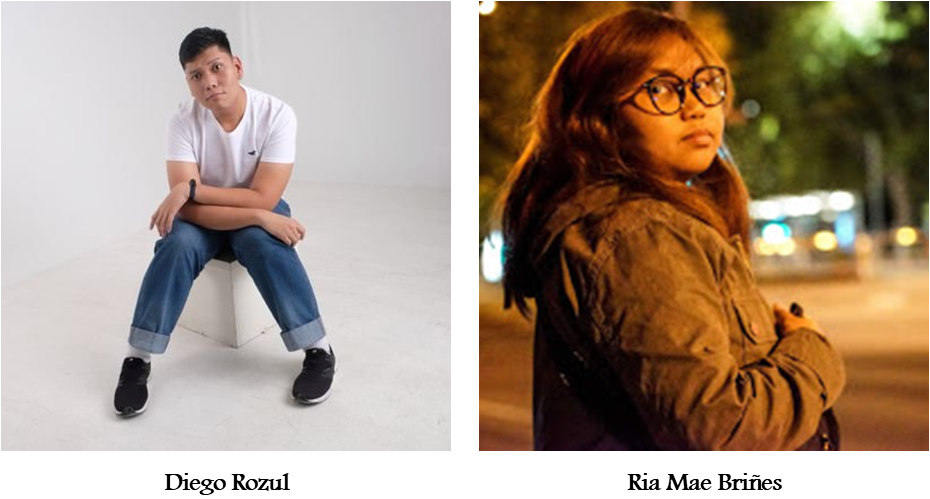 The LOVE Award for AWARENESS was given to Diego Rozul and Ria Mae Briñes. Both of them have exemplified outstanding service in creating campaigns, and communication materials to spread awareness about the organization's causes. Their contributions have helped reached more people to take care of themselves and address the stigma attached to sexual health, mental wellness and other related topics. Other nominees for this category were Kyle Jayogue, Anton Perez, Jeanno Dinglasan, Ralph Tamayo, and Raymond Manahan.
Diego's leadership in the Editorial sub-committee has spawned meaningful stories and articles that helped optimize LoveYourself's online presence. Ria's expertise in audio-visual production augmented the communication strategies of the organization.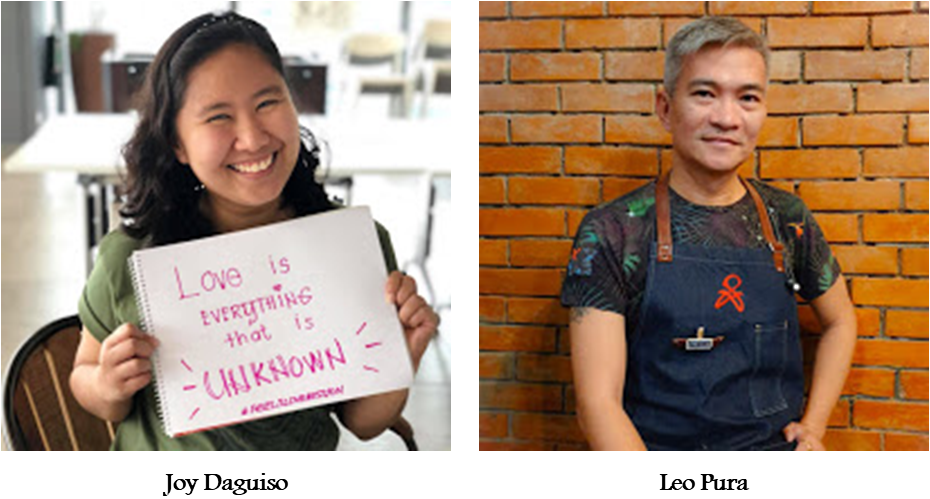 The LOVE Award for EDUCATION was given to Joy Daguiso and Leo Pura for effectively and efficiently imparting knowledge about sexual health, sexual orientation and gender identity expression (SOGIE) concepts and mental wellness issues. Other nominees for this category were Abe Isaiah Gagui, Denis Cruz, Nicole Silvestre, and Roberto Pinauin.
Joy spearheaded the Flourish Circle program, which was launched this year. She is also one of the people behind the creation of LoveYourself's Self-Empowerment and Awareness Retreat (SEAR) modules. Along with Joy is another accomplished volunteer – Leo. Leo's experiences as a life coach contributed so much in developing the SEAR module. This year, he assumed the role of LoveU Legislative Head, who facilitates the establishment of the new learning and development modules.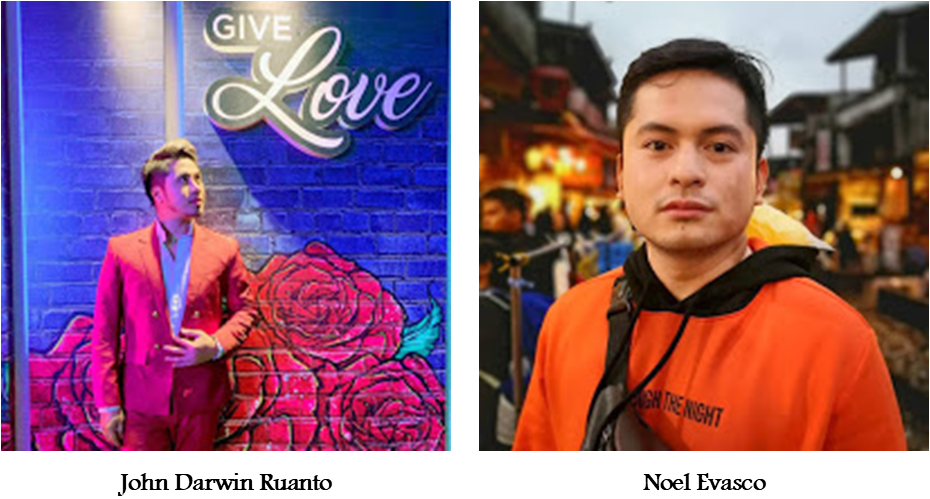 John Darwin Ruanto and Noel Evasco received the LOVE Award for ENGAGEMENT. Both of them executed programs that helped engage members of the organization and the community. Other nominees for this category were Franz Baylon, Jamie Well Titan, Jennifer Castillo, and Ronald Bugarin.
John Darwin is known for his efficiency in managing the priority programs of LoveYourself that help facilitate the operations and ensure PhilHealth accreditation of the organization. As for Noel, the volunteers and the community were engaged in meaningful ways, because of his efforts in attracting partners and sponsors for various events and initiatives of the organization. His efforts also opened up new opportunities to engage more stakeholders.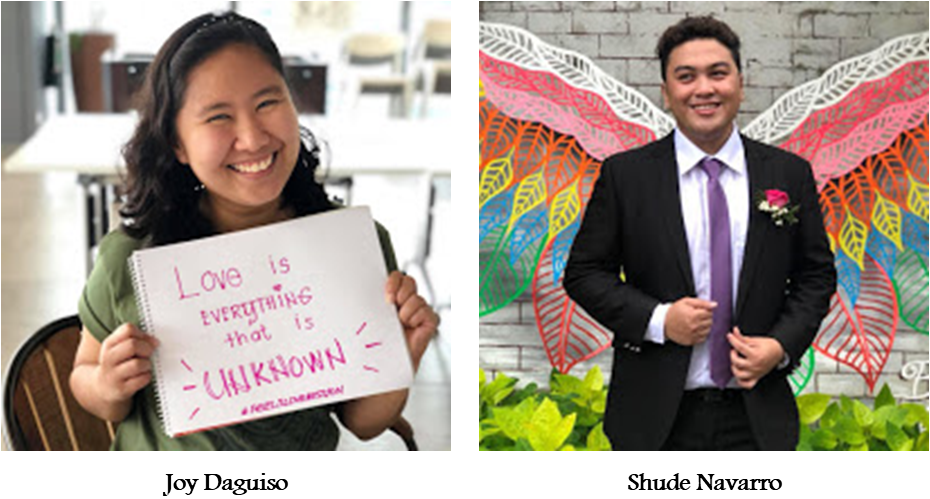 The LOVE Award for INNOVATION was handed to Joy Daguiso and Shude Navarro for creating new programs and processes that innovate and improve the organization's service delivery. Other nominees for this category were Frederick Lasmarinas and Kyle Jayogue.
Joy received her second LOVE award for her dedication to provide the best service for the Flourish Circle program. This pioneering program has redefined LoveYourself's campaign to promote mental health and wellness, by providing a safe and affirming space where people can feel listened to, supported, and accepted – a first for the advocacy group. Shude, on the other hand, introduced paperless monitoring and transaction for the clients in LoveYourself Welcome, by maximizing the use of an online application. This improved customer experience has empowered his clients to prioritize their health, by adhering to HIV treatment, prophylaxis for HIV related illnesses, and many more.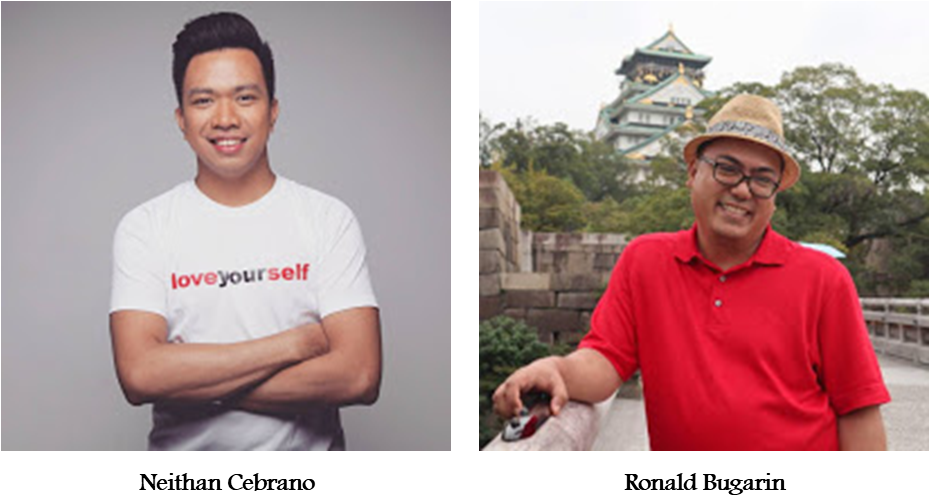 Lastly, the LOVE Award for OPERATIONAL EXCELLENCE is given to those who have exemplified outstanding service pertaining to general operations, may it be through administrative works, education, testing and counseling or treatment and life coaching. The award was conferred to Neithan Cebrano and Ronald Bugarin. Other nominees for this category were Jastin Dizon, Raymond Martin Manahan, and Reydante Banag.
Neithan went beyond to what his educational background suggests he could do. With his help, LoveYourself was able to offer various services that reach more clients. He spearheads the discreet treatment service for people living with HIV (PLHIV) clients. Aside from being an active counselor, Ronald also helped in creating the HIV 102 informational materials for the initiation of antiretroviral drugs, and the treatment booklet for PLHIV clients. He also led one of the national HIV testing day of the organization that reached hundreds of individuals know their status.
LoveYourself extends its utmost gratitude to all the volunteers and staff for their outstanding work this year. As we always say, "You are the heart and soul of the advocacy, and no amount of contribution is small, for these acts spark a light of hope to the people we help."
May the LOVE Awards inspire you further to take on that extra mile in creating ripples of positive change in the community.
Maraming salamat sa inyong lahat Lovers!
Onward to 2020!