June is Pride Month, and what LoveYourself celebrates more in this period is all forms of love, especially for the LGBTQI+ community.
Since all we need is love, LoveYourself will hold a pride convention called LoveCon (#LoveConPH) this coming Sunday (June 26) from 1 PM onwards at ArcoVia City in Pasig.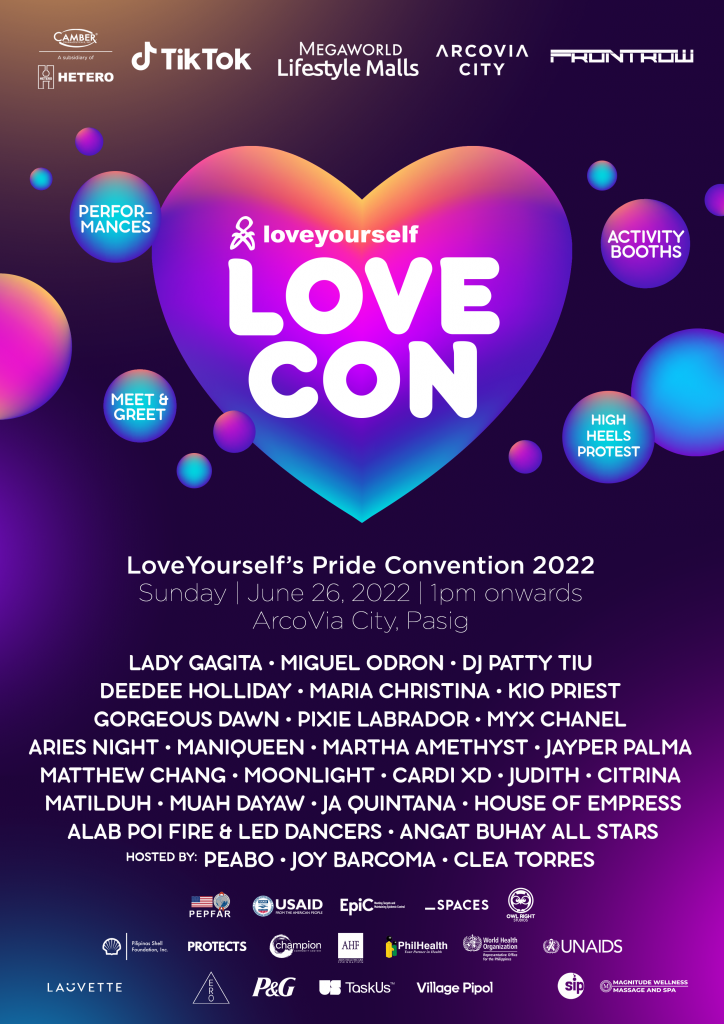 "LoveCon is a gathering of LGBTQI+ members to celebrate the wins of the community. It will be a day where members come together to showcase the LGBTQI+ talents and culture," LoveYourself founder and executive director Ronivin Pagtakhan said.
"Let's cap off our pride month celebrations at LoveCon, where we can have fun, relax and enjoy the company of our friends while we watch drag queen performances, play around with our activity booths, and meet and greet LGBTQI+ personalities," he added.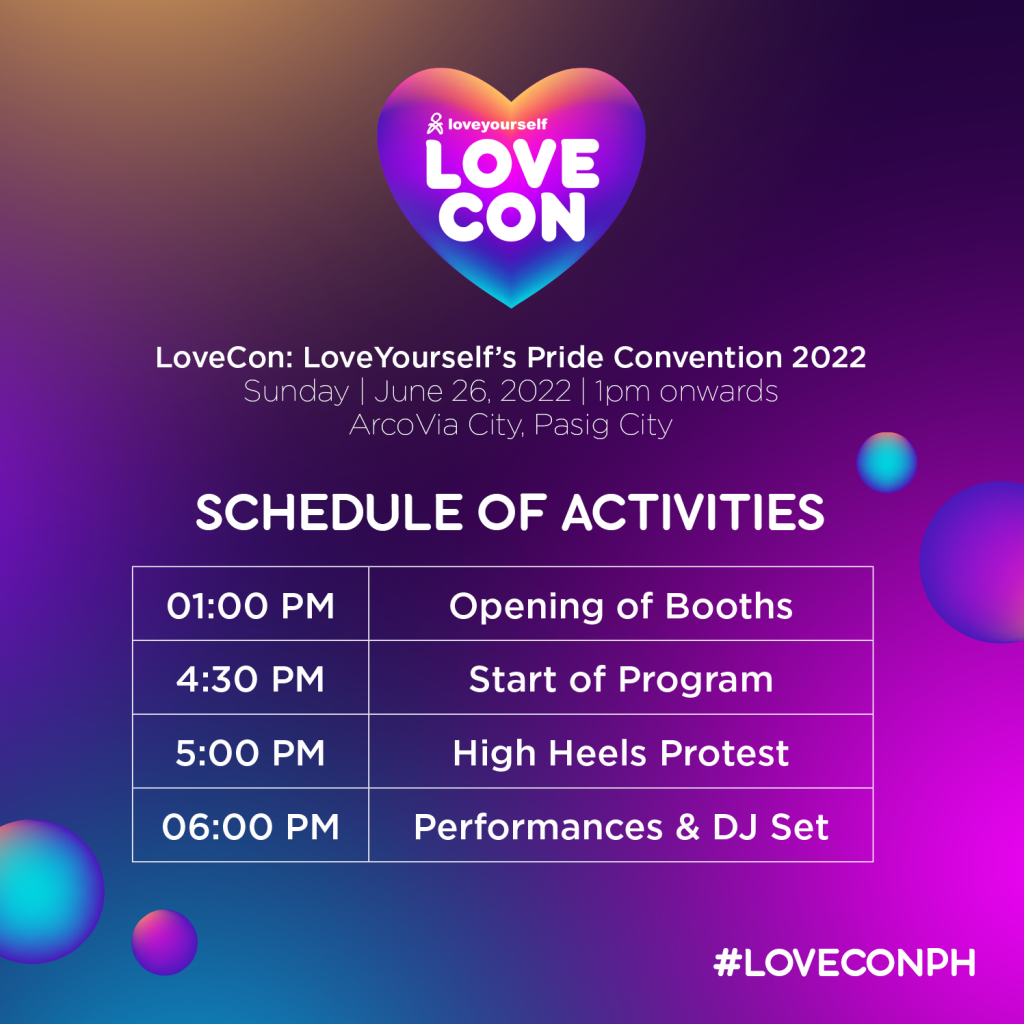 Starting with the opening of pride booths, LoveCon will be participated by members, supporters and allies of the community. LoveYourself programs and services will also be present at the event to promote programs for sexual health, mental health, and transgender health.
Activity booths like kissing booth, jail booth, and marriage booth will also be put up patterned after school's fun affairs. There are also so many things to see and do at our sponsors and merchant booths.
The formal program of LoveCon will start at 4PM where High Heels Protest will be conducted. Since Pride is originally a protest, attendees can wear their high heels and join the protest to highlight the advocacies geared towards the LGBTQI+ community.
Performances and a DJ set will follow suit where tons of song, dance, and drag performances by various LGBTQI+ artists and allies will take place.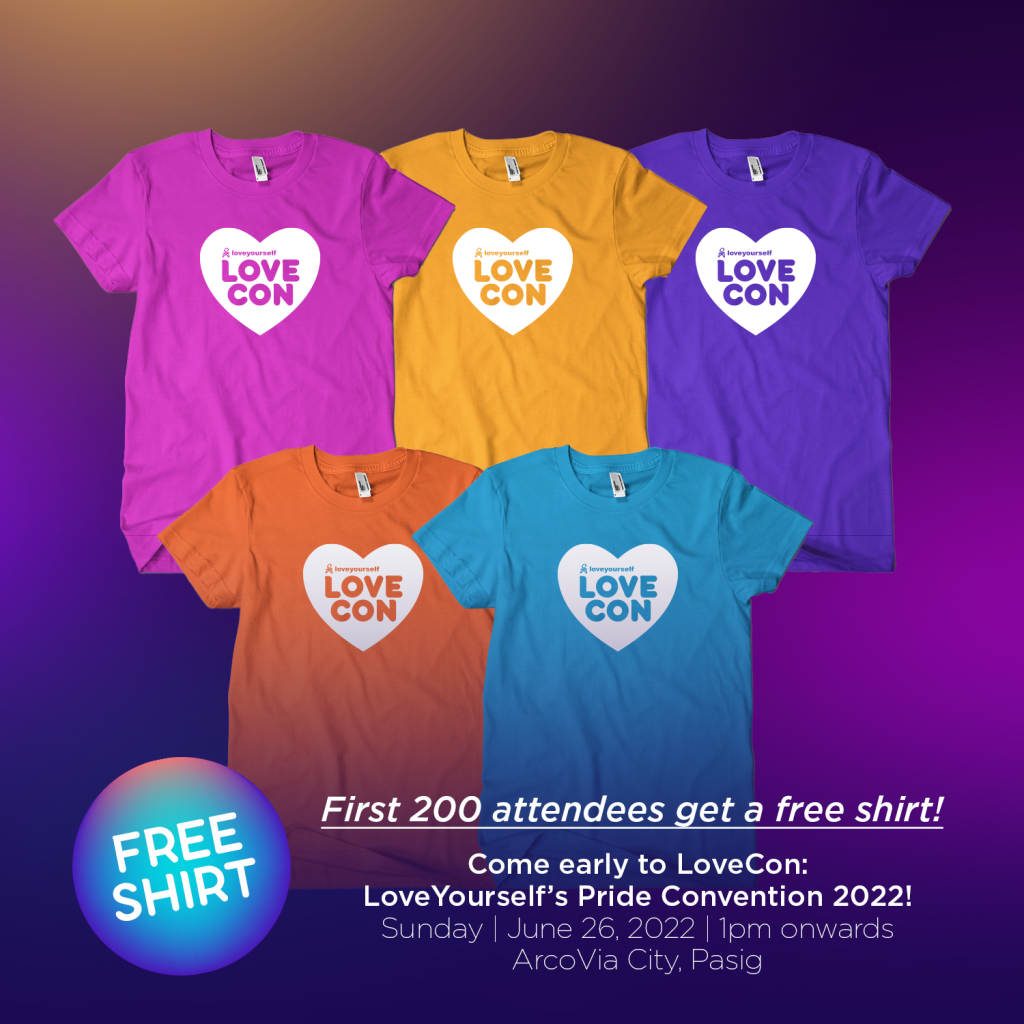 First 200 attendees of LoveCon will also be receiving customized #LoveConPH shirts for FREE!
What are you waiting for? Let's get ready for all forms of love, particularly in loving our true selves, not only this Pride Month but all year round!
#LoveConPH is presented by LoveYourself. Co-presented by Camber Pharmaceuticals, Inc., TikTok, Megaworld Lifestyle Malls, Arcovia City , and FrontRow.
In partnership with The U.S. President's Emergency Plan for AIDS Relief (PEPFAR), EPIC, USAID Philippines, Pilipinas Shell Foundation, Inc., PROTECTS, Champion Community Centers, AIDS Healthcare Foundation, Philhealth, World Health Organization, and UNAIDS. Also in partnership with Lauvette.
Powered by Spaces MNL, Owlright Studios Sponsored by ERO condoms, Procter and Gamble, TaskUs, and Village Pipol Magazine. Also sponsored by SIP Purified Water and Magnitude Wellness Massage & Spa.
Written by iCOMM Editorial