With the aid of LoveYourself, The Philippine Educational Theater Association (PETA) in its 52nd Theater Season responds to the ongoing HIV epidemic in the Philippines by launching the #ActingOnHIV campaign with Rody Vera's anthology drama Under My Skin, directed by Melvin Lee, as the frontliner. Together with LoveYourself, its long-time advocacy partner, The Red Whistle, also support this movement in the theater community.
The #ActingOnHIV campaign reaches out to audiences through art, as an immersive experience that promotes the importance of HIV treatment while debunking myths and misconceptions about the virus. It focuses on the empowerment of Persons Living With HIV through workshops, exhibits, an online EduSeries, and learning outcomes with HIV experts back-to-back with every show of Under My Skin, the campaign serves to not only enamour, but to educate as well.
The play features authentic characters whose struggles the audience can resonate with even they do not live with HIV. They are brought to life by a stunning cast featuring Cherry Pie Picache, Roselyn Perez, Eko Baquial, Miguel Almendras, Mike Liwag, Gio Gahol, Anthony Falcon, Gold Villar-Lim, She Maala, Mico Esquivel, Bene Manaois, Lotlot Bustamante, Kitsi Pagaspas, Dylan Talon, Ekis Gimenez, Erold Enriquez, Jarred Jaicten, Joseph Madriaga, Jason Barcial, Dudz Teraña, Rachelle Gimpes, Reggie Ondevilla, Roy Dahildahil, and Csai Habla.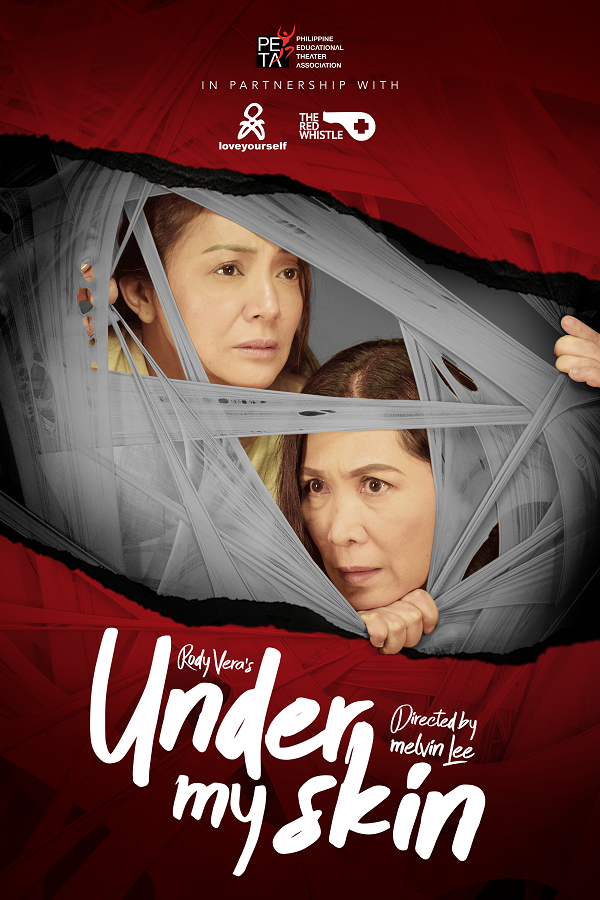 LoveYourself's response to the HIV epidemic has been not only informative but inspirational as well. By knowing one's worth and loving one's self, people can be empowered to take charge of their sexual health by learning about, preventing, getting tested, and getting treatment for HIV.
For LoveYourself founder and executive director Ronivin Pagtakhan, LoveYourself it is with the vision of creating a caring community that understands the importance of proper support people, 'reproductive' safe sex education, and medical care. "Values like empathy, love, and respect are essential to create a positive impact to the other—to fully understand this is the way to remove stigmas about HIV," he explains.
"The arts can act as a bridge for people in the midst of crisis," says Pagtakhan. "The country has been testing approximately 35 individuals with an HIV infection per day, and this number gives us two related perspectives: The cases are rising, but we are reaching more people to get tested and initiate their treatment. These situations call for more awareness. The arts, particularly theater, can come into play." Ronnivin explains, "It has been part of our people's discussions, and we should take advantage of it as a bridge to the HIV advocacy, and enable people to act on it." Acting on HIV's frontliner, Under My Skin is also supported by UNAIDS and Unilab.
Witness PETA's 52nd Theater Season finale, Under My Skin from February 7 to March 22, 2020 (Fridays at 8:00pm, Saturdays/Sundays at 3:00pm and 8:00pm) at the PETA Theater Center, #5 Eymard Drive, Brgy. Kristong Hari, New Manila, Quezon City. For tickets and showbuying inquiries, contact PETA at petatheater@gmail.com and 725-6244, You can also get tickets through TicketWorld, 891-9999.
Text by Asha Gutierrez