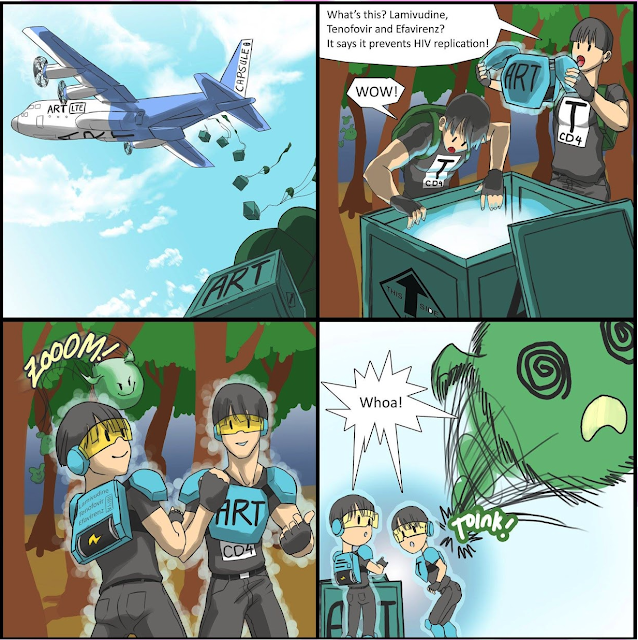 For newly diagnosed Persons Living with HIV (PLHIV), among their top concerns are the possible side effects that might come once they start treatment. These side effects may have an impact on their way of life, especially at work and their studies. In this article, we will try to tackle the different antiretroviral (ARV) drugs, their possible side effects, and how to handle these side effects so as not to affect the PLHIVs way of life.
Antiviral Drugs
Below are the various ARV drugs and the possible side effects that may occur upon taking said component: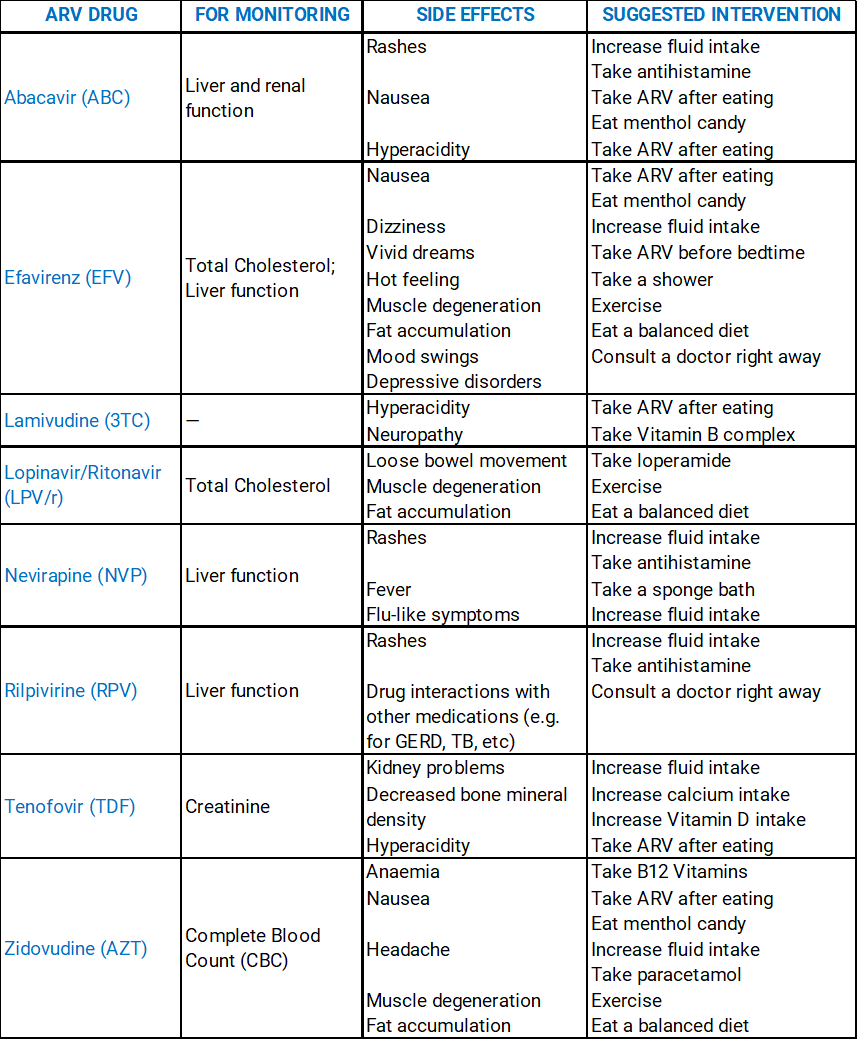 Antiretroviral or ARV is an inhibitor drug that blocks HIV from attaching to cells of immunity specifically the CD4 cell (also known as T-cell or T helper cells) and prevents it from multiplying. It has to be taken daily to suppress HIV and prevent the decline of the body's natural defense caused by the virus .
ARV Combinations
The recommended regimen of ARVs consists of three (3) component drugs as it is proven to be more effective compared to single or dual therapy.
Currently, the following are the ARV combinations being provided by our treatment centers: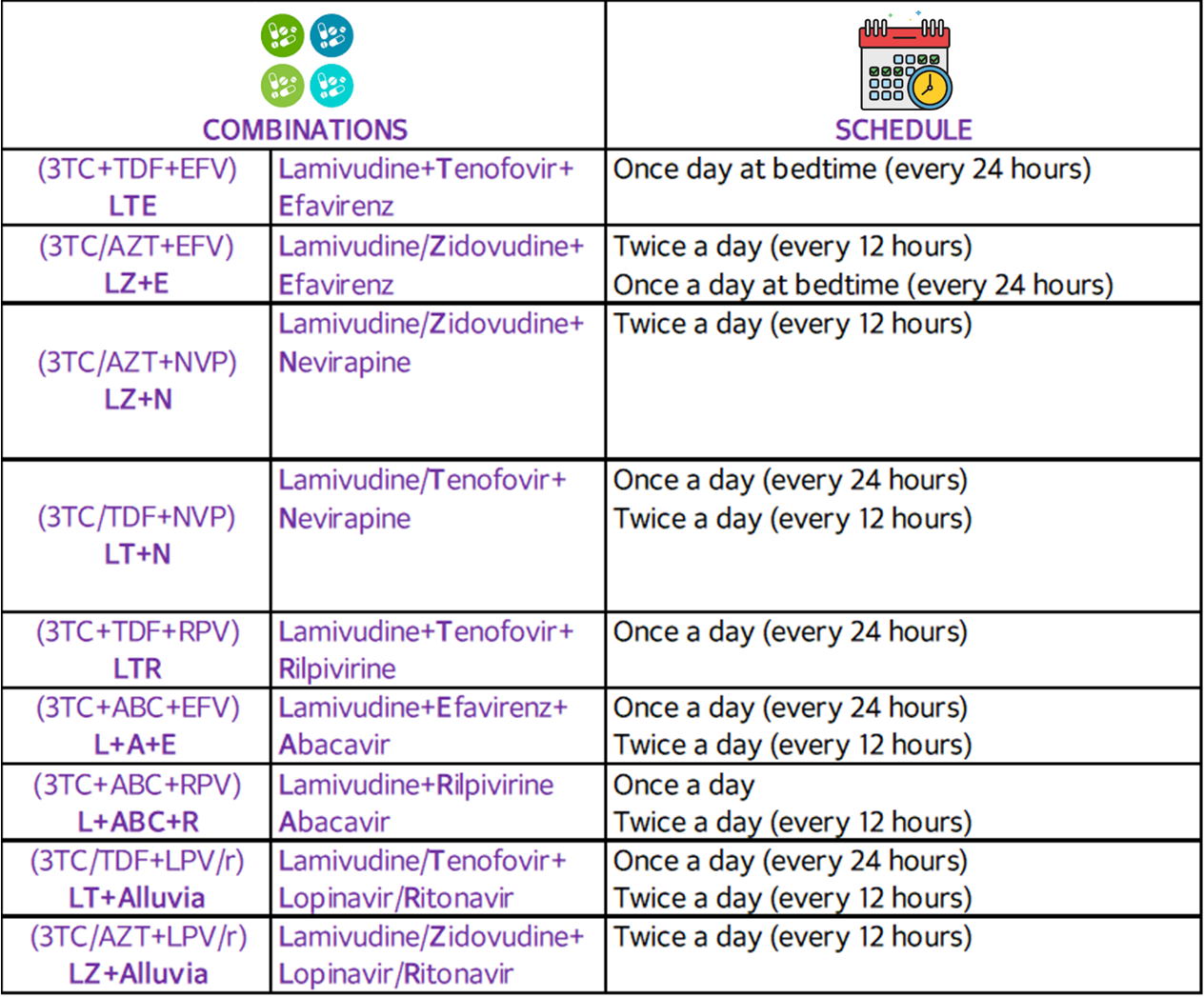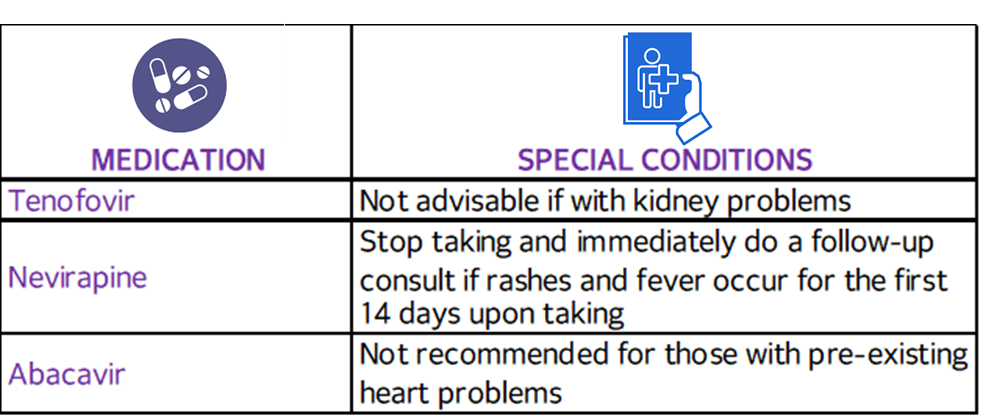 Managing ARV Treatment
The purpose of having ARV treatment for PLHIV is for them to achieve being Undetectable and eventually have a normal life despite their status. But this can only be achieved by consistent and adherent intake of their ARV.
It is important that the set schedule in taking the ARV should strictly be followed to ensure: 1) efficacy of the treatment, and 2) minimize its side effects. Change in the schedule of drinking ARV should be consulted with the medical team. It is recommended that an alarm be set preferably in the Client's mobile device to remind him daily of his time for drinking his ARV. Also, relating the time in drinking his ARV for something he does daily (e.g. sleeping at night, eating dinner, etc.) can help in reminding him of this schedule in drinking his ARV.
Any recurring side effects despite performing the suggested intervention should immediately be consulted with the treatment doctor. Scheduled follow-ups to the treatment center especially for viral load testing should be routinely done to ensure monitoring of the efficacy of the treatment.
And most important, PLHIV should monitor his ARV supply if he has enough for at least three (3) months. It is advised to have a refill if ARV supply is less than two (2) weeks worth. Despite the community quarantine in place, clients enrolled in LoveYourself Treatment Centers can now request for ARV refill at the convenience of their home via Xpress Refill. To sign up, just click this link: go.loveyourself.ph/xpressrefill.
For more information on HIV Treatment as well as Life Coaching Services, you may also visit LoveYourself Anglo, Welcome, Victoria by LoveYourself, LoveYourself White House, Lily by LoveYourself, and Hero by LoveYourself by setting an appointment via Booking.
Text by Ronald C. Bugarin
Image from "ART First Dose Chronicles", illustrated by TJ Gellada Monzon
References:
1 Department of Health Administrative Order No. 2018-0024: Revised Policies and Guidelines on the Use of Antiretroviral Therapy (ART) among People living with Human immunodeficiency virus (HIV) and HIV—exposed infants
2 World Health Organization Consolidated Guidelines on the use of Antiretroviral Drugs for Treating and Preventing HIV infection Second Edition 2016
3 HIV In Site Adverse Effects of Antiretroviral Drugs
4 World Health Organization Safe and Effective use of Antiretroviral treatments in adults