LoveYourself Cebu will culminate Pride Month 2021 through a fashion show at 4:00 PM on Saturday, June 26, 2021, streaming live via Lazada and the LoveYourself Cebu Facebook page.
Lollipop 2: Pop of Colors—A Fashion Event aims to showcase the talents of Filipino designers with their pride-inspired couture pieces. The show will also honor the LGBTQIA+ voices that gradually lead to a brighter future among the community members, and remind the people of the existing issues related to the LGBTQIA+ community.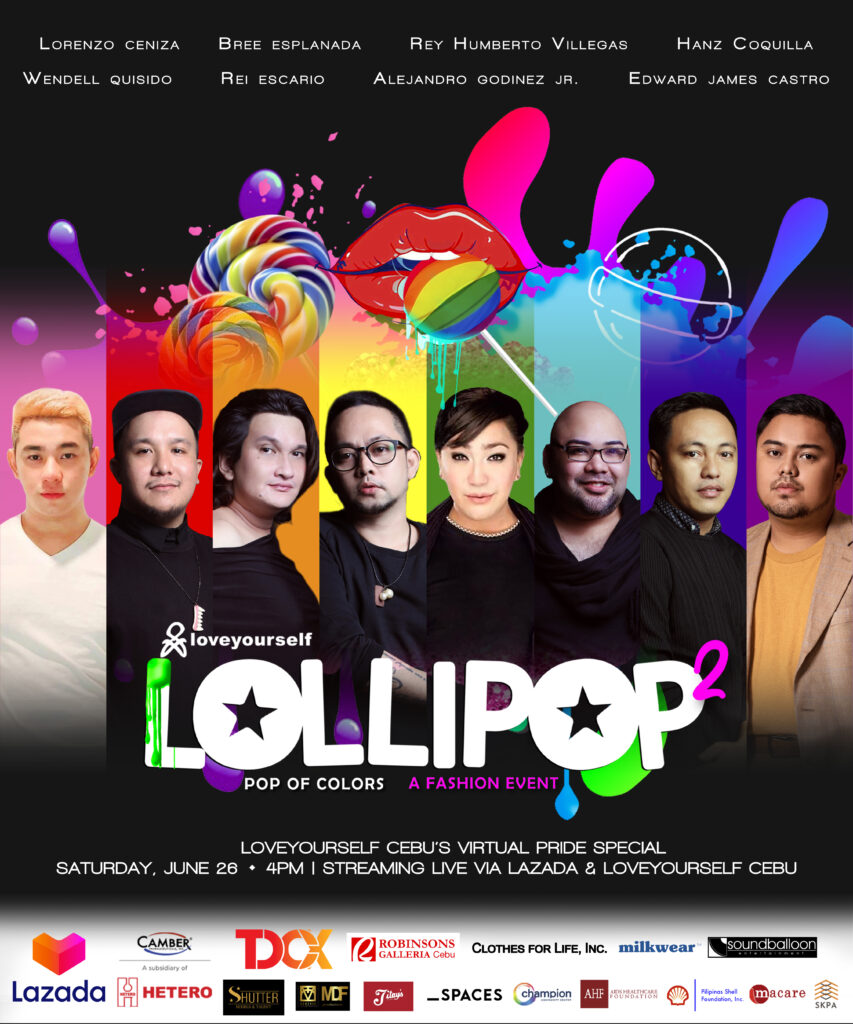 The event will mark one of the organization's missions to ally with LGBTQIA+ names that triumph in their fields. The fashion event will pave the runway for renowned Cebu-based designers: Lorenzo Ceniza, Wendell Quisido, Bree Esplanada, Rei Escario, Rey Humberto Villegas, Alejandro Godinez Jr., Hanz Coquilla, and Edward James Castro. This will be the second year for LoveYourself's Lollipop.
"As a proactive member of the community, it is our primary goal to support the cause for equality and inclusivity," said Jan Shaltiel Vincent Estrada, head of LoveYourself Cebu. "To see oneself as valid is the first step of loving oneself. By then, we are more open to discussing stigmatized topics such as HIV/AIDS, mental illness, and SOGIE, which are common among LGBTQIA+ members," he added. LoveYourself Cebu is an advocate and a strong ally of the community. Lollipop2 is just one of the upcoming activities to continuously exercise the vision: self-worth is the key to build an empowered community.
The live streaming setup is within the premise of social convention restrictions due to the global pandemic. On the other hand, streaming via Lazada and the LoveYourself Cebu Facebook page will reach as many viewers as possible in the safety of their own homes.

Simultaneously, volunteers from LoveYourself Cebu will speak for the Pride Month celebration of Busay, Labangon, Calamba, and Sambag II at Waterfront Cebu on June 26, 2021, 4:00 – 7:00 PM. The talk will focus on promoting HIV awareness among youths, as the affected demographics, and Trans Health services by LoveYourself.
In another part of Cebu that day, volunteers will be placing free HIV counseling and screening booth for the Celebration of Love with PRIDE by Pride Travel and Tours at S&M Hotel in Mandaue City.
LoveYourself Cebu is a non-profit and non-government organization that aims to uplift the self-worth of Filipino communities, especially members of the LGBTQIA+. LoveYourself offers free HIV counseling/screening, HIV treatment, transgender health and mental health services. The organization, empowered by volunteers, has been up to its mission to champion iniingatan, inaalagaan, at inaasikaso experience since 2011.